Hiking in the Desert? Don't Bust the Crust!
Cryptobiotic soil is essential to arid ecosystems. Here's how to protect it.
Heading out the door? Read this article on the new Outside+ app available now on iOS devices for members! Download the app.
This time of year was made for desert trips. If you're looking to escape the cold for a cactus-filled escape, there's no better time to brush up on your desert travel protocol. Arid landscapes call for special attention to Leave No Trace principles, and often extra precautions such as packing out waste.
Beyond that, every desert hiker should keep one thing in mind: Watch where you step. Cryptobiotic soil crust—a delicate, living layer of earth—can be found blanketing the desert floor in many popular hiking destinations across the Southwest. Cryptobiotic soil, which helps maintain balanced ecosystems, is extremely vulnerable to damage from hikers, bikers, off-roaders and other recreationists. 
It's alive!
A variety of living organisms such as lichen, bacteria, algae, and moss constitute the brittle, knobby crust that can be spotted along trailsides and throughout the desert floor. These biological crusts take decades to form, and play a vital role in protecting landscapes from erosion and supporting plant diversity through water retention and nitrogen fixation. Cacti and other flora rely on cryptobiotic soil for nutrients and moisture—in turn, many desert-dwelling animals thrive thanks to the delicate balance that soil crusts maintain.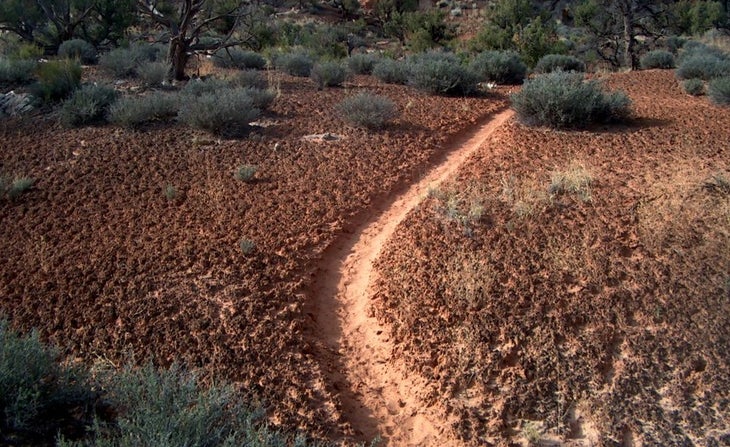 How to recognize cryptobiotic soils crusts
You can identify living soil by its raised, bumpy surface that's often more darkly colored than surrounding sand or dirt. Darker, more textured crusts are older—these mature soils are centuries or even thousands of years old. You can usually see moss and lichen growing on the surface of these older crusts. Younger crusts are less noticeable, sometimes looking like dried mud with smaller knobs dotting the surface.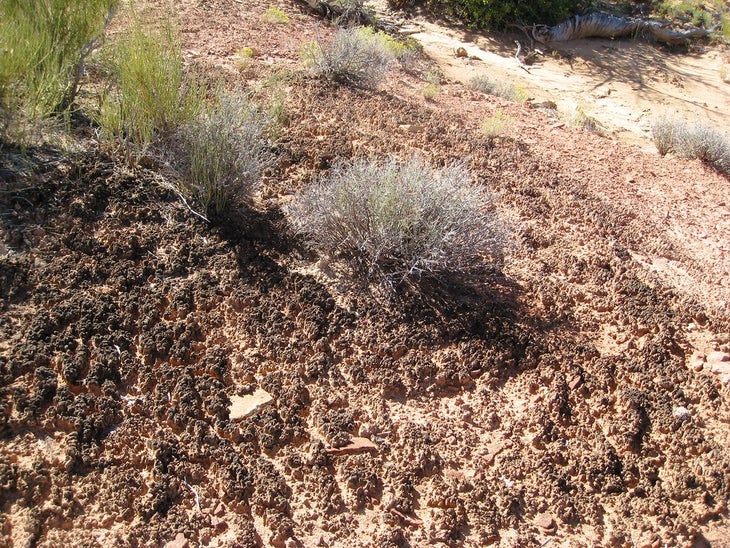 Watch your step
Human footfall, bikes, and vehicle tires can cause lasting damage to cryptobiotic soil crusts. Crushing the surface exposes loose soil and sand underneath to erosion and can cause increased runoff. It takes years for crusts to begin to recover from such damage; mosses and lichens are affected for much longer, and some areas may never return to full health.
Stay on designated trails as much as possible when hiking in fragile desert landscapes. If traveling off-trail, step on durable surfaces like rock, or navigate through sandy washes.