How to Prepare Your Mind for Your First Solo Backpacking Trip
Being alone in the wilderness doesn't have to be frightening. With these tips, you can fine-tune your mind for an empowering solo journey.
Photo: massimo colombo via Getty Images
Heading out the door? Read this article on the new Outside+ app available now on iOS devices for members! Download the app.
Brush up on backpacking basics with tips, tricks, and advice from Backpacker's experts in Hiking 101. 
Many of the most impactful moments in my life have come when I've chosen to let go and embark on a journey on my own. Pedaling my bike for the first time without my father's hands on my shoulders. Getting the car keys to hit the open road without someone backseat driving. Waving goodbye to my parents after moving into my college dorm. Going backpacking solo for the first time was one of those moments, too. It was scary, emotional, invigorating, empowering, and rewarding. If you're unsure whether you're ready, follow these tips and make that leap into the unknown.
Don't Overdo It
It's tempting to plan an epic journey for your first solo backpacking trip. Perhaps you've had your eye set on a new trail, or you want to get off the beaten path to somewhere unique. Instead, set yourself up for success by going somewhere familiar, simple, and safe. No need to overcomplicate matters when going solo is a challenge in itself. Set realistic expectations, find potential bailout points, and don't overdo it by planning too many miles, pushing yourself physically, or hiking in treacherous terrain. Focus on your strengths and minimize exposure to circumstances that give you anxiety. For example, if you're particularly nervous about the dark night hours, go in high summer when the days are long and you don't have as much time to kill in the tent.
Get Out of Your Head
Likely the most challenging aspect of solo backpacking is the mental side. While a healthy amount of caution is warranted, most fears about what could happen in the backcountry live in our heads. So, when first starting out solo, it's a good idea to have strategies for how to cope with scary thoughts and feelings that arise. Bringing a personal locator beacon, such as a SPOT satellite communication device, is a great way to have peace of mind that you can get help if you need it. Downloading music or podcasts also give a sense of familiarity and comfort once night falls. Make sure you have a bright headlamp, extra batteries and even a camp light to help lighten the mood.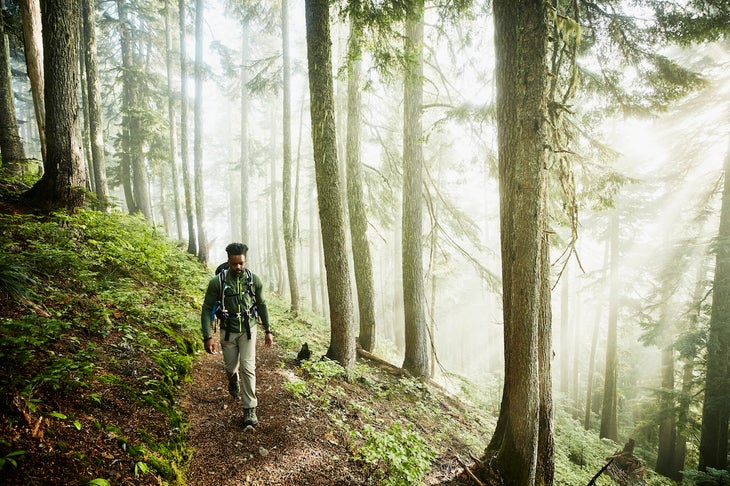 Stay Safe
Being safe is top priority any time you are backpacking, but especially when you're on your own. Using proper caution in bear country, knowing how to treat injuries, and being prepared to face the elements are all equally important when you can't rely on hiking partners to help you out. If you're an Outside+ member, you have access to classes that enhance your backcountry knowledge through Outside Learn.
Feeling safe is especially imperative when backpacking solo. Start by going somewhere that sees a high amount of traffic; a popular trail can help you feel safe by making the trail less lonely and more like a party. Better yet, you can start by hiking to a shelter like the ones on the Appalachian Trail. You are bound to meet other hikers there cooking dinner or sleeping, and even if you stake your tent somewhere else, you can have a communal experience. There are plenty of backpacking destinations that have cell service, so if you need to call a loved one when you're tucked into your sleeping bag, that's OK! There are no rules when it comes to backpacking solo.
Be Self-Reliant
The beauty of solo backpacking is that the trip is entirely up to you. You decide the destination, the route, when to take breaks, where to set up camp, what to eat, when to go to sleep, and when to get up. Since you don't have to worry about other people's opinions, you can bring more of the things that make you happy. Chocolate for dinner? Why not! Disco ball in the tent? Yes please! Do you usually feel silly about bringing your teddy bear? Not this time! However, with freedom comes responsibility. Since you are solo, you must be self-sufficient; no more relying on others to share pack weight or camp responsibilities. Take extra time to plan by double-checking that you have the right first aid supplies, proper clothing, a bomber sleep system, enough food, and access to water sources. Make sure you have backup directions of the route you are taking. If you prefer to go light, having a single person tent can shave off grams, but the gear doesn't have to change much when solo versus group backpacking.
Attitude is Everything
More than anything, solo backpacking boils down to having the right attitude. If you're truly afraid, listen to your instincts. Maybe you need to gain more confidence on group outings first. When you are ready, don't bite off more than you can chew, don't be hard on yourself, take it easy and slow, and importantly, have fun! When you go backpacking alone with a sense of wonder and awe—focusing on the beauty of the planet and noticing the small details—you gain a superpower that no one can ever take away.