How to Pack for Adventure Travel
The two great sins of packing are overdoing it and leaving important stuff behind. Follow these tips to make sure you and all the essentials get where you're going.
Heading out the door? Read this article on the new Outside+ app available now on iOS devices for members! Download the app.
In the past 18 months, I've boarded airplanes more than 30 times in a dozen countries. Each time, I've gotten a bit better at packing and a bit less likely to forget things that make traveling easier. Here are my suggestions for stress-free packing for your next adventure.
Choose the best luggage
Choosing the right luggage is sometimes the hardest part of packing. It's important to be nimble while navigating crowds and narrow alleyways, but bringing a pack that's too small can create other challenges. If everything only just fits in your pack, you may end up wasting a lot of time repacking when you move hotels.
A wheeled suitcase, a duffel, and a backpack all have pros and cons. When I'm deciding which type to bring, I consider how often and for how long I'll need to carry my luggage. I also think about the weather forecast and whether I'd be dragging a suitcase over cobblestones or need to climb a lot of stairs. Lately, my go-to bags have been a Gregory Proxy 65 backpack and a small tote or waterproof duffel. I'd much rather wear my luggage than carry it by the handles. Plus, the straps are all removable and tuck away to protect them from damage when it's checked. This pack also has a huge capacity and tons of internal and external pockets so I know where everything is and can store my dirty clothes separately from the clean ones.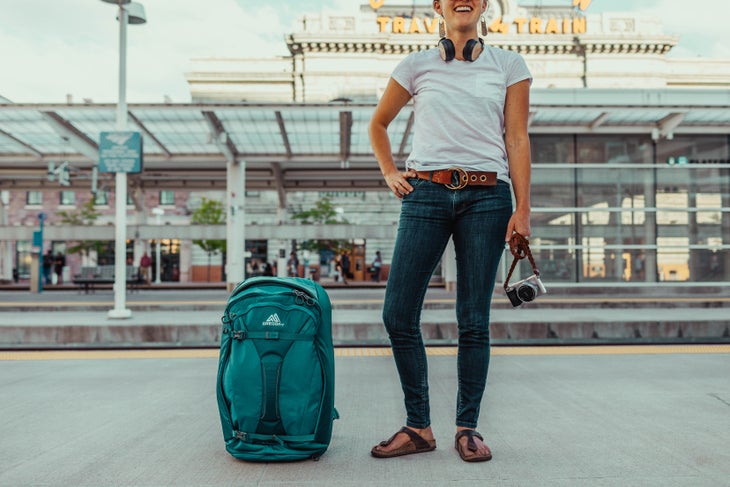 If you're shopping for new luggage, take time to examine each option and the purpose each pocket can serve. I live out of a suitcase more often than not these days, so I'm willing to carry a bit of extra weight to feel organized. You may be the opposite, and a lighter-weight, less fully-featured bag may be the best route for you.
Make a list
I usually start a packing list a couple of weeks before I leave for a trip. Not only does it give me time to find the right clothes for the weather and activities of my trip, I also have plenty of time to remember the random things that are easy to forget when packing last-minute. Part of my process involves Googling "packing list [city I'm going to]" for oddball suggestions. When I went to Mexico City, one site suggested bringing a GRAYL water filter to avoid single-use plastic bottles. I hadn't even thought about planning for water until I read that list.
Starting early is especially helpful for remembering the little things. I always make sure to bring a sleep mask and a natural sleep aid like melatonin and/or Sleepytime Tea when I take a long-haul flight. Headphones are easy to forget and expensive to replace. I also research currency exchange rates and most common forms of payment before leaving. In many countries, you can use a credit card for everything. In others, cash is king. Either way, be sure to have a debit card with you—put it on the list. In my experience, it's always cheaper to get cash from an ATM than to exchange U.S. dollars a kiosk at the airport.
Get organized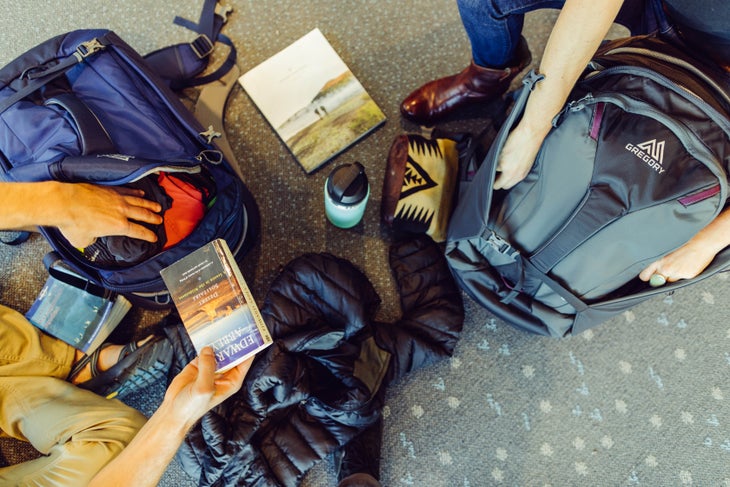 Once I start packing, I find it helpful to organize everything I want to bring before I start arranging it in my pack. It's much easier when I can see everything together to identify what's missing and what's not needed. I stack clothes in folded, organized piles by type – pants, shirts, socks, etc. Once I have my piles, I Kon-Mari them: Do I need three pairs of hiking pants? Can I get by with one pair of jeans? Every article of clothing I can do without is one less thing to carry. It's also one more space for something I want to bring home. Making a game out of reducing your luggage can be helpful. Try challenging yourself to nix three things from your piles. Challenge yourself to dump one more before you leave for the airport.
Pack smart
Packing cubes serve two purposes: First, they keep your stuff accessible. On a recent trip to camp in the Swedish Arctic, my slippers and sleep layers went in the same packing cube. This way, I avoided digging through my backpack in the snow to find warm clothes. Second, packing cubes can help compress your clothing so you have more space. Rolling your items can help save space and make it easier to identify what's what. It takes more time to go through a stack of flat-folded items. Toward the end of your trip, they can also help you keep smelly clothes away from clean ones. I always make sure to have a small stuff sack for dirty socks and underwear.
To cut down on weight, pack clothing that repels odors and dries fast so you can wash it in your hotel room sink. You can get away with two or three pairs both of socks and quick-drying underwear regardless of the length of your trip if you wash them often.
Follow these tips and you're more likely to come home with a story of the time you danced in the street with Parisian teenagers rather than when you missed your train because lugging bags slowed you down.