Keep a Nature Journal and Capture the Wilderness in a New Way
See the trail in a new light when you bring a pad and pencil.
Photo: Doug Robichaud (@killer_dogma)
Heading out the door? Read this article on the new Outside+ app available now on iOS devices for members! Download the app.
The early stages of the pandemic had folks flocking to two things: the safety of the outdoors and calming hobbies to cope with stress. I found myself filling my newly unclaimed time with something that combined the two: nature journaling. 
The practice of heading into the great outdoors and recording what you find has often been reserved for kids at science camp (I teach students how in an outdoor education program). But hikers and naturalists of all ages enjoy nature journaling for a variety of reasons: Journals provide tangible memories of your hikes, foster a deeper appreciation for the outdoors, and help expand your scientific understanding of nature. Here's how to get started. 
Pack right
Make a notebook and pencil part of your essential hiking kit (I prefer a notebook small enough to fit into a pocket and a pencil with a good eraser). Observing color is useful, so I also like to carry a few colored pencils if there's no need to pack light. You can also use crayons to make rubbings, and small watercolor kits can be great for artistic diarists. Additional tools like a ruler and magnifying glass give you the opportunity for more in-depth observation, but are not necessary. I often use my phone to take pictures in case I want to add more detail at home.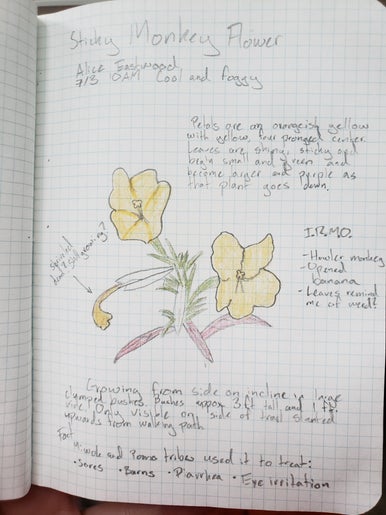 Head outside, literally anywhere
Sure, backcountry trails are great for spotting wildlife and sweeping views, but you can nature journal from your front stoop, too. Sketch that pigeon that always hangs out on your balcony or the weed that grows through a crack in the sidewalk. Record anywhere that floats your boat and don't let access to wild spaces be a barrier. That said, nature journaling also pairs perfectly with a long walk in the woods.
Record, record, record
You can use your nature journal to record anything you want to commit to memory or spend more time observing—a view, a specific plant or animal, a decomposing stick, or whatever you find interesting. When I teach nature journaling, I always have my students start by sketching a small rock: They're rarely observed, easy to trace, and usually offer a lot more interesting detail upon deeper inspection. 
What you choose to record will have a lot to do with the goals of your nature journal: Do you want to spend more time appreciating a view? Learn to identify specific plants? Notice parts of nature you may otherwise overlook? Figure out what you want to do with your journal and start there.
My key to a satisfying nature journaling page is to over-record. When you think you've covered everything, look harder. Sketch things from different angles, give them rudimentary measurements, or zoom in for detail. You don't need to be an artist to keep a journal. Your drawing is to deepen your own understanding of your surroundings, not to make something pretty. My own sketches leave quite a bit to be desired, so I try to add as much written description as I can fit on the page. Everyone has a medium they'll be most comfortable with: writing, sketching, or more scientific recordings, like measurements and photographs. Lean on whichever you prefer, but remember the best information will come from a mixture of media. It's standard to label every page with your location, the date, time, and weather.
Identify your surroundings
While not everyone will want to use their nature journal to document and label specific organisms, I like to use mine as a memorization technique to help remember information about the plants and animals I want to point out to my students. Apps like iNaturalist can help you identify what you're seeing and hearing while also giving you some details of interest. 
Use prompts
It's common to include both sketches and written descriptions in your nature journal. Stuck? Check out The Laws Guide to Nature Journaling, which lays out three short prompts to add to your documentation:
I notice: Start sentences this way to record hard observations you see.
I wonder: Use this prompt to pose questions about whatever it is you're documenting. 
It reminds me of: This one helps you make real-world connections to what you're recording.
Experiment with creative page layouts
My most-used nature journaling format is a simple sketch, identified to the best of my ability and labeled, with as much description as I can fit in whatever blank space is left over. But there are hundreds of ways to draft a page. You could draw the same object or scene multiple times over the course of a day, or many months. Some people like to include poems or their own thoughts like a traditional journal. There is no "right way" to nature journal. Use each page to do whatever feels best for you. 
Spending time outside is always healing, and nature journaling can be a great way to expand the ways you engage with the outdoors while giving you a stronger appreciation of them to boot. Nature journaling is a fantastic remedy to a go-faster culture, allowing you to be more present in the beautiful world we live in.