How to Hike as a Couple Without Destroying Your Relationship
Three couples who survived thru-hikes – and one who didn't – share their tips for remaining united on the trail.
Heading out the door? Read this article on the new Outside+ app available now on iOS devices for members! Download the app.
Jeff and Vicki had been dating about a year when Jeff dropped her off at Springer Mountain to start her AT thru-hike. He finished his spring semester, fled campus the first chance he got, and headed to the mountains to hike with his girl.
After about 1,000 miles, the two were bickering regularly. A few months after Vicki's summit of Katahdin, she and Jeff went their separate ways, both sore from problems that arose on the trail.
"You have to be very clear about your expectations," Jeff reflected as he taped up resupply boxes for an upcoming solo attempt on the PCT. "On the days I wanted to hike 25 miles and she wanted to hike 15, we'd hike 20 miles, and both of us were unhappy."
"Now I realize if I want to go fast and push myself to my limit, maybe I shouldn't do it with another person," he said.
A fight on top of the world
David Rhoades and Rachel Cole, triple-crowners better known as Manparty and Lush, are the type of people who prefer not to plan out their mileage ahead of time.
"We didn't even plan a wedding. We eloped because we don't like the responsibility of that meticulous level of detail," Rhoades said.
That strategy fell apart in 2011, when they attempted to hike the Appalachian Trail. On a lonely ridge in New Hampshire's White Mountains, the two faced off.
"We had a bit of a yell-down. A fight on top of the world," Rhoades said. They aired a number of grievances – about pace and camping style, among other things. But getting everything out in the open drastically improved the rest of the hike, and constant communication thereafter allowed them to find a daily rhythm they were both happy with.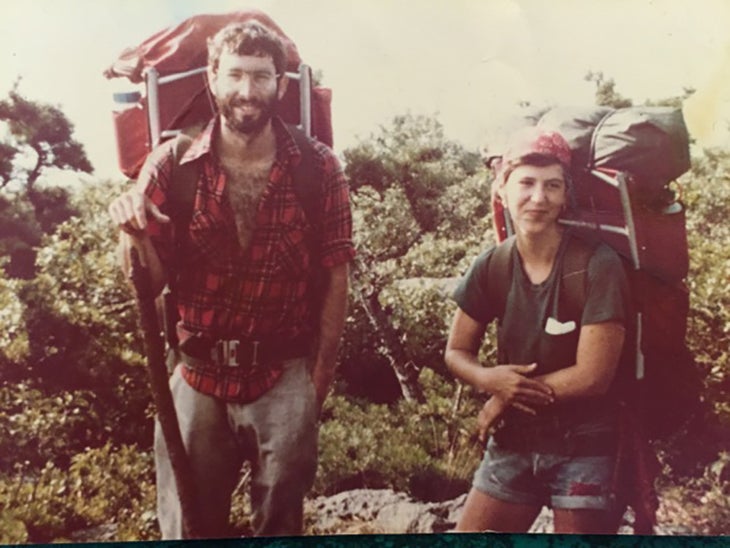 Rhoades and Cole weren't the first psychological victims of the Whites. Don Hornstein and Amy Sheck's first backpacking trip together was a southbound thru-hike of the Appalachian Trail in 1975. They planned meticulously as a pair. But once they started hiking, Don decided 13 miles a day wasn't fast enough. His frustration grew.
He confronted Amy and told her they were going too slow. She stared at him, aghast.
"I immediately felt like crap," he said. It wasn't until he burst that Don realized he'd let the anger fester too long and that it was unfounded, unimportant.
"I realized: What do I care about pace? I care about Amy," he said.
For the rest of their hike, Amy walked first, setting the pace. The couple has now been together more than 40 years, and to this day, she still takes the lead.
"It's not about being the fastest," said Hornstein. "When we do hike with someone else, we view it not as hiking but as going out with them to be with them – we just happen to be hiking."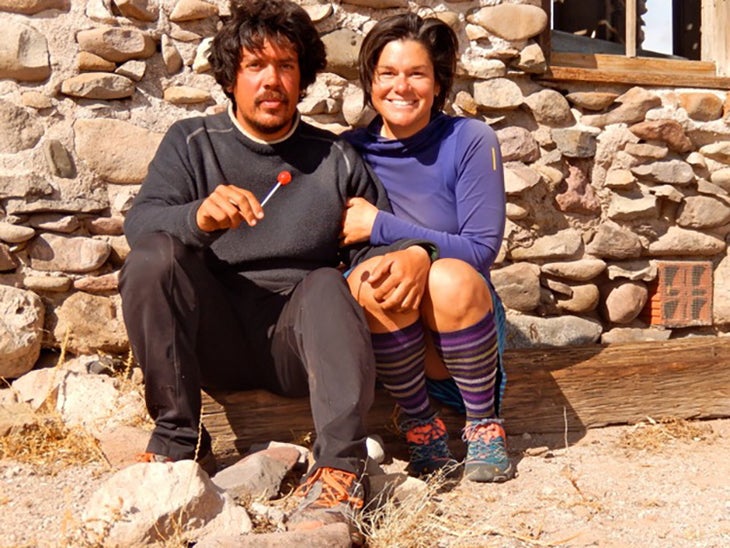 The couple that hikes together stays together
Justin and Patrice LaVigne, whose recent thru-hike of the Te Araroa trail brings their total to 6,000 miles together, said they follow a similar arrangement.
The La Vignes met a number of hiking couples who only saw each other at camp after hiking their own pace all day. Right away they decided that wasn't what they wanted. Not only did they feel safer as a pair, they felt that doing the trail together meant doing it together
Like Hornstein and Sheck, the couple decided to put Patrice, the slower hiker, in the lead.
"At first I didn't like it. I felt pressured," Patrice said. But it soon became a comfortable routine for both of them.

Giving up the solo hikes doesn't necessarily mean giving up solitude, however.
"A lot of the time, we were both in our own world walking along," said Cole. Both she and Rhoades self-identify as introverts, and they easily lapse into comfortable silence while hiking.
Hornstein and Sheck, on the other hand, don't feel they need alone time: they spend about 90% of the time in conversation.
"We gossip about our children," Don said

Making time
Hikers who set off on a long trail leave a lot of life behind: careers, weekend haunts, daily routines. It's important to remember that relationships aren't one of those things.
For some pairs, the constant contact means they're forced to work through every problem that comes up, which can be a great catalyst for growth as a couple. But it's important to be careful.
"The trail breaks people, breaks their relationships. I've seen plenty of that," said Justin.
Some couples get too caught up in the physical challenge of the hike. For others, the temptation to jump into the party atmosphere of a social trail like the AT puts strain on their bond.
Rhoades and Cole said they consciously worked to avoid falling into the latter trap. "Every night I would read Rachel a few chapters out of a Louie L'Amour book," said Rhodes. Sometimes getting those two chapters in meant tenting instead of joining the hubbub in the shelter.
The reward for all that effort? A healthy relationship, a partner who's come to tolerate your hiking stench, and a hiking buddy who knows just how you like your tent set up.
"Besides," David joked, "hiking is a lot easier when you don't have to worry about where your booty is coming from."