How to Make Hiking Fun When Hiking Sucks
Bad weather, horrendous blisters, endless hills—it's all fun if you look at it the right way.
Photo: swissmediavision/E+ via Getty Images
Heading out the door? Read this article on the new Outside+ app available now on iOS devices for members! Download the app.
Brush up on backpacking basics with tips, tricks, and advice from Backpacker's experts in Hiking 101. 
I spent the night shivering. I was deep in Colorado's Weminuche Wilderness in April, and it was cold—somewhere in the teens. All night, I watched moisture from my breath plume into the darkness of the tent. By morning, it had frozen to the walls in a smooth white rime of ice.
When my alarm went off at 6 AM, I stepped over my partner, pushed my blistered feet into frozen ski boots, and hobbled through the woods with my avalanche shovel. Nature was calling, and I had two feet of snow to dig through before I'd be granted the privilege of hacking my six-inch cat hole. This was my first backcountry ski trip. I wasn't sold.  
We spent the day laboring up steep, icy, 2,500-foot slopes. Every time I peeled off my sticky climbing skins to transition to downhill skiing, the wind would snatch them up, sticking them to my jacket, my hair, and themselves. Imagine working with foot-long strips of Scotch tape in front of a box fan, and you'll have a pretty good approximation.
That night, I returned to my tent, exhausted—only to find that the sun had warmed the walls, melting the condensation right into my bedding. My down sleeping bag lay curled like a withered rose petal. It was soaked. I tried not to cry. The temps were expected to drop into the teens again that night—and the three nights after.
Well, I told myself. You wanted an adventure.
Whether it's winter camping, rainy hiking, or backpacking in triple-digit heat, hike long enough and you'll end up doing it in conditions that are flat-out miserable. The secret to having a good time anyway? Knowing how to stay calm and find the silver linings. At least, that's my takeaway after surviving everything from gnarly food poisoning, to poisonous plants, to insufficient food on the trail—not to mention a long career of ice climbing and mountaineering in subpar weather. Here are some of the tips I've picked up along the way.
Learn to Identify Type Two Fun.
Reframing suffering as just "Type Two Fun," or "Type Three Fun" is the first step to embracing it. If you're not familiar with the fun scale, it goes something like this:
Type One Fun is anything that's just plain, honest-to-goodness fun. Think rope swings, water slides, hiking downhill in amazing weather—all the stuff that makes you say "Whee, this is fun," in the moment (and especially out loud).
Type Two Fun is anything that's fun in retrospect: You weren't pleased at the time, but afterwards you were really glad you did it.
Type Three Fun is, well, basically not fun. It sucks, it's probably a little dangerous, and you never want to do it again. The only "fun" part is telling the story later.
Fix the problem.
Now that you've identified that your fun is no longer Type One, ask yourself if the situation is fixable. Can you spend five minutes warming your cold hands in your armpits? Get out of your tent and move it to a flatter spot? Switch your wet socks for dry ones (or, better yet, dry ones wrapped in plastic bags to keep out the puddles)? Suffering is great and all, but don't do it if you don't have to. 
Lie to yourself.
It's wet and freezing and you're exhausted, right? Wrong. Complaining only makes things worse. If there's nothing you can do to fix your situation, turn to your partner and say, "Wow, I feel so warm right now. Warm and energetic! I'm thinking we do 10 more miles today, what do you think?" Or, patently deny that the rain exists: "Rain? There's no rain. Rain is a state of mind." Best case scenario: You'll actually convince yourself. Second-best: You'll both crack up laughing and the mood will lift.
Sing about it.
If things are just too miserable for sarcasm or self-deception, you're allowed to complain—but only in song format. It sounds silly, but it's actually pretty Zen: Singing about the rain or mud or how hungry you are is a way of acknowledging and naming your suffering without getting sucked into the negative brain spiral that will leave you screaming into the void and telling yourself you'll never hike again. Try it.
Take a snack break.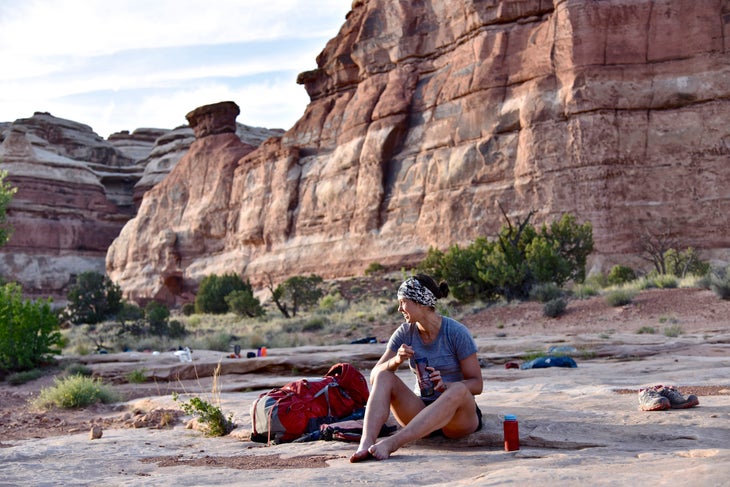 When you start to get really angsty, pause. If it's cold, sit on your pack and put your big jacket on. If it's raining, set up a tarp or find somewhere dry. If you're underfueled or dehydrated, you're more likely to feel cold, disoriented, or irritable. Eat something sugary (those Snickers commercials were on to something), drink some water, and/or make yourself a warm beverage. Then, make a plan.
Remind yourself you're alive.
Gratitude is another proven way to lift negative moods and alleviate anxiety. While you're taking that snack break, try this: Look around at the scenery, take four deep breaths, and remind yourself that you're alive. You're not in an office. You're not in a hospital. You're here, in nature, doing something relatively cool. Let that sink in. Then, name three other things you're grateful for.
Think about how good the stories are going to be.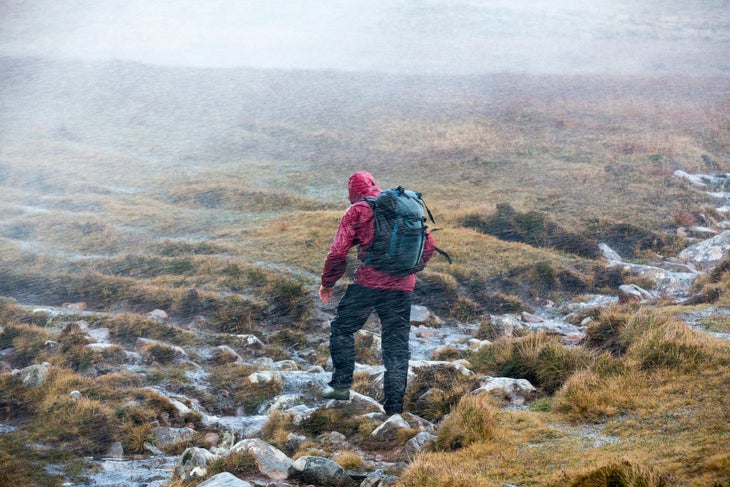 When you're deep in the pain cave, it might feel too soon to laugh about the situation. But try to take a step back from it, anyway. Are your setbacks starting to verge on ridiculous? Do you feel like you're at the bottom of the second act in a comedic drama? Start to imagine how you'll tell the story when you get home. Odds are, a lot of it will be funny in retrospect.