How to Fail Like a Pro
Yes, we should all learn from our mistakes. But on an ill-fated mission in Montana's Beartooth Mountains, Mark Jenkins discovers that's only the start.
Heading out the door? Read this article on the new Outside+ app available now on iOS devices for members! Download the app.
Snowmelt gushing down the mountainsides had turned the trail into a creek. We had assumed we'd be skiing by now, but after hiking 11 miles in foot-deep water caused by unseasonably warm weather, we hadn't even reached snowline. Our intention was to do a late-spring ski traverse of Montana's Beartooth Plateau, not a summer hike with humongous packs made awkwardly heavy by skis and ski boots strapped to the sides.
We spent the entire first day wading through the flood—water that all too recently had been the snow we were chasing. In the evening, utterly spent, the four of us stumbled into a green meadow. We wanted to collapse but couldn't just yet: A silky black bear stood up, nose twitching, and studied us. From the bear's perspective, we must have looked like four giant, horned turtles walking on hind legs.
Kenny whistled, then shouted, "Hey, bear!"
The bear seemed momentarily perplexed—perhaps wondering if these slow, awkward animals might make a suitable meal—but eventually it dropped down on all fours and loped off.
Looking for a campsite, Kenny headed toward the upper part of the meadow. A minute later he hightailed it back to us.
"There's a big griz just over the rise," he whisper-shouted.
We armed ourselves with bear spray and marched up the meadow, banging pots and clanging lids. Our impersonation of a bad Jamaican steel band did the trick; the bear took the hint and fled. We sprung up a pair of small tents between large mounds of grizzly scat.
"Hey, you guys," said Kenny from his luminous dome, "you better do a tick check—just found another one." Careful body searches turned up 10 bright-red Rocky Mountain wood ticks between the four of us. Bears are what everyone worries about, being big and toothy, but they're pikers compared to ticks. Grizzly bears killed only one person in the Lower 48 from 2000 through 2007, whereas in the same period, ticks sickened more than 11,000 people with Rocky Mountain spotted fever and killed more than 50 of them.
It's perception versus reality, as always—what you imagine versus the truth on the ground. The gap between the two can be a persistent problem in the outdoors, and in life. Fortunately, we'd leave the ticks behind as soon as we reached the snow. We just needed to hike a little higher.
The Beartooth Plateau comprises the largest spread of land above 10,000 feet in the Lower 48. Kenny Gasch, a veteran instructor for Jackson Hole Mountain Guides, describes the Beartooths as "the most overlooked and underappreciated high country in the U.S." Kenny and I had dreamed up the idea to ski across the Beartooths in late spring.
I'd done a similar trip a decade earlier, when a buddy and I traversed the northern Wind River Mountains on skis. Starting at the 9,350-foot Elkhart Park trailhead, we had only hiked for a mile, then snapped on skis. The snow was perfect: deep and solid as stone. Days were cool, nights cold. We skimmed over the landscape—skinning up passes, telemarking down, skating the flat sections—and covered up to 20 miles a day. The trip had been an unqualified success.
I even mentioned how well the Winds trip had gone when I enlisted two fellow skiers to join us—Colorado-based photographer Caroline Treadway and University of Wyoming philosophy professor Ed Sherline.
On day two, undeterred by the previous day's hike, we loaded up and continued upstream along the melt-swollen Stillwater River. The Beartooth Plateau lay on the other side of the river, so we were soon searching for a place to ford the tumescent flow.
Kenny sploshed out through a marsh where the river was at its widest, but was immediately turned back by a deceptively deep channel. A mile upstream, Ed stripped and waded into the frigid green water up to his jewels and cried out "My God!" Then, before being swept away, he wisely turned around. Farther upstream, I managed to cross to an island on slippery logs, but then almost drowned trying to cross the other half of the river. We regrouped at lunch.
"This might be a problem," said Kenny. Mountain guides are the masters of understatement. We decided to stay on the trail and gain more altitude. With nothing but time and toil before us, we told stories.
Ed, a balding, fanatically fit ski- and mountain-bike racer with a contemplative nature as befits a philosopher, described his worst first date, when he took a girl on a three-day winter ski trip into Yellowstone: "It was a disaster, but at least it was 20 below and I was the only warm body around."
Caroline told of taking photos of rare flowers on the Navajo reservation. "For five years, I went into the field with a Navajo botanist," said the petite, blond photographer. "Then one day he proposed to me, out of the blue. I should have said no immediately. But I didn't want to lose him, so I said nothing. In the end, I lost him anyway, because I wasn't honest."
I related my first expedition on skis, to Denali in 1980, when my partner got pulmonary and cerebral edema at 14,300 feet. We forsook the summit and began descending. At 11,000 feet we were caught in a blizzard, fortuitously discovered a collapsed igloo, and weathered the four-day storm inside the oval icebox, making up gruesome stories of our own demise. The trip was an epic failure.
It occurred to me, not for the first time, that failed trips often make the best stories. But is that all they're good for?
Dozens of business books and websites tout the benefits of failure. "If you're not failing, you're not trying hard enough," is the oft-repeated mantra. No less an authority than Bill Gates said, "It's fine to celebrate success, but it is more important to heed the lessons of failure." Indeed, failure has enjoyed such a cultural embrace the last few years that Silicon Valley spawned a conference on the subject (FailCon) and a high school in England recently announced plans for a "Failure Week."
But the outdoor world has been slow to follow suit. That's odd, given how often backcountry adventures fail. A fast-moving thunderstorm will shut down a peakbagging mission in minutes. Fatigue, of body or mind, can derail a thru-hike. Bad navigation will botch any backpacking trip. These misadventures usually mean you're pushing yourself—which is a good thing. Humans need to be challenged; it's part of our DNA. Tackling adversity helped spur the evolutionary process that formed our brains and bodies.
Nevertheless, hikers and climbers don't seem as enthusiastic about failure as dot-commers, who now wear a stint at a failed startup like a badge of honor. Have you ever heard a mountaineer brag about a summit not climbed?
But just because you're not going to burnish your outdoor cred with a failure, that doesn't mean you can't benefit from the experience. First, there are the practical takeaways—the specific ways in which you can avoid making similar mistakes. These you will learn from a thorough postmortem. Did you fail because of improper equipment? Lack of fitness or knowledge? Poor judgment? Debilitating team dynamics? On a recent expedition to 19,300-foot Hkakabo Razi in Burma, my team had to abandon the attempt just a few hundred feet from the summit. Analyzing the failure later, it was clear that a single error in judgment—calculating the amount of time we needed for the climb—was the critical, correctable mistake.
Second, consider that fear of failure is often cited as a reason people avoid challenging themselves. As a recent study out of UC Berkeley has shown, failure can undermine our sense of worth, so we avoid it. Hence the efforts in some educational circles to reward effort, not just achievement. One reason Silicon Valley has launched so many successful companies, perhaps, is simply that the tech culture has removed the shame of failure. We should do the same in the outdoors.
I wasn't exactly afraid of failure on the afternoon of day two in the Beartooths, but you could say my confidence in success took a hit. We encountered an ominous sign at Horseshoe Creek, which is normally a minor side stream; snowmelt had washed away the bridge. We spent more than an hour finding a way across the pounding water, tiptoeing atop treacherous deadfall.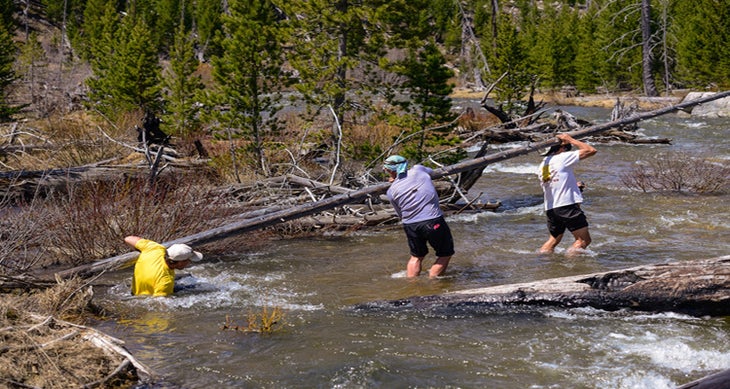 Back down along the Stillwater, we again searched for a ford. Ed quickly found the best option. Pointing to an island splitting the whitewater, he said, "If we can get a log across the first half, it might go."
We found a suitable log and marched it into the river, managing to lodge it between a rock and the island. Using the tree as a handrail, Ed forded the pushy, waist-deep current to the island. Kenny followed and barely kept from being dragged away.
But it was all for naught. On the opposite side of the island, the river was deep and dangerously fast—uncrossable. That was that.
"Nothing I like better than taking my skis for a long, hard walk," Kenny said.
Some say it's the little things that make a trip go south—the pebble in the shoe—but in my personal experience, this is a myth. Small mistakes are ubiquitous, and they can cause discomfort, but I believe they're rarely the real cause of failure. Like everyone else, I've had blisters that made every step excruciating. I've also contracted dysentery and giardia and a staph infection, even torn muscles. In almost all cases, with some duct tape and drugs, I carried on.
It's important that you analyze these successful trips as well. Despite the popular dogma that you learn more from failure than success, I think that's another myth. This may be blasphemy at FailCon, but I believe you should assess what goes right just as rigorously as what goes wrong. Why? Studying failure, you may well identify what didn't work, but this doesn't mean you'll discern what will. You'll simply learn what not to do.
Consider the legendary race to the South Pole in 1911 between Norwegian explorer Roald Amundsen and English navy captain Robert Falcon Scott. Scott brought ponies to the Pole, which naturally foundered in the deep snow. He subsequently decided to place leather halters on himself and his men, and man-haul sleds loaded with a thousand pounds of food and equipment. Amundsen, having spent years in the Arctic with tribes that had successfully adapted to life on ice, opted to use sled dogs and skis. Amundsen's team reached the South Pole on December 14, 1911. Scott and team famously died of exhaustion in the Antarctic. In planning a South Pole expedition, one would do much better analyzing Amundsen's successful trip than Scott's tragic failure.
This is where I went wrong in planning the Beartooths traverse. I hadn't learned from my success in the Wind Rivers years earlier. Before skiing the northern Winds, we had flown over our route in a fixed wing to determine the elevation of snowline. Had we flown over the Beartooths (an investment of just a few hundred bucks), we would have seen that snowline was too high to start at the Woodbine trailhead. Instead, we would probably have decided to start almost a vertical mile higher, along the Beartooth Highway. This was a big mistake, not a small one. Engineers would call this a design flaw.
We returned to camp chilled to the bone from our multiple failed fords. We built a fire and huddled together around the meager flames coaxed from damp wood. Beneath the stars, we admitted that our glorious ski trip was over. And we hadn't even put on our damn skis—we set a new "gold standard for failure," as Ed put it.
It could have been a depressing evening. We could have spent the next few hours lamenting our misfortune, assigning blame, dwelling on the "lost" time. But we told more stories instead—real stories, the kind you tell among friends in the backcountry, sitting close around a fire.
Caroline shared how she routinely got into trouble as a teenager. At 14, she would sneak out to New York City clubs, make out with boys, and return home just in time for school. As a teenager, she struggled with anorexia, addiction, and abusive relationships; she checked in and out of rehab programs. "The only reason I went to college was to stay out of jail," she said.
Kenny told us about the 2 ½ years from his wife's diagnosis to her eventual death from cancer. "Carrie just wanted the truth, the reality, but the doctors wouldn't give it to her. Instead, they kept giving her new drug regimens that only made her sicker and sicker. After she died, her father told me something that helped me through that dark period," Kenny said, "something I will never forget: You see out there what you're looking for."
The next morning, despite our team decision to turn around, I awoke determined not to be defeated. I suppose I still hadn't reconciled the conditions on the ground with what I'd expected to find. Reality versus expectations: I was seeing what I was looking for, but I suspect not in the way Kenny's father-in-law intended.
"I'm not ready to give up," I said at breakfast. (Just because I know failure doesn't mean I like it. After failing on both Denali and Everest, I eventually summited each.)
My companions were mystified. They thought this had been settled and had accepted defeat graciously.
"Let's just do one more recon to see if we can get across the river," I said.
We split into two groups. After an hour of face-slapping bushwhacking, Ed discovered a logjam that we could use to cross the river. I was whooping with delight as we leapt log-to-log above the torrent and finally jumped onto the far bank. I believed our worries were over and couldn't wait to share the news with Kenny and Caroline.
Ed, however, wisely suggested we continue the recon to snowline. What we found stunned us. The heat had turned the snow into patches of 4-foot-deep mush interspersed with strips of jagged talus. Ed and I postholed for several hundred yards, wary of breaking a leg with every plunging step.
"Unbelievable!" I gasped.
"This terrain, at this time, is impassable," Ed said with professorial gravitas.
Kenny and Caroline had discovered the same thing. "The snow is completely isothermal," Kenny explained when we regrouped. "Water is percolating straight down through the snowpack. It can't support the weight of a human, even on skis."
On the two-day walk back, I couldn't help but share my disappointment—and apologize for my role in the failure.
"I don't think it was a failure," Caroline said. "It depends on how you look at it. I've had a great time with you guys, some of the best conversations I've had in years."
Ed nodded and smiled. "I've loved every minute of it. Socrates saw discourse as the path to wisdom."
Would we have told these stories on a successful trip? Perhaps. But as we retreated to the trailhead, sharing a special kind of camaraderie in the face of defeat, I was reminded of the most important lesson of all when it comes to failure: How you react to it is the ultimate measure of success. As Kenny reminded us, Viktor Frankl, a Holocaust survivor, wrote, "When we are no longer able to change a situation, we are challenged to change ourselves. Everything can be taken from a man but one thing: the last of the human freedoms—to choose one's attitude in any given set of circumstances."
"I actually don't feel this trip would have been more successful if we had skied across the plateau," Caroline concluded. "Sometimes the trip you get is better than the trip you planned."
Maybe. But I was already writing my postmortem.
Know when to turn back and when to soldier on
The weather is horrible. Your knee hurts. Food is getting low. Any one of these could be a reason to head home. But it could also be a challenge to overcome. Being able to tell the difference is one of the toughest mental tasks in the outdoors. The next time you face one of these dilemmas, ask yourself these five questions:
1. Are you safe and comfortable?
Fear, hunger, thirst, fatigue, even cold feet affect your ability to make a good decision. If you answered "no" to this question, stop and fix the problem before you make any big decisions.
2. Are you under pressure to achieve this goal?You don't have to be a pro to feel pressed to succeed. The cost of the trip, status with friends, inability to return and try again, work obligations, pride—all of these factors can influence your decision.
3. What happens if you turn around? Sometimes retracing your steps is easy; other times it means hard work and extra time, which can make you reluctant to retreat even if it's the smart thing to do.
4. What happens if you continue forward?What is the biggest risk? Could you die or will you just be late and uncomfortable?
5. What do you do when you just don't know?In some situations, you might ask yourself the first four questions and still find yourself with no clear answer. Don't flip a coin. Ask yourself what rescuers would say if you kept going and something terrible happened. Will they say you were unlucky—or an idiot? —Molly Absolon