Can't Fall Asleep in Camp? Science Can Help.
Can't sleep? Fight back with these six tips.
Heading out the door? Read this article on the new Outside+ app available now on iOS devices for members! Download the app.
The Italian painter Leonardo da Vinci once wrote in his notebook, "As a well-spent day brings happy sleep, so a life well spent brings happy death."
I wonder if da Vinci was lying awake at night when he wrote that, or if he'd ever been backcountry camping and so restless that he'd take sleep or death, whichever he could get. If you're like me — a backcountry insomniac — the struggle is real.
You lie awake in the dark watching moths flutter across the tent canopy. Your body is spent from a day of hiking, but your mind is a six-year-old on Halloween candy. Or it's the opposite: your mind is exhausted, but your body stirs inside of itself.
Of course, your hiking partner is sound asleep in the mummy bag beside you, ready to emerge in the morning like a beautiful butterfly from its cocoon. With another full day of hiking ahead, sleep is paramount. But the more you concentrate, the harder it gets.
Doctors recommend a minimum of 7.5 to 8 hours per night for adults. You need at least that much to compensate for the physical strain of backpacking. So how do you beat the mind game of insomnia?
Here are some simple techniques—some physiological, some psychological—that will help almost anyone get a full eight hours of sleep in the backcountry.
Plan your day
Try to spend most of your day on the trail. A full day of cardio and a 10-to-15-mile trek will push your body to its physical limit, helping you to sleep better. As a rule of thumb, you should hike (with breaks) for almost as long as you plan to rest. If you want to sleep for nine hours, try to stay on the trail at least seven or eight the previous day — say, from 8 to 4.
But don't push yourself too hard. Stop at least a few hours before you bed down to let your body return to homeostasis. The after-effects of strenuous exercise can linger for hours, making you feel jittery (the body's way of compensating for "oxygen deficit").
Of course, your flexibility will depend on what campsites are available, how many nights you spend, and the route you choose. Keep in mind the average adult hikes about 1.5 to 2 mph across uneven terrain with a full pack.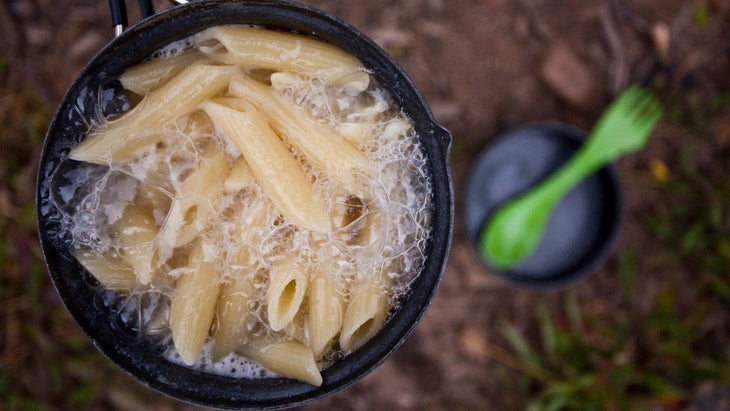 Eat carbs for dinner
Save your no-carb diet for the workweek: foods rich in carbohydrates help your muscles recover from a workout by replenishing glycogen stores. They're also a pretty sure bet for making yourself tired.
Ever wonder why you need a nap after a heavy lunch? As your body digests and metabolizes carbohydrates, they cause fluctuations in blood sugar, which produces that groggy, settling feeling. Carbs also make tryptophan (the sleep-boosting protein often credited for post-Thanksgiving drowsiness) readily available to the brain. Try noodles, tortillas, rice, or anything with pasta, and combine it with a protein.
Don't skimp on your sleeping pad
This one should be obvious: Don't get all Daniel Boone and try to sleep on the hard ground to save pack weight. And don't bring some chintzy quarter-inch foam pad that's been sitting in your basement since 1990.
Invest in a sleeping pad that's thick enough to relieve pressure points, long enough to fit you body, and warm enough for the climate/season (the higher the R-Value, the warmer the pad). Consider bringing a packable pillow to keep your head and spine aligned.
Get out of your sweaty clothes
There's nothing worse than going to bed dirty. Most of the time, though, you won't have a chance to bathe before you sleep.
What you can do, after your body stops sweating, is change into a clean layer of clothes before you zip into your sleeping bag. Something thin and loose: a t-shirt and shorts if warm, a set of long underwear if cold. A clean layer will help you avoid that clammy feeling and also protects your bag from the harmful oils of your skin.
Pack earplugs
People trek into the backcountry to find peace and quiet, but the wilderness can be a pretty rowdy place. Whether it's phantom rustlings in the leaves, dead branches dropping onto the forest floor, a swarm of cicadas, pounding rain, or early birds that won't shut up, there are plenty of annoying sounds to torment the light sleeper.
The simple solution? Pack earplugs. Wear them.
Don't smoke
In addition to the obvious health hazards of smoking, tobacco products can impact your sleep. That's because nicotine is a stimulant, just like caffeine. Modern research has linked tobacco consumption with insomnia and irregular sleep cycles.
The best route is to quit smoking, as this will improve both your ability to sleep and perform strenuous exercise. But if you aren't ready to quit, at least limit your smoking to earlier in the day; nicotine has a half-life of about 1-2 hours.
Originally published in 2015; last updated December 2021