How to Backpack With a Toddler
It's messy, noisy, and twice the hassle of hiking by yourself. But take your toddler on the trail, and the memories will last you the rest of your life.
Heading out the door? Read this article on the new Outside+ app available now on iOS devices for members! Download the app.
Get excited: you are about to share a gorgeous, unpredictable adventure with your tiniest pal. Sure, there'll be temper tantrums and diaper changes along the way. But for all the hassle, there is nothing like bear-hugging your daughter as you careen down a natural water slide three miles from anywhere, or staring quietly together at the moon while your son nurses. So laugh off the blowouts, and hit the trail with these ten tips.
Before You Go
Calibrate your expectations —It's no longer about the miles you cover, the wicked elements you weather, or how hardcore you look. Frankly, none of that is worth the inconvenience of backpacking with a toddler. But seeing your child experience the great outdoors is an untradeable joy. Expect to be less efficient and more delighted.
Hammer out the kinks at home—Whatever your plan for sleeping arrangements, carrier, water, and food, try it at home first. If you will be sharing a sleeping bag with your toddler, do you both fit? Can your son or daughter drink from a CamelBack, or should you bring a sippy cup? Is the bedtime routine wilderness-replicable? Experiment while you can still tweak the plan.
Don't skimp on your carrier—For children under 20 pounds, use a front-facing soft carrier like a MobyWrap under your normal pack. That way, you'll be able to adjust your child to face in when asleep or out when awake, without taking off your pack. For heavier kids, use a backpack with a child's seat, sun and rain cover, and room for water and gear below. Deuter, Kelty, and Osprey, all make great options.
Try them on with your toddler in the seat: it should feel perfect. Like a normal backpack, if it rubs you weird or is an awkward fit in the store, it will feel like a torture instrument on the trail. If your favorite carrier doesn't have rain and sun protection, don't fret. You can improvise with a light poncho over both of you for rain, and a hat that covers shoulders and neck for sun.
Start with one night—You can build up to the whole zillion-miles-by-age-2 thing. Start with a one-night shakedown trip. Note what works well, what bugs you, how many diapers you actually need, and which trail meals are the biggest hits with the little one. When you graduate to multi-night trips, you'll appreciate the knowledge.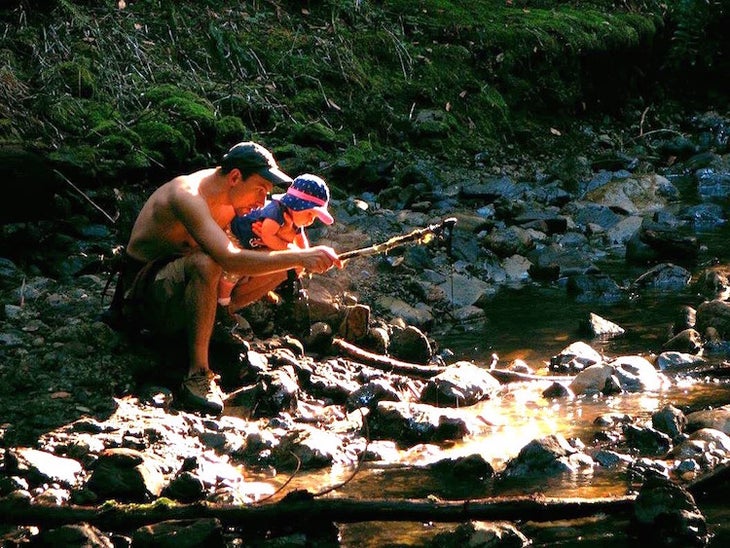 On The Trail
Chat it up—The best way to entertain a captive toddler is to experience nature along with her. Point out the squirrels overhead, smell the hot pine together, and taste the wild raspberries along the way.
Take fewer risks—There is a tiny, helpless human dependent on your good judgment. Figure out, with your family, where you are on the risk spectrum, and keep the trip there. Aim for more predictable terrain, less gnarly descents, and lower mileage.
Take more breaks—Stop every couple of hours for your toddler to get down and toddle. If these breaks include puddles or interesting climbing rocks, even better.Use this time to check and regulate your buddy's temperature, too. Add socks and mittens if chilly, spritz with water if hot, and so on. If your toddler conks out while you're walking, just rest that nodding head on an improvised pillow, ignore the break rule, and press on.
Snack early, snack often—Toddlers on the trail will eat 1200 to 1500 calories a day, about half of what you eat. Pack accordingly. Most toddlers can eat your standard backpacking food if it's cut up small – but this doesn't mean they'll like it. Bring some reliable, kid-friendly snacks like cheese, crackers, and Cheerios.
Drink more water—You'll need to pay special attention to hydration, especially if Mama is still nursing. Even if not, you'll be carrying 18 to 35 more human pounds more than you usually do, plus diapers, extra food and water, and so on. Remember to offer your little one water frequently, especially on hot days. As a rule of thumb, five to six pees a day, light yellow in color, indicate sufficient hydration.
Expect a little chaos—Especially at night. Murphy's Law dictates that at least one diaper will explode, molar teething will begin, and dinner will be strewn about like rice at a wedding. Keep diaper supplies, especially wipes, in your most accessible pocket. If traveling in a group, set up far-ish from the others, and explain that the night may be wakeful.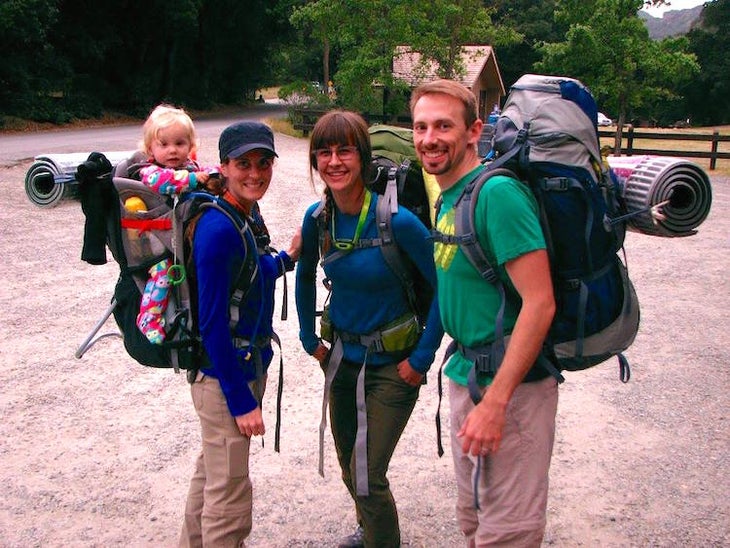 What to Bring
Gotta Have:
Carrier
Diapers and wipes
Warm, footed bodysuit
Warm hat or beanie
Light layers
Rain and sun protection
First-aid kit
1200-1500 calories per day and snacks; plus 500-700 extra calories for a breastfeeding mama
Roughly half as much water as you bring for yourself
A sleeping bag large enough to share, or an insulated sleeping sack
Nice to Have:
Reusable diaper covers with compostable inserts
Compostable wipes
Lightweight, versatile toys that can be clipped to the pack
Small carabiners
Empty Ziplocs or plastic bags
Teething solutions (meds, salves, rings, whatever you use.)
Tiny cuddlebuddy or lovey for nighttime
Something to use as a pillow for pack-naps
Camera, to capture the cuteness