How Long Does It Take To Hike 5 Miles?
Short answer: It depends. Here's everything that goes into your regular hiking pace.
Heading out the door? Read this article on the new Outside+ app available now on iOS devices for members! Download the app.
How long does that 5-mile trail take to hike? It's probably the most important question when you're planning a day or a weekend out, but one of the toughest to answer. Instead of comparing your average hiking pace to someone else's, consider all the factors that could affect it: terrain, grade, temperature/weather, your own fitness level, your (or your group's) hiking goals, et cetera.
Think about it: An early-season 5-mile hike that's uphill through loose sand and in the middle of a heat wave will obviously take longer than a late-season 5-mile hike on flat gravel and on a perfectly temperate day. So don't get disappointed if it takes you minutes, even hours, longer to hike the same distance on two different routes. The same 5-mile route could also feel like a sprint or a sludgy slog, depending on weather or how you're feeling. Sometimes there's just no comparison.
Terrain
The trail you're hiking on can significantly affect your efficiency and speed. The hardest terrain to hike through is swamp, then sand, wet clay, ice, gravel road, and finally paved road. Basically, if your feet are postholing through mud or sliding down a loose dune with every step, it's difficult to move at the same speed that you would on the paved road in your neighborhood. Also, if your 5-mile route includes a lot of scrambling, you should focus on scaling the rocks safely instead of the ticking clock. It takes a lot longer to find your first-aid kit and mend your scraped knee than it does to create and maneuver a safe route up the rock.
Grade
We're not talking about A through F or pass/fail. A trail's grade is the measurement of its steepness. If you're a mountain goat who has lots of natural hill training, you might be floating up the incline easier than flatlanders do. Regardless, everybody recruits different muscles when hiking up and downhill, which all affects energy expenditure and hiking pace. Going uphill also means you're working against gravity, and going downhill means you're working different muscles to control your footing and momentum. If you have knee or balance issues, steep downhills might be more comfortable if you slow down and take the hike at a comfortable pace.
Temperature/Weather
Some people thrive in the heat. Some people thrive in the cold. Knowing your own limits (and the possible symptoms of heat stroke, hypothermia, and other weather-related ailments) can help provide context to any changes in your regular hiking pace. Your pace can change throughout the year, too. If your trail hits extreme temperatures throughout the year—boiling hot in the summer and blustery cold in the winter—you're going to hike a bit slower as you adjust to the changing conditions.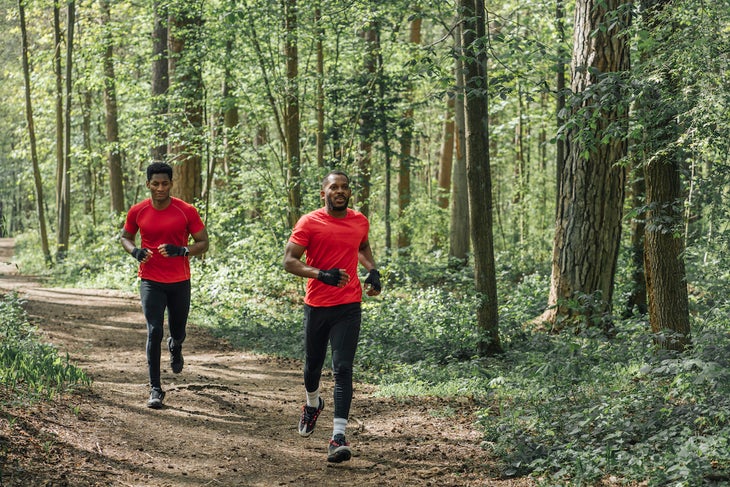 Fitness Level or Ability
Building fitness takes time. If you spend the first few hikes of the season comparing your hiking pace to the end of last season's, you're likely going to be disappointed. The same goes if you're returning from an injury, hiking at altitude for the first time, trying out a challenging new trail, and so on. If you've been training and hitting the trails regularly, a 5-mile hike could be a breeze. If you haven't, you just might hike a bit slower or need to need to take more breaks on the trail.
Your Own Hiking Goals
Chatting with your hiking partner, taking pictures, taking in the scenery, watching the birds ahead—you know, some of the reasons you're on the trail—eats up time. If you spend the entire time on trail looking at your stopwatch instead of the vista in front of you, what's the point? Even when you're training hard for an upcoming trip, taking a second or two to gaze at the scenery won't make a big difference in the long run, but it can prevent your 5-mile hike from becoming a sufferfest. Besides, your hiking pace isn't the only thing that makes you a hiker.
That All Being Said…
There are some ways to get a general estimate of how long a hike should take. Most hikers average 2 to 3 miles per hour, so a 5-mile hike could take around 2 hours. Some speed hikers push the throttle at 4 to 5 miles per hour. Tough inclines might reduce your pace to 1 mile per hour, and off-trail hiking might cut that in half. There's no good or bad hiking pace. Just go however fast or slow you want, and try not to compare yourself to any "local legends" who are crushing the trail on Fastest Known Time.