Heroes: Kyle Maynard, 26
Climbing Mt. Kilimanjaro is plenty hard with two strong legs. Imagine crawling to the top, like the first congenital quadruple amputee to reach the summit.
Heading out the door? Read this article on the new Outside+ app available now on iOS devices for members! Download the app.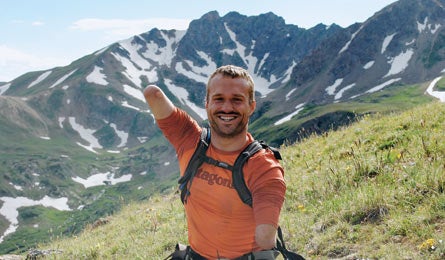 Kyle Maynard (Photo Courtesy of Kyle Maynard)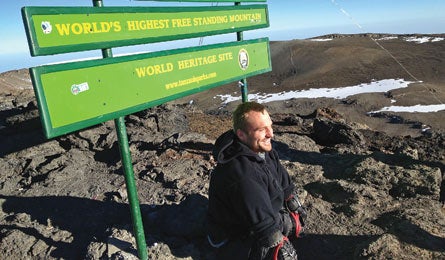 Atop Uhuru Peak (Photo Courtesy of Kyle Maynard)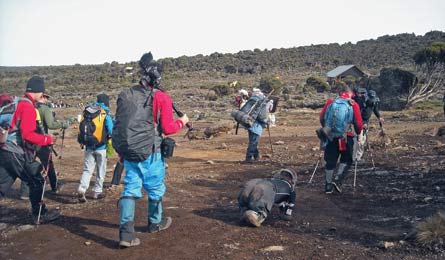 Maynard bear-crawls (Photo Courtesy of Kyle Manyard)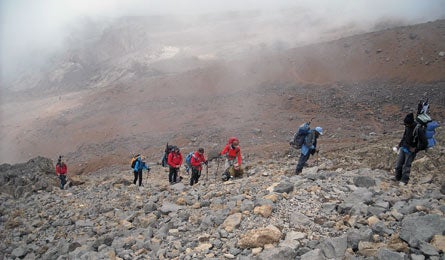 Battling Constant Pain (Photo Courtesy of Kyle Maynard)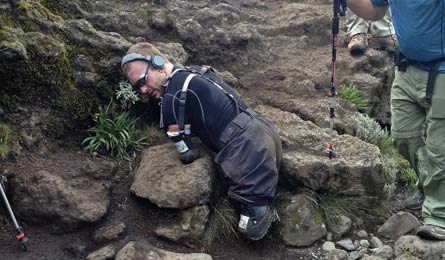 Temping fate (Photo Courtesy of Kyle Maynard)
For most people, overcoming real adversity only happens as needed. Cancer survivors don't know what they're capable of until they're put to the test. Kyle Maynard? He's never had a before and after. He was born with limbs that end at the knees and elbows. But he prefers to see every challenge as a goal. Even so, some observers thought Kili's notorious difficulties—which prove too great for about half who attempt the peak—would defeat him. Then he crawled through mud, torrential rains, and fire ant colonies to the 19,341-foot summit. On January 15, 2012, he and his eight-person team of able-bodied and injured military vets and civilians stood atop Uhuru Peak, gazing out across Tanzania. They climbed to draw attention to the alarming number of veterans who commit suicide after returning home from Iraq and Afghanistan, and to prove, as Maynard says, that any limitation is surmountable.
The team had intended to tackle the standard Machame Route—the "easiest" route—but a long downhill section posed unexpected problems for the 140-pound Maynard. On flat and slightly uphill terrain, Maynard bear-crawls on all fours, distributing his body weight between his appendages. But on downhills, his shoulders take the brunt of his weight, causing significant swelling. By day four on the Machame, he says he felt seriously dejected. "As we hiked I could hear everyone laughing, joking. Knowing that I had to go down before climbing up again was a constant reminder: They're up there crushing it, while I'm down here battling constant pain."
Maynard's guide, Kevin Cherilla, tuned in to his frustration. On the morning of day four, the two decided to reroute their trek up the more direct—and dangerous—Western Breach, which climbs nearly 3,000 feet up a steep, icy boulder field (three climbers from Boulder, Colorado, died there in a rockslide in 2006). Maynard tempted fate twice, when his carbon-fiber "boots" (built to prevent blisters on his exposed appendages) slipped on the ice and sent him hurtling toward a cliff. Cherilla leapt to grab him, stopping Maynard before he plunged into the abyss. But otherwise, says Cherilla, he never helped the former football player, MMA wrestler, Crossfit athlete, and—now—mountaineer during the 12-day, 30-mile journey. "In a few spots, Kyle's body was too short to reach the top of a boulder," says Cherilla, "so one of us would offer a leg for him to prop himself up on. Did we assist him? Yes. But did we do the work for him? Not for a second. He scaled Kili on his own power—and with the same fortitude and style as some of the world's best climbers."ng trips for her club and even testing gear for BACKPACKER. "I'm now a stronger hiker and a big safety advocate. I just secured a grant for the Hiking Club, my school's oldest student-run organization, that will give our members deep discounts on avalanche safety and Wilderness First Responder training."
Take it from me…
>> Battle doubt. When I'm working as hard as I did on Kili, it helps me to have a mantra. A Navy SEAL taught me my favorite one: Not dead, don't quit.
>> Stay in the present. Don't let your mind wander. Yes, Kili was amazing, and I'm going to climb another big peak. But if I'm constantly obsessed with what's next, I lose out on the power of the present.
>> Train smart. I use Crossfit, which employs bursts of short, high-intensity training to max out your cardio system. Lots of people think you have to train hours a day for a big expedition. But trust me, if you're going all out for 20 or 30 minutes a day, it's enough.
>> Play to your strengths. We didn't take a break for five hours on the Western Breach. But that kind of climbing—where I'm relying on my strength to pull myself over obstacles—is much easier for me.
>> Remember to breathe. My lungs are the same size as an able-bodied person's, but I'm oxygenating less mass. Give yourself more air by pressure breathing [forcing air out through pursed lips].
>> Don't lose momentum. People kept stopping, wanting to talk, and I couldn't. Maybe I came off as a punk, but I had to keep going.
>> Climb for a cause. When you're focused just on yourself, it can be hard to dig deep and keep going. But when you ask 50 friends to support a charity, you not only make a difference in the world, you also create incentive for yourself.
Online extra: Watch a video of Maynard's climb: backpacker.com/kyle.