How To Maximize the Benefits of Trekking Poles
We explored the Austrian hills with Komperdell's famed mountaineer Gerlinde Kaltenbrunner to get the inside scoop.
Heading out the door? Read this article on the new Outside+ app available now on iOS devices for members! Download the app.
I was told that we—the famous high-altitude Austrian mountaineer Gerlinde Kaltenbrunner and myself—would be hiking through a hillside filmed in The Sound of Music. Julie Andrews made it look like a pleasant frolic, though, not the warm-up to a steep four-mile ascent.
I'd met Gerlinde midmorning, on the southwestern shore of Mondsee, a clear green lake known for waterskiing (Austrians have to do something with their skis, even in summer). We began the 4,000-vertical-foot hike up the adjacent towering "Schafberg," German for "Sheep Mountain."
Gerlinde, a sweet soul with a fondness for both high-risk ice climbing and yoga, is the first woman to summit the world's 14 tallest 8,000-meter peaks (over 26,000 feet) without supplemental oxygen. She is also vegan. And takes a daily goose-bumping jump in the lake each morning she's home.
Needless to say, she set a healthy pace.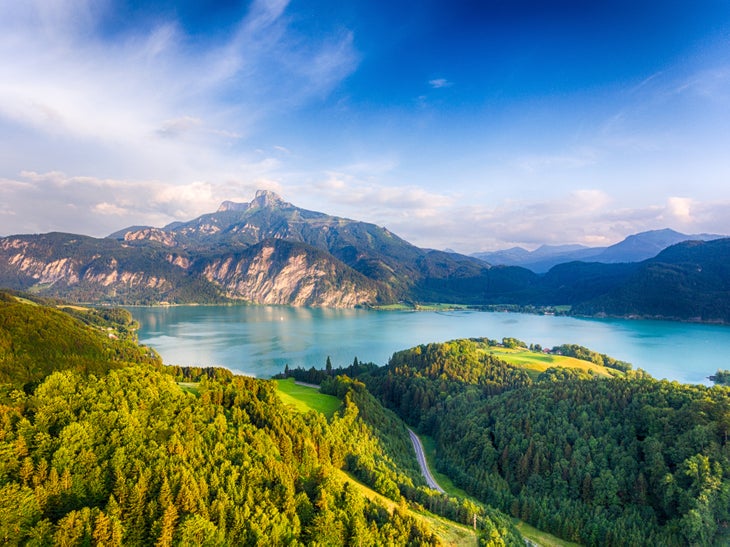 A few miles north, in the longshadow of Schafberg and off Mondsee's western shore, sits the headquarters and production campus of Komperdell, Europe's premier trekking pole manufacturer.
For more than 20 years, Gerlinde has been using Komperdell's poles for her top-of-the-world ascents—Everest, K2, and the like. That morning, heading up Schafberg, she instinctively wrapped her palms around a pair of Komperdell's new FXP poles—made from ultra-lightweight carbon and height-adjustable with sturdy alloy clamps.
Using the poles like extensions of her arms, she swiftly led us up the steep incline.
Beyond-the-summit innovation and design
When I'd visited Komperdell's headquarters the day before, CEO Thomas Roiser led me on a personal tour through the whirring machines, assembly lines, and design studios. All of the 20,000 poles they produce on a weekly basis are 100-percent manufactured and assembled on the picturesque campus: a collection of classic Austrian white-washed buildings with exposed wooden beams and apple trees scattered between.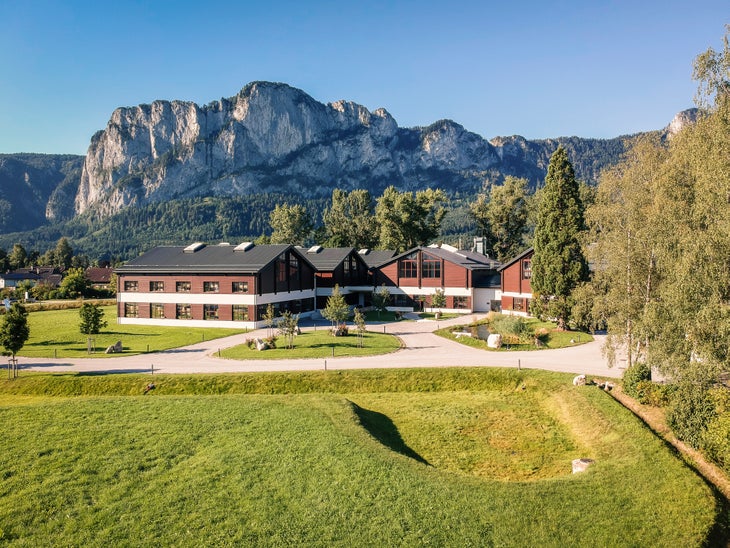 That Komperdell is a family business became immediately clear; everyone called Thomas "Thomas." His parents, who revitalized the company in 1983 before passing it down to their son, still keep themselves involved. On the production floor, as Thomas explained each machine in intimate detail, he introduced every employee to me by first name, often following the handshake with an aside like, "He's been here for 21 years; he, 17."
Austria's environmental regulations are extremely strict, Thomas told me, walking through the room that spray-lacquers the poles. "All of this," he said, proudly swirling his finger in the air, "emits less than my mother's kitchen."

I met Maximillian Bolzer, Komperdell's product manager, who explained how integral innovation is to the company. Back in the 80s, Thomas's dad pioneered the use of trekking poles' now-standard EVA foam grip, and Komperdell was one of the first manufacturers to use carbon. 
"We're always creating new systems, always new products," Max told me. The FXP pole, which Gerlinde and I used while hiking Schafberg, is the latest and greatest from Komperdell's line of 60-plus poles. At the summer 2019 IPSO exhibition (Europe's version of Outdoor Retailer), the FXP won the trekking pole category's gold star. Incredibly versatile, it is collapsible, ultra-light, and incredibly sturdy—ideal for everything from trail running to skiing to multisport adventures.
"Now you need just one pole for all your summer and winter activities," Max said, which saves adventurers money and storage space. For snow, add a powder basket; for summer, remove it. He explained the FXP, while collapsable, works well for skiing because its internal tensioned cord is ingeniously segmented, removing any rattling and reducing the number of technical components, thereby saving weight and minimizing the possibility of malfunction. Plus, from its collapsed form, the poles click into a fixed stick with the flick of a wrist.
Seriously. You simply hold onto the hand grip, flick it out, and the pole clicks into itself automatically. It kind of feels like magic.
Pro tips: Maximizing the use of trekking poles
I didn't start using trekking poles for hiking or trail running until two years ago. Since then, they've completely changed the way I move in the mountains. Using them properly is the key to unlocking all the benefits they provide. Here are a few helpful hints sourced from Gerlinde, Thomas, and Max.

1. When moving uphill, shorten your poles
Generally speaking, your trekking poles should match the height of your elbow. This great for most hiking, but if you're ascending a steep slope, shorten the height of your poles up to 4 inches to gain more leverage throughout your arms.
2. When moving downhill, lengthen your poles
When descending steeper slopes, longer poles will help keep your knees and back healthy. Lengthen them 2-4 inches to relieve tension on your low-back and lessen pressure on your knees by having a more upright posture and the ability to transfer some body weight from your legs into your arms via the poles.
3. Tighten the wrist strap
When wrist straps are correctly used, they prevent aching wrists and fatigued hands. Slide your hand in the loop from the bottom of the strap, then wrap your fingers around the hand grip and top of the strap. Tension the strap down so it fits snugly around the top of your wrist, but isn't too tight to remove quickly. Using wrist straps prevents over-gripping, saves energy, and adds stability to your movement. 
4. Move like an animal 
Imagine you were an orangutan. Use the trekking poles like extensions of your arms. Plant your trekking pole in tandem with its opposite foot. For example: when you step forward with your left leg, plant the right trekking pole up to a foot ahead. Thankfully, FXP poles are so light your arm movements stay organic and fluid.
The Sound of… trekking poles and cow bells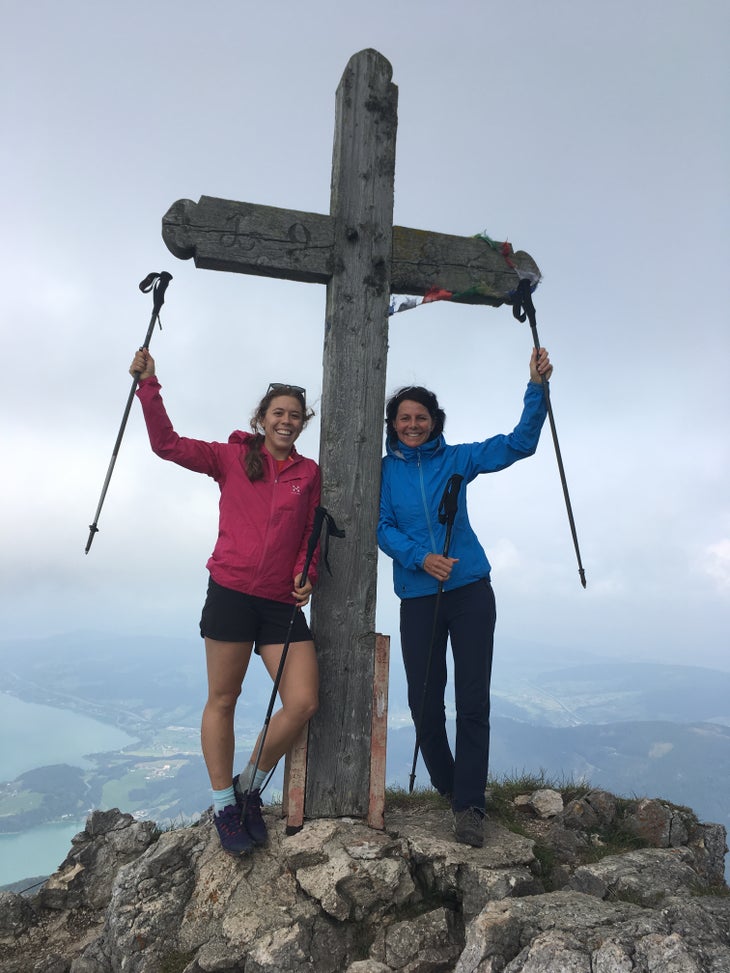 In the end, Gerlinde and I reached the scenic summit of Schafberg, looking down upon the green Mondsee and cute village. We didn't hear any music during our hike, though—no kid chorus, no frolicking women—only the smack smack of our trekking poles, and a few dozen cow bells jingling as they scoured the famed hillside for edible grass.
At one point during our descent, I asked Gerlinde: "Have you ever seen The Sound of Music?"
She shook her head and smiled sheepishly, bounding nimbly down the trail—smack, smack, step, step—back to the green lakeshore. Some things are better in real life, anyway.