Gear Test: Beat the Bugs without the DEET
DEET-free bug-repellent options from chemicals to high frequency sound
Heading out the door? Read this article on the new Outside+ app available now on iOS devices for members! Download the app.
Nothing kills the joy of backpacking for me more than having hordes of mosquitoes and black flies as my hiking buddies. DEET works well, but smells bad and is a potentially dangerous chemical that gets absorbed into your body. What other options are out there for serious backcountry use?
I found a few DEET-free alternatives and tested them in Oregon and Washington for a few months from June through early August. This year, the mosquito hatch was delayed by an unseasonably cold spring. I called rangers from the Three Sisters Wilderness to the Olympics for the latest word on their turf, and came up empty. I turned all-out bug chaser, driving and stopping at day-use areas and trailheads for any sign of the winged beast.
Finally, in early July, one flat tire, and hundreds of miles later, I found what I'd been looking for—mosquito swarms blooming at a wildlife refuge, practically in my backyard, just in time for me to catch up with my old hiking buds.
ExOfficio Bugsaway Halo Check Shirt


The first thing I did with this shirt is wear it to the office, which was quite an improvement over my usual attire. More than just look good though, this lightweight, loose-fitting, long-sleeve, button-down shirt provided me with great bug and sun protection and venting in temps from up to the 70s.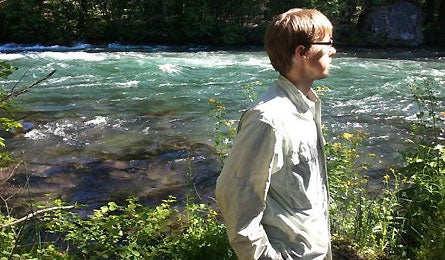 The nylon fabric is treated with Insect Shield, a permethrin-based formula that bugs don't like. In Oaks Bottom Wildlife Refuge in Portland, Oregon, Colchuck Lake in Washington's Enchantments, and several places in between, I watched as bugs landed on the shirt, then quickly shoved off, and I experienced no bites through the fabric. The Insect Shield additive is designed to last 70 washings. Mine is still repelling after approximately 15.
At 8 ounces, this shirt is light and useful enough to throw in my pack any time of year. The wide chest pockets (zippered on one side and Velcroed on the top) are great for maps, lighters and miscellaneous items. I also liked the UPF 30-plus sun protection of the light, green-checked pattern, which reflects heat more than darker clothes.
My only beefs: It fits larger than most mediums—I'd size down next time. And, it's pricey.
ExOfficio Bugsaway Halo Check Shirt

Weight: 8 oz.

Price: $95

Exofficio.com

ThermaCELL Mosquito Repellent Appliance

When insects really bug me—like when they make a visible, palpable presence in the air—I want more than bug-resistant clothing, I want an insect force field.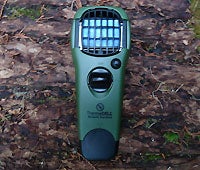 Enter ThermaCELL, which makes devices designed to protect small areas from flying insects. ThermaCELL's Mosquito Repellent Appliance uses a disposable butane cartridge that fuels a heating element underneath a wafer or "mat" of alletherin, a natural insecticide found in chrysanthemums. One cartridge and three mats included with the lantern delivers 12 hours of protection. A replacement pack of butane and mats costs $7 (or less with higher quantities)—a bit expensive for trips longer than a weekend.
In my testing, ThermaCELL wasn't quite the force field I'd hoped for. The device—slightly larger than a TV remote and about as heavy—worked better the longer it was on, saturating the air and area with alletherin. But, at best, the airborne substance simply thinned the herd of insects. And the bugs that did get into the 5-foot radius around the device still landed on me and bit my arms and legs when they weren't covered.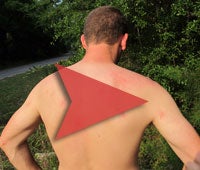 Watch one tester's unfortunate trial with the ThermaCELL. It's not pretty.


Thermacell Mosquito Repellent Appliance
Weight: 8 oz. with butane
Price: $26 – $32
Sawyer Permethrin Clothing Insect Repellent Pump Spray
I like doing things my own cheap way, so I sprayed my zip-off hiking pants and a pair of socks with this permethrin formula. This worked just as well as the ExOfficio shirt, deterring mosquitoes that landed on the fabric from staying long enough to bite through. One 24-ounce bottle costs $16 and holds enough for four sets of shirts, pants and socks.
One application lasts six washings or six weeks, so it's a temporary solution—a definite tradeoff. The treated fabric felt greasy and slightly heavy at first; but this feeling subsided after a washing. Be sure to spray your clothes outside and let them dry there, or the smell will make you gag. Permethrin is toxic to insects, fish and cats—and mildly toxic to humans, so wear gloves while applying. I recommend a full air dry and wash before wearing to eliminate the greasy feeling or potential for skin absorption. I'd recommend this option as a good, cost-effective solution for peak bug season or trips up to a month.
Sawyer Permethrin Clothing Insect Repellent

Weight: 24 oz. (pump spray bottle tested)

Price: $16

Sawyer.com
Shoo!bug

I think the sound of mosquitoes annoys me almost as much as their bites. A new product called Shoo!bug turns that power of sound around so it works against insects. It turns out that insects are annoyed by certain sounds, too.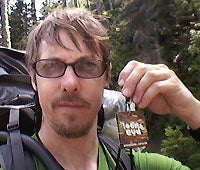 Developed originally to protect livestock, the Shoo!bug has frequencies for mosquitoes, flies, ticks and fleas embedded in a magnetic strip on a plastic card, much like a credit card. Worn next to your skin, the Shoo!bug adds its own frequency to what the Shoo!bug company refers to as the bio-energetic field around every animal. In other words, your body works as an instrument to help make the sound.
I was very skeptical, yet when the shipment arrived, our cat was extremely curious—presumably from the noise coming from inside the bag. The sound does seem to have an effect. We noticed mosquitoes flying toward it, then away. My family didn't get any bites while we were wearing them next to the Salmon River in Oregon. It helped keep the skeeters at bay during 6 days in Washington's Alpine Lakes Wilderness, wearing our Shoo!bug dog tags as a talisman against insectdom. We did resort to DEET-based sprays for the buggy mornings and nights, however.
The downsides: You need to wear Shoo!bug against your skin all day—and up to 24 hours before exposure to insects—for the energy field take effect. And even then, it's not 100% effective when the bugs are thick and hungry.
To their credit, Shoo!bug offers a recycling program in addition to standing behind their product with a 30-day warranty. Each card lasts from 4 weeks to 2 years depending on how it's used.
Bottom line: Don't stake your skin on this product without permethrin-treated clothing or some other backup, but if you're not a big fan of DEET, I think it's worth a try.
Shoo!bug

Weight: .3 oz.

Price $20

Shoobug.com