Gear Review: 9-Weight Fly Rods & Reels
If you chase big fish, you need a 9-weight fly rod to carry along on your adventures. BACKPACKER reviewed five rods that fit the bill.
Heading out the door? Read this article on the new Outside+ app available now on iOS devices for members! Download the app.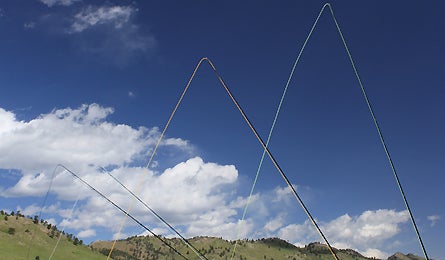 (Photos by Dan Corbett)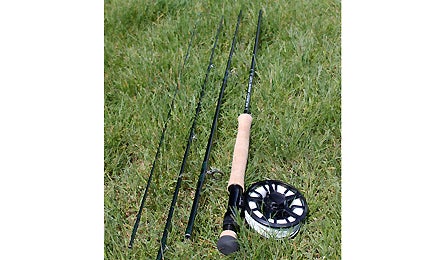 Ross Essence FW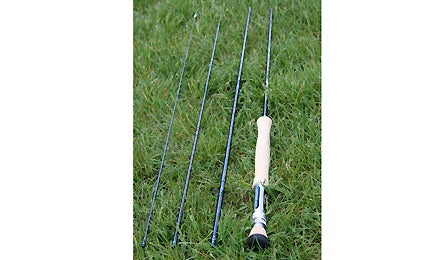 Orvis Hydros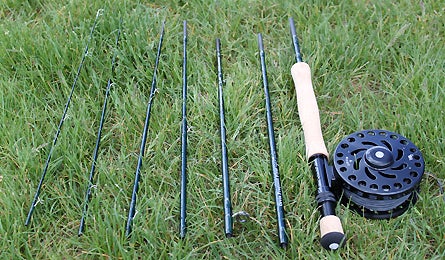 Orvis Frequent Flyer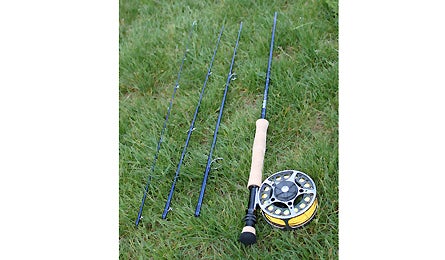 Sage Xi3
Temple Fork Clouser
A 5-weight rod would snap moments after you set the hook on a summer steelhead. A 3-weight could not even pretend to cast muskellunge flies. And while a 9-weight might cause your backpacking friends to question such a heavy rod…you know better. If you chase big fish (Northern Pike in the Boundary Waters, Summer Steelheads in the Cascades, or Roosterfish in Costa Rica) you need a rod that can handle your quests. And besides, would you rather carry five boxes of Mac 'n Cheese, or one measly fishing rod?
Read on for five 9-weight options.


Ross Essence FW Rod

($229, 4-pieces, 9', 4.8 oz., www.rossreels.com)

The Essence FW appears to be designed particularly with salmon and steelhead in mind. The Essence FW casts 70' of line with flawless accuracy. The action is slightly slower than that of the Orvis Hydros rod, however the Essense FW performs with nearly the equivalent performance at less than half of the price. With a simplistically elegent paint finish to round it out, the Essence FW is a well-rounded rod for pursuing big fish. Bottom Line: The Essence FW offers stellar performance at a phenomenal price.
Ross Evolution LT #4 Reel

($315, 3.75", 4.8 oz., www.rossreels.com)

The Evolution LT is significantly smaller and lighter than all of the other reels that I used. Due to the smaller size I could only put about 125 feet of 20lbs backing, making the lighter weight even more noticeable. The drag system seamlessly engaged when setting the hook. With its minimal weight and impressive drag system the Evolution LT is easily my first choice for salmon, steelhead, pike, and other freshwater fish. I also recommend the Evolution LT for slightly less monstrous saltwater fish, but the limited amount of backing makes me nervous about tackling tarpon or roosterfish on this reel. Bottom Line: Thanks to its light weight, the Evolution LT is the perfect reel for muscle-bound freshwater fish.
Read on for the Orvis Hydros and Frequent Flyer.

Orvis Hydros Rod

($525, 4-pieces, 9', 4.1 oz., www.orvis.com)

The Hydros, billed as "the second lightest rod in the world" a e on the Orvis website], offers the top accuracy of all the rods I tested at distances approaching 100'. Bested only by the Sage Xi3 for consistent distance, the Hydros could cast easily in the most extreme situations. While the Ross Essence FW performed comparably for accuracy in my test, I found that the Hydros has an easier time throwing massive streamers. Bottom Line: The Hydros offers flexibility across fresh and saltwater with unparalleled accuracy.
Orvis Frequent Flyer Rod

($225, 7-pieces, 9', 4.6 oz., www.orvis.com)

What does less cash get you within the same company? Improved convenience with a loss of performance, at least at a distance. Normally when I try a 7-piece rod I expect it to be extremely stiff. Surprisingly the Frequent Flyer has the slowest action of any rod tested. I could cast 60' of line without difficultly but my accuracy greatly suffered at any further distance. The convenience of a sub-18 inch rod tube, sized to be easily stuck into your daypack (or briefcase or purse on a business trip i), makes the Frequent Flyer an ideal choice for any space-limited travel. Bottom line: If you love long, slow casts, even when throwing enormous flys, the Frequent Flyer is for you.
Orvis VO2 V Reel

($395, 4.25", 10 oz., www.orvis.com)

Size does matter. As the largest and heaviest reel I tested, the VO2 V is designed for the biggest of big fish. This reel consumed an entire 250 yard spool of 20 lbs. backing with room for more. The drag system feels a bit off at the lighter settings however. Bottom Line: if you exclusively play with big saltwater fish, the VO2 V is a great reel for you, but if you like freshwater action as well, this reel may be overkill for your needs.
Read on for the Sage Xi3.

Sage Xi3 Rod

($705, 4-pieces, 9', 4 oz., www.sageflyfish.com)

The Xi3 is the only rod that I could consistently lay out 100'. When I hooked a large and unknow saltwater species in Costa Rica, the Xi3's strong backbone allowed me to efficiently and effectively turn the fish (prior to said fish being eaten). While it has extreme strength, the Xi3's accuracy is slightly less than that of the Orvis Hydros at great distance and equal to or better than all of the others at distances less than 60'. Bottom line: The Xi3's massive backbone makes it my first choice for casting to a tailing fish that is far, far away.
Sage 3810CF Reel ($300, 4.4", 6.75 oz., www.sageflyfish.com)

Sage's 3810CF reel features a carbon fiber spool to decrease the weight while holding 225 yards of backing, almost the same amount as the Orvis VO2 V. Additionally, the carbon fiber shaves off a couple of ounces compared to its equivalently sized competitors. Bottom Line: The drag system is firm enough for big saltwater fish while the weight is low enough to spend all week chasing freshwater prey.


Read on for the Temple Fork Outfitters The Clouser.

Temple Fork Outfitters The Clouser Rod

($249.99, 4-piece, 8'9", 5.6 oz., www.templeforkflyrods.com) Perhaps as a result of the comparably shorter length, the Clouser is comparably more difficult to cast past 60-65'. Alternatively the rod has a thick tip, allowing for easy casting of your heaviest flies. The Clouser is also the only rod that does not come with a rod tube. Bottom Line: If you use heavy, weighted flies with sinking lines the Clouser will help you toss them without wearing out your arm on the first morning.
Temple Fork Outfitters Prism Cast Large Arbor 9/11 Reel

($99.95, 4.25", 8.7 oz., www.templeforkflyrods.com)

The budget-priced Prism reel easily ate 225 yards of backing and one of the simplest quick-change spools I tested. While the drag is not quite as smooth as the others, it is more than sufficient for less explosive saltwater game and the entire spectrum of freshwater fish. Bottom Line: Aesthetically the Prism does not have the same luster as its machined competitors, but at $99 this cast reel offers immense value.
Testing

In addition to saltwater testing in Costa Rica and Florida, I tried to wrangle as many huge musky and northern pike as my home state of Colorado offers. I also set up a series of cones to measure distance and accuracy of casts at a local park. (As large fish are frequently on the move, being able to place a fly precisely before the fish swims out of range can be critical to success.)
At the park I performed a series of casts with three different setups on each rod. First, I paired the rods with their respective manufacturers' reels. Then, to adjust for the differences in fly line, I cast each with the Sage 3810CF reel (Sage Equator Line) to evaluate distance. Finally, I used the Ross Evolution reel (Scientific Anglers Mastery Series Bonefish Line) to evaluate accuracy.
(All weights supplied by manufacturer.)