Backpacking Tents: How to Pick the Perfect One for You
Home is where you stake it out. Understand the ins and outs, pick the right shelter, and treat it like you would your bedroom.
Photo: Geir Pettersen / DigitalVision via Getty
Heading out the door? Read this article on the new Outside+ app available now on iOS devices for members! Download the app.
Read our best backpacking tents review here!
The Tent Expert
Emily White, her husband Joe, and her cousin Brian Wolf founded Roads, Rivers, and Trails together after a winter Appalachian Trail thru-hike. "I genuinely get excited about tents," she says. The store is small, but Wolf and the Whites built a whole section of shelves on wheels so they could push it all aside and set up several tents at a time.
How to Buy a Tent: Ask the Right Questions
How many people do I usually camp with? If you're hiking with just your partner 80 percent of the time, stick with a two-person tent. Rent or borrow if your party grows.
Is this tent appropriate for expected conditions? Unlike a three-season shelter, four-season tents can withstand extreme winds and keep out driving snow. However, they're heavy. You can save weight by using a tarp shelter that gets its rigidity from taut guylines instead of poles, but they lack stability in heavy weather. Expecting to camp on rocky ground? Look at freestanding models, which are easier to pitch.
What kind of vestibule space do I need? In prolonged foul weather, gear storage space is invaluable. "But don't plan to absolutely fill your vestibule," White says. "It'll cut down on airflow inside the tent." A two-door setup usually means more vestibule space.
How's the price-to-weight ratio? As weight goes down, price tends to increase. "Is $100 worth a pound? That's up to you," White says. Aim to carry around 2 pounds per person for three-season tents, and 3 for four-season models.
How's livability? Practice setting up the tent in a store. Crawl around inside to make sure the space and headroom are sufficient.
Anatomy of a Tent
Learn your way around your tent. (Too small to read? Click the image to view the full-size version.)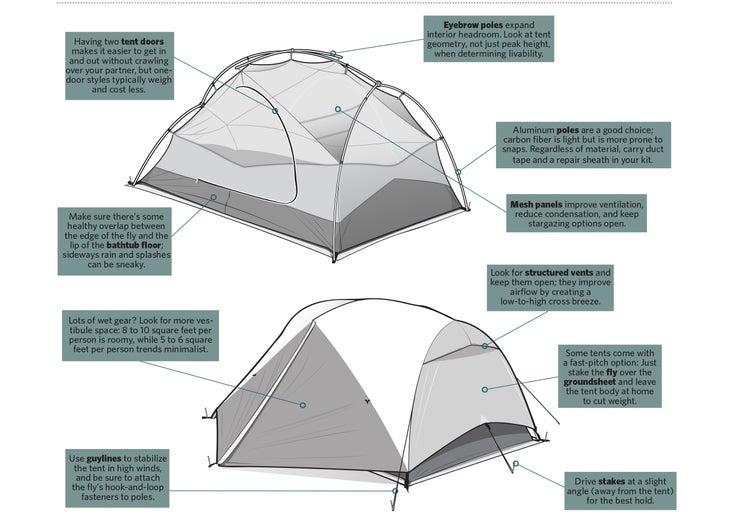 How to Shakedown Your Tent
"Never buy a tent without setting it up and getting inside it first," White says. "We had an AT thru-hiker come in, asking for a consultation on his gear. So we went through it and asked if he'd set up his tent. He said, 'No, but it's this awesome ultralight one with all these great reviews.' So we set his tent up for him, and when he got inside it, his toes and the top of his forehead were actually touching the walls. He was 6' 2" and didn't realize the tent was too short for him."
Tent Owner's Manual
Keep it dry. If you can, give condensation time to evaporate—and shake out your tent to flick off dirt and leaves—before stuffing. When you get home, hang the tent in the shade and let it dry completely before long-term storage to prevent mildew.
Respect your poles. Extending your pole like you're casting for fish can damage it; instead, slide pole ends into place by hand.
Use a footprint. Protect your tent floor from rocks and sticks. Budget option: Make your own from Tyvek.
Basic Tent Repair
Tent repairs are a dime a dozen at Rainy Pass Repair, a Seattle-based sewing shop that's been mending shelters since 1986. General Manager Chelsea Chon explains how to fix a few of the most frequently occurring types of damage.
Broken slider or zipper: Squeeze sliders with pliers to tighten, and try to realign zipper coils with your fingernails. No luck? Send it in.
Torn fabric. Place a circle of repair tape on the outside of the tent wall, floor, or fly to patch holes. Torn mesh? Patch with MSR Micromesh.
Detached hook-and-loop tab. Stitch the tab back on, then add Seam Grip or repair tape to waterproof the seam.
Broken shock cord. Pry out the pole cap with pliers and untie the cord. Slide off pole sections and fix the break. Re-thread and retie the cord.
Rent Your Tent
Balky about spending a few C-notes on a tent? Rent before you buy—taking a few shelters out for a test run is a good way to figure out exactly what you're looking for. Don't have a local shop that rents? Gear To Go Outfitters does online rentals.
Last updated April 2022