How to Wash Your Down Jacket
Eliminate grime and odors and restore loft to your favorite puffy.
Heading out the door? Read this article on the new Outside+ app available now on iOS devices for members! Download the app.
Learn to keep your gear in tip-top shape with Outside LEARN, our new online education platform. In our Outdoor Gear Maintenance and Repair class, you'll learn to clean your equipment and fix rips, tears, and breakages big and small. Outside+ members get access now.
Down jackets are essential to any backpacker's winter and shoulder season kit, but when it comes to cleaning, they tend to get neglected. If your jacket is dirty, you may be hesitant to wash it, knowing that water and down don't always pair well. But keeping your down insulating layers clean is paramount to their longevity and performance. 
Why You Should Wash Your Down Jacket 
As long as you're doing it correctly, washing down eliminates smells, restores warmth, and sustains water resistance, lengthening the overall lifespan of your garment. Dirt and sweat coat down feathers and flatten them, which reduces the insulating capabilities of your garment. A clean down jacket will loft better than a dirty one, and therefore keep you warmer. Plus, cleaning the face fabric of your jacket allows it to effectively repel moisture, dirt, and other contaminants that may otherwise work their way into the insulation. Not to mention, a clean jacket looks fresh on the trail. 
Wash your down layers at least once a year, or when they're visibly dirty, stinky, or have lost some loft.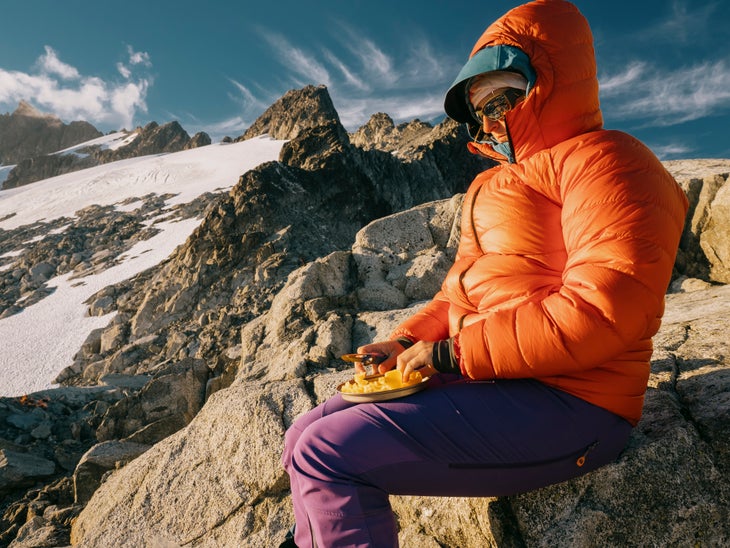 The Steps
Check your garment's label
Fix holes
Pre-treat with OxiClean
Wash with Down Wash Direct or non-detergent soap and an extra rinse cycle
Dry on low
Hang or store un-compressed
Before Washing
First, check your garment for a care label to see if it requires special treatment. Some down jackets need to be dry-cleaned to preserve their outer fabric. 
Inspect the garment for small holes are tears that could leak down during the washing process. Washing your down jacket before repairing any holes could result in a massive loss of insulation. Patch any holes with nylon repair tape, such as Tenacious Tape, before washing. Round the corners of your patches with a pair of scissors before adhering them to your jacket. This will ensure that the corners don't peel up during or after the washing process, keeping the patch securely in place. 
Once you've determined it's safe to wash your jacket, pre-treat it to remove any surface grime and stains: Gently scrub a mixture of OxiClean and water onto the face fabric with a sponge. Before putting your down jacket in the washing machine, empty the pockets, snap any snaps, and turn your jacket inside out to prevent it from snagging on anything inside the machine; leave pocket zippers open to allow the inside of the pockets to get cleaned. If the hood detaches, remove it and wash it separately in the same load.
How to Wash Your Down Jacket 
If you can, wash your down jacket using a front-loading washing machine—the agitator in top-loading machines can damage the feathers and fabric. Set the machine to cold, and use a down-specific cleaning agent like Nikwax Down Wash Direct or a non-detergent liquid soap (detergent soaps can flatten down and strip it of its natural oils, making the feathers brittle and prone to breakage). 
Make sure to rinse your jacket thoroughly—add an extra rinse setting cycle, or put the jacket through the wash again without soap. Do not use bleach or fabric softener while washing your down jacket, as both can damage the fabric. Don't attempt to iron your jacket, as it could burn or melt.
Drying Your Garment 
If you're cleaning multiple down garments, dry them all at once. Use a low heat cycle; you can remove the coat from the dryer every 15 to 30 minutes to break up clumps of feathers, but thoroughly dried down should regain its loft on its own. You can also add clean tennis balls or wool dryer balls to the machine; they'll bounce around as the garment dries, helping the down remain distributed evenly throughout the jacket's baffles. 
Complete drying can take several hours, depending on the thickness of your jacket—resist the temptation to turn up the heat or you could melt the seams of the outer shell. If you don't have access to a dryer with a reliable low heat setting, it is possible to air dry your jacket. Lay it flat on a towel in a warm, dry spot out of direct sunlight (don't hang it). This process can take several days, and you'll have to remember to check on it occasionally to flip it over and break up clumps. 
Make sure the jacket is completely dry before packing or compressing it. To keep it looking fresh and fluffy until next year, hang it up rather than compressing it for storage.
Washing Other Down Gear
Down sleeping bags, pants, and other insulated items need washing just like your down jacket. While you may not need to wash your sleeping bag as frequently as your jacket (wearing a clean baselayer to bed or using a liner can help keep it clean for longer), the benefits of washing a sleeping bag are similar to those of washing your down jacket. Keeping your bag clean prolongs its life and restores insulation to its full capability. Follow the same steps above for washing your down sleeping bag—it's especially important to avoid top-loading washing machines. It will take longer to dry your sleeping bag than your jacket. Dry it on low heat, and be patient.