Train to Boost Your Balance
Cross log bridges and other tricky terrain with the grace of a ballerina.
Heading out the door? Read this article on the new Outside+ app available now on iOS devices for members! Download the app.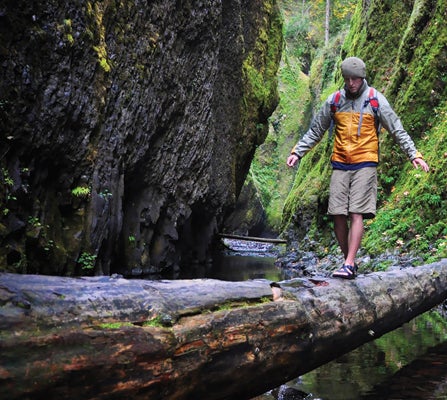 1) Make balance exercises part of your regular training routine.
Practice a flamingo stance on stable ground (aim for 30 seconds) before progressing to a more dynamic surface like a balance disk, suggests James Fisher, an Arizona-based performance trainer of adventure athletes. Start with your lifted leg bent at 45 degrees (picture the Karate Kid). To increase difficulty, straighten it out to the front, back, or side of the weight-bearing leg.
2) Try standing on one foot while doing chores.
One-legged dishwashing will boost domestic karma as well as core strength.
3) Add backpacking-specific exercises.
After 4 weeks of stabilization training, Fisher suggests this variation on a workout staple: Step out of a lunge by straightening your front leg and bringing your back leg forward to 90 degrees, foot off the ground, thigh level with your hips. Easy? Add a weighted pack or try more powerful movements, like single-leg squats.
4) Breathe for balance.
"If you're not breathing, everything falls apart," explains Josh Beaudoin, a Colorado-based slacklining instructor. Breathe slowly and regularly to keep muscles relaxed.
5) Avoid vertigo by focusing on a fixed point.
Beaudoin recommends a spot 5 to 10 feet in front of you.
6) Keep shoulders and hips squared to your destination and knees bent.
This will lower your center of gravity and quicken your reactions.
7) Take small, slow steps.
8) Raise your arms overhead in the trickiest spots.
This allows for slighter shifting of body weight to reach a more precise equilibrium, says Beaudoin. Stay loose, with your arms in a U-shape (not pictured); sway them side-to-side to adjust your balance.
9) Get help.
If the terrain allows, use a trekking pole or sturdy stick to serve as a third point of contact.