February 2008 Table of Contents
Heading out the door? Read this article on the new Outside+ app available now on iOS devices for members! Download the app.
February 2008

FEATURES

Backpacker's 4th Annual Readers' Choice Awards

You spoke, we listened, and here are the results: From big-city escapes to quit-your-job-now dream trips, BACKPACKER readers have chosen their favorite parks, peaks, and trails.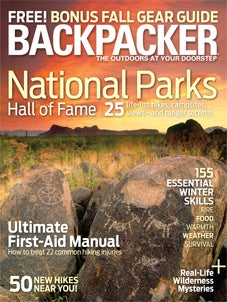 The Source of All Things

What if your favorite place in the world was remote, beautiful, and ground zero for your greatest strengths and your deepest fears? The author and her father trek into Idaho's Sawtooth Mountains to confront a tragedy that's haunted them for decades. By Tracy Ross
365 Days of Adventure: Life List 2008

We mapped out exactly how to pull off 47 must-do trips, a dozen perfectly timed parties, 15 amazing flora and fauna spectacles, and one day of naked hiking. Why? So you can enjoy your best outdoor year ever. Go on, ditch your desk planner–and use our adventure almanac to line up an epic 2008. By Kelly Bastone
The Backpacker Interview: From Jail to Trail

Only one thing kept Dan Moseman sane while he was locked behind bars in San Quentin: the view from the prison courtyard of San Francisco's Mt. Tamalpais. When he got out, ony one thing kept him free: hiking up it. By Bob Cooper
ADVENTURES
Magnifique: Discover France's Maritime Alps

Can't decide between the mountains and the Mediterranean? Get the best of both in France's Maritime Alps.
Explore the Grand Canyon In Under 10 Hours

In the debut of this new reader-requested column, we cover the top three routes in the big ditch for quick and dawn-to-dusk treks.
Top 3 Winter Hut Trips

If you love winter–but not snow camping–check into one of these cozy backcountry cabins.
Find the Tallest Waterfall in the U.S.

A mystery solved–and controversy revealed.
Trip Finder: 2-4 Day Warm-Weather Hikes

Pack the sunblock for balmy treks in Hawaii, Texas, and Florida.
Best Damn Weekend Ever: Hike Montana's Anaconda-Pintler Wilderness

Track the sun on these 2-4 day trips in the Southeast, Southwest, and Hawaii
Life List: Climb New York's Highest Peak

Add Adirondack State Park's 5,344-foot Mt. Marcy to your life list.
How to Thru-Hike L.A. County

Thru-hike L.A. County? It can be done with Southern California's Backbone Trail.
NATURE
Preserving Ancient Artifacts

Become an archaeologist on the weekends and help the National Forest Service
Phenomenon: Battle Quicksand With Quick Thinking

How it forms, how to spot it, and how to get out.
How to See More Snowshoe Hares

They're fast and very white. Here's how to spot one.



SKILLS
Find a Hiking Partner

Keen on birds, peak bagging, or wildflowers? Here's how to join hikers who share your passions.
How to Avoid Sudden Thaws

Warming temps can wreak havoc on snow-packed adventures. Learn the conditions and warning signs that can cause a dangerous, sudden thaw.
Motivate With a Fitness Challenge

Whether it's a "Birthday Challenge" or a peak that needs climbing, choosing a specific fitness challenge will help you stay motivated to get out more.
Smash Your Fitness Barriers With Heart-Rate Training

Become a better hiker. Build speed, endurance, and strength all through heart-rate training.
How to Prevent Blisters

Sweaty feet, thick socks, and sturdy boots are a blister cauldron. Learn four easy ways to keep your feel clean, dry, and blister free.
GPS 201: Using Advanced Navigational Tools

Don't be daunted by a thick owner's manual. Unlocking your unit's advanced navigational tools is easier than you think.
Food: Curry in a Hurry

Four flavorful meals that also ease sore muscles.
Flavor In a Flash: Ultralight Spice Kit

Enhance bland backpacking food with an ultralight spice kit including everything from curry to soy sauce.
How to Keep Your Food Warm In Camp

3 simple heat shields to keep your meals toasty in the backcountry
Pack Fast, Pack Right

Organization and preparation will make your next overnight or day-hike packing session easy. Below, the Backpacker editors showcase their mistakes for your benefit.
How to Survive Getting Lost In a Whiteout

Don't forge ahead when faced with whiteout conditions.
Make Your Sleeping Bag Warmer

8 easy ways to fortify your sleeping bag to stay warm all night
GEAR
Three's Not a Crowd: Backpacker Tests 3-Person Tents

These lightweight tents can house three campers in comfort or two in splendor.
4 Top Daypacks

Load haulers for light and fast adventures
Backpacker Gear Test

Backpacker testers try out Big Agnes' Mountain Booties, Hot Chilly's Micro Elite Chamois Zip T, Fenix LOD, White Sierra Sierra Tek Jacket
Women's Gear Test: Outdoor Research Motiva Pants

The Backpacker gear ladies try out these OR pants in a variety of winter conditions.
Green Guide: How to Recycle Spent Fuel Canisters

Different cities have different rules for recycling your used fuel canisters