15 On-Trail Skills All Backpackers Need to Know
Heading out the door? Read this article on the new Outside+ app available now on iOS devices for members! Download the app.
Whew, you made it to the trail. Now that the most challenging part of backpacking—planning your trip and getting out the door—is done (successfully, because you've followed our expert advice), there's no way you'll face any more obstacles, right?
Well, we aren't sure about that, but with these tips, you'll be geared up to hike stronger and longer on your next trip.
1. Put on a heavy pack

Day one weight is no joke. Preserve your pack's fabric and your muscles with this technique.
1) Extend one leg in front of you and bend your knee (envision a lazy man's lunge).
2) Use the haul loop to lift the pack to your knee.
3) Put one arm through the shoulder strap and swing the pack around to your back.
2. Prevent bonking
Eat calorie-dense foods at each meal and snack every hour on long days. And keep an emergency Snickers on hand—easy-to-digest sugars give you a quick reboot, and the fat and protein in peanuts provide slow-burn energy for later. We're not kidding about the Snickers: It may not be the most balanced hiking snack, but when the taste fatigue hits, it's easy to get down. That's why we gave it an Editors' Choice award.
3. Hike stronger at altitude
Use pressure breathing on the move (it sounds hokey, but it works): Take a deep belly breath, then exhale forcefully, like you're blowing out a candle. This purges carbon dioxide and floods muscles with oxygen, boosting efficiency.
4. Hike smart on scree
Feel like you're walking on ball bearings? Tighten all your pack straps to secure your load for better balance. Kick steps into the rocks to make a platform for your boot when hiking uphill; when descending, plunge step by leading with your heel, toes up, in a controlled slide (like you would on snow).
5. Make your pack feel better
Sore shoulders You only want your shoulders to take about 30 percent of the weight (more than that and you'll feel pinching or cramping). To get there, loosen the shoulder straps until you feel the weight settle on your hips; keep the load-lifters taut but not too tight.
Numb fingers Excessive pressure on your shoulders can hinder blood flow to your hands, leading to the tingles. Again, loosen your shoulder straps, then tighten your sternum strap to reduce the backward pulling. Check out this article on what to do if you get swollen fingers on a hike—it's more common than you'd think. 
Achy lower back Make sure your hipbelt is snug and riding properly: The middle of the belt should be even with your iliac crest (the boniest part at the top of your hips).
6. Smell OK on a long trip
Deodorant isn't worth the extra weight and bulk. After a couple days of hard hiking, you're going to smell regardless. Here's how you can avoid the funk on a long trip.
Easy: Take a dip in a creek. Scrub with a pack towel (skip the soap).
Easier: Rinse your shirt; lay it in the sun to dry.
Easiest: Baby wipes (pack them out.
7. Tape a sprained ankle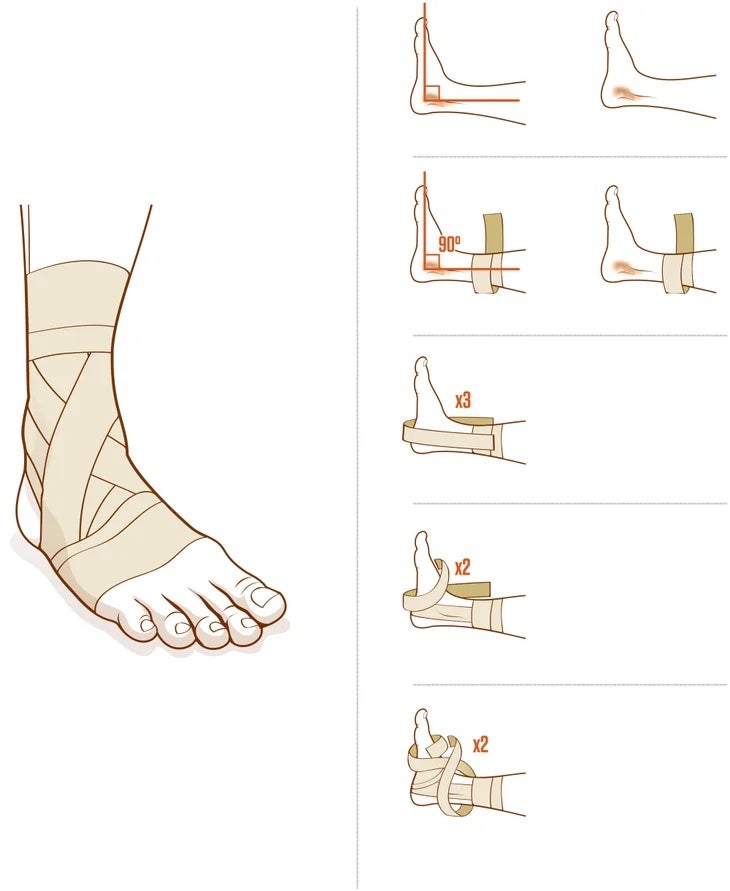 The doctor's in. And guess what? It's you. A large amount of search and rescue calls are due to rolled ankles. Here's how to save your tweaked joint if you're still miles from the trailhead. 
1) Position the foot at a 90-degree angle with the leg.
2) Wrap tape around the calf, about 2 inches above the ankle.
3) Loop three U-shaped stirrups around the heel and up both sides of the ankle. Wrap another stretch of tape around the calf to stabilize the stirrups.
4) Starting from the uninjured side, wrap tape down the ankle, under the arch, and across the top of the foot. Repeat twice.
5) Make figure eights by taping down the side of the ankle, across the top of the foot, across the Achilles heel and the other side of the ankle, and back to the arch. Repeat twice.
8. Use bear spray
If a bear charges, wait until it's 30 feet away. Tilt your bear spray canister slightly down (it'll drift up to its head) and create a cloud between you and the bear. Here's a video tutorial.
9. Remove a tick
Don't mess with folk remedies; as soon as you notice the tick, grasp it by its head with tweezers and slowly pull it upward from your skin. It should release cleanly. Disinfect the bite site and watch for a rash, fever, chills, and body aches. Symptoms? Get to a doc and tell her you were bitten.
10. Drain a blister
Trust us—it's better than letting it pop on its own in your sweaty sock. Clean the area with an alcohol wipe, puncture with a sterilized knife or pin, apply antibiotic ointment and a bandage. Here are some more foot care tips.
11. Beat the bugs
The best way to stay bite-free is with DEET, a hat or headnet, raingear, and loose-fitting pants.
12. Cross an unexpected snowfield.
Winter sometimes overstays its welcome in the high mountains. Here's how to cross snowy areas safely. 
1) Assess the runout. Rocks or cliff below? Don't cross.
2) Look for snow soft enough to kick steps into: Swing your foot and dig the toe or side of your boot into the snow several times, packing down a level platform. If it's too hard or icy to kick steps, don't cross.
3) If you do fall and start sliding, self-arrest: Twist your body so you're facing the slope, feet downhill, and dig your toes and elbows into the snow with all your strength.
13. Survive a lightning storm
Know where to go. Descend from peaks, passes, tundra, and open terrain. Stands of uniform trees offer the best cover. Second best: The low point in a gully or ravine. Avoid single trees, open water, and rock overhangs, where your body gives electricity a shortcut to bridge the gap.
Assume the position. Drop your hiking poles and crouch on your toes on a sleeping pad or pack with your feet together to minimize exposure to electricity traveling along the ground. Groups should spread out so one strike won't zap everyone.
Stay put. Your pool lifeguard isn't just messing with you—wait 30 minutes after thunder or lightning before emerging from cover.
14. Save your knees
Hiking with poles reduces compression on the knees by up to 25 percent on descents, and poles cut down on muscle strain and the risk of ankle injury. On flat ground, adjust height so your elbows are bent at a 90-degree angle. Shorten poles on uphills and lengthen on the downs. You might be using your trekking poles wrong; check out this guide to be sure. 
15. Stay dry in rain
Avoid overheating. Wear just your baselayer under your shell (unless it's below freezing). Open pit zips and mesh-backed pockets. Moderate your pace.
Protect your extremities. Wear gaiters under your rainpants (unless using crampons) so drips don't seep into your socks. Also, tuck baselayer sleeves under shell cuffs to keep water from wicking up your arms.
Preserve visibility. Cinch your hood over a ball cap for better peripheral vision.
Meet the Experts
Sarah Ebright, operations manager and guide for St. Elias Alpine Guides in Alaska
Marco Johnson, senior faculty with the National Outdoor Leadership School, based in Wyoming
Patrice and Justin La Vigne, gear testers and thru-hikers of New Zealand's 1,864-mile Te Araroa
Katie Yakubowski, instructor and guide for the Appalachian Mountain Club in Maine