Ending Every Backpacking Trip With Chapped Lips? Here's Why.
As winter approaches, the air gets harsher and harsher for our delicate lip skin. Protect it with these tips.
Heading out the door? Read this article on the new Outside+ app available now on iOS devices for members! Download the app.
A 22-mile dayhike that was largely exposed and windy once left my lips chapped for nearly a week. A weeklong backpacking trip through the arid trails in Southern California turned my lips into crispy rice paper. Both times, my lips were sun- and windburnt. I'd rather save my pain for the Type 2 kind of the trails, not for bleeding, chapped lips.
This condition, also called cheilitis, is common and has many causes. Here are some reasons why your lips flake and peel after a day on the trails, and how to deal with them.
Sunburn
A hat and glasses can keep your eyes, forehead, and nose shaded, but your kisser could still be exposed to the sun and vulnerable to burns. Symptoms of sunburned lips include red, swollen skin that could develop blisters or feel tender to the touch. (Even though it's super tempting, don't pop your lip blisters.) Side note: Your lower lip is 12 times more likely to be affected by skin cancer than the top lip, so keep that lower lip extra protected. Use an SPF 30 rated lip balm and reapply every two hours. In a pinch, you can use your regular sunscreen instead of a balm.
Dry Air
When the humidity levels dip below 40 percent, the dry air can irritate your lips. This is because the naturally-produced oil that coats the lips dries out and no longer provides a barrier to the outside elements. The skin there is extremely thin (only five cellular layers, compared to the 16 layers on your face) and doesn't contain any protective hair follicles or sweat glands. Dry air is lips' kryptonite; it can even pull moisture from them.
Airplanes are notoriously dry, and so are high altitudes, so if you're flying from the sea level to the mountains, be sure to keep your skin moisturized with lip balm every step of the way so you're not starting off your destination hike with a compromised lip barrier.
Cold Weather
Chapped lips are a common byproduct of winter, but they don't have to be inevitable. You layer warm clothes over your body in the winter to protect yourself from the cold, but why don't we protect our lips? When you're hiking in the frosty temps, wear a balaclava or buff over your mouth not only to protect your lungs, but also your lips from the harsh air. Also when you're back at home, the dry air coming out of your heater also sucks the moisture out of your skin. Protect your skin at home before going on a snowy adventure to keep your pucker extra plump.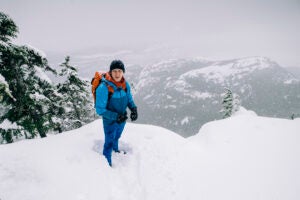 Licking Your Lips
This is quite the paradox to me. Your lips need hydration, which your tongue and mouth has. Shouldn't licking your lips be just what the doctor ordered? Well, nope. When you lick your lips, you're coating them in saliva, which evaporates in mere seconds and only gives your flaming kisser temporary relief. Your saliva also has digestive enzymes (such as amylase and maltase) that can irritate and wear down your delicate lip skin, too. There's a reason why your lips are on the outside of your body, and your saliva's on the inside. But, for many, it's a reflexive response to stress or anxiety. As a compromise, whenever you get the urge to lick your lips, apply a lip balm instead.
Angular Cheilitis
This type isn't caused by lack of moisture, but by too much of it. If the corners of your mouth stay too moist for too long (typically from licking, drooling, denture placement, or droopy upper lips) and become bloody or painfully cracked, you could have bacteria, yeast, or virus growth that led to angular cheilitis. This is an inflammatory common skin condition that typically isn't serious. You can treat the infected area with antibiotics or antifungal cream, but symptoms also typically improve on their own within two weeks. Unlike cold sores, this condition isn't contagious, so if this happens to you in the backcountry, you can wait it out, or find treatment when you reach a nearby town. In the meantime, prioritize foods rich in protein, iron, and B vitamins—sometimes gaps in nutrition can lead to angular cheilitis, and filling those gaps can alleviate symptoms faster.
Wind
Breezes are refreshing but are abrasive to our skin, too: They can make our bodies lose heat faster, and they pull moisture and natural oils from our lips. Hikers often confuse windburns for sunburns, but they can happen in tandem—sometimes even making sunburns worse because they fry out the top layers of lip skin, exposing inner layers to UV rays. These different types of burns take the same treatment: Keep the area moisturized with lip balm, and if needed, a thicker layer like Vaseline Lip Therapy.
What Not To Do With Chapped Lips
Pick the skin off.
Lick your lips.
Let acids or exfoliating facial products touch your lips.
Drink hot beverages or eat spicy foods. (Both irritate fragile skin)
What To Do With Chapped Lips
Drink more water.
Apply a lip balm whenever they feel dry or at least every two hours, especially a thick one before bed. During the day, use one with SPF 30+.
Apply a thick emollient layer, like Vaseline Lip Therapy, if you're feeling particularly sandpapery.
Put aloe, oatmeal, and cucumber on your lips for cooling relief.