Elevate Your Backyard Camping Game
Campgrounds may be closing for the season but you can still camp from the comforts of your own home.
As warm summer evenings give way to brisk fall air and crackling autumnal leaves, one thing is clear: winter is coming. And with it arrives the end of the camping season as campgrounds around the nation hunker down for the snowy months. But, if your family missed out on this year's camping adventure, don't sweat it. There is plenty of time to capture those tent-life memories– from your own backyard.
Backyard camping is a great way to minimize indoor time while maximizing outdoor play and sunshine. Of course, it helps if you can uplevel the experience. Forget about dehydrated meals and microwaved popcorn. Our team at Backpacker has a slew of ideas to create the most exciting night of camping yet– and you won't even need to pack the car.
Create a Fort
There is nothing kids love more than building a fort, so here's a pro tip: snag yourself the L.L.Bean Acadia 6-Person tent and get to work creating a magical backyard dream fort. String twinkle lights along the ceiling and throw colorful (and cozy) blankets over the sleeping pads for a festive environment. Then, use those old boxes in the garage to create a tunnel that leads right to the door of your tent. Be sure to throw a few glow sticks in the boxes to light the path!
Pizza Party
We all know food cooked outside tastes better, so don't cheat and use your kitchen. Instead, get the whole family involved in the process by making personal pizzas woodfired on the grill. Be sure to bring out a variety of toppings (including the veggies) so the kids can create their own culinary masterpieces. No grill? No worries! Cook the pizzas in a cast iron pan over your camp stove. Your kids may love this even more.
Indulge in a S'mores Bar
Gone are the days of the basic (and boring) 'mallow-and-chocolate sweets. Instead, impress your kiddos with a buffet of sugar that will keep them playing flashlight tag until after dark. The key here is options. Line up the expected graham crackers and marshmallows on a table. Then, go wild. Lay out chocolate and peanut butter cups and caramel-stuffed dark chocolate bars and Oreo cookies. Include spreads like Nutella and whipped cream and dry toppings like shredded coconut. If you start to feel guilty about the copious sugar consumption, add in some sliced strawberries and bananas or even some fresh blueberry jam. Finally, turn on your camping stove to medium flame and grab a few roasting sticks. 
Flashlight Foraging
When the sun goes down in a campground, everyone climbs into their tents. But when it gets dark in your backyard, it's time to play! Families love the thrill of activity after dark, so encourage this sense of adventure by picking up a game of Flashlight Foraging. Just like hide-and-seek, one person hides a small item (a treat, a small camping tool, etc.) somewhere in the yard. Then, everyone else wields a mini-flashlight or headlamp to seek out the object. Flashlight Foraging is a great game to play prior to the s'mores bar since the sweets often act as a reward for finding the objects. Tip: Define clear boundaries before the game begins. The last thing any parent needs is an errant child wandering the neighborhood by herself after dark.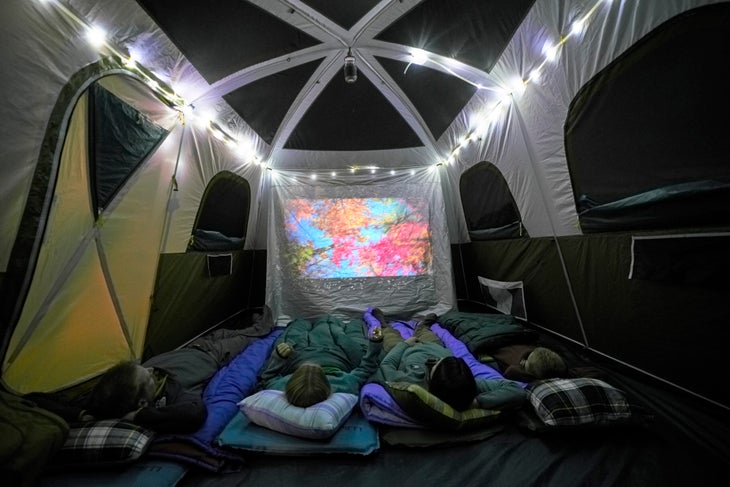 Make it a Movie Night 
For a special evening that kids won't ever forget, consider an outdoor movie. Score an inexpensive projector online and drape a plain white sheet up against your house or tent as a screen. Then, create theater-like seating by cobbling together a few L.L.Bean Camp Comfort Rocker chairs and Kid's Flannel Lined Camp Sleeping Bags. Pull out the twinkle lights or a few lanterns to add some ambience and shake up some popcorn on the grill. Before you know it, you'll have a cinema night filled with stars–and be the coolest parent around.
---
Since 1912, L.L.Bean has been helping people spend more time outside with high-quality outdoor gear and apparel that makes it easier to take longer walks, have deeper talks and never worry about the weather. Because being outside brings out the best in us.