How to Raise a Backpacker: Ages 0-3
Get your babe into the woods.
Heading out the door? Read this article on the new Outside+ app available now on iOS devices for members! Download the app.
Turning kids onto the outdoors is as easy as 1, 2, 3. Follow these steps to troubleshoot common problems, shore up gear lists, and feel confident when taking children of any age on the trail. And start slow: Before it is anything else, nature is a pure sensory experience. Let it sink in. 
Do This
Practice. Most new parents bring too much stuff at first. Do yourself a favor and car camp. You can indulge any what-ifs and dial in your system for bigger backpacking adventures. Plus, you'll have an easy escape if things go sideways.
Simplify sleep. If you're comfortable doing so, bring your baby into your sleeping bag. Buy a bag expander (make sure the zipper is compatible with yours) for some extra space. Otherwise, pick up a kid's bag—and try it at home.
Slow down. Infants are content to ride, but toddlers will want to get out, walk, and explore what's around.
Key Gear
Diapers Bring at least two more per day than you think you'll need (pay attention to your use rate ahead of time to better calculate what you bring), plus a lot of wipes and a changing pad or blanket.
Lots of trash bags You'll need one or more for dirty diapers, and one for dirty clothes.
Fleece onesies Kids riding in a backpack aren't generating their own heat. Keep them toasty and seal out drafts with a plush one-piece.
Extra everything Whether dirty, wet, or worse, young kids go through a lot of outfits. Pack spares. At least they're small.
On the Menu
Easy eats Good news, new moms: Breastfed children don't require anything but you. For toddlers, keep snacks handy for quick deployment at the first signs of hunger.
How far can they go?
1-2 miles (or as far as parents will carry them)
Troubleshoot This: So Much Poop
Diaper blowouts happen—whether you're on the trail or at home. Clean up with wet wipes, change your kid, and carry on. On longer trips, scrape poop off a diaper into a cathole to reduce odors and pack-out weight.
Fun & Games
Readers share their secrets for keeping the kids hiking and happy.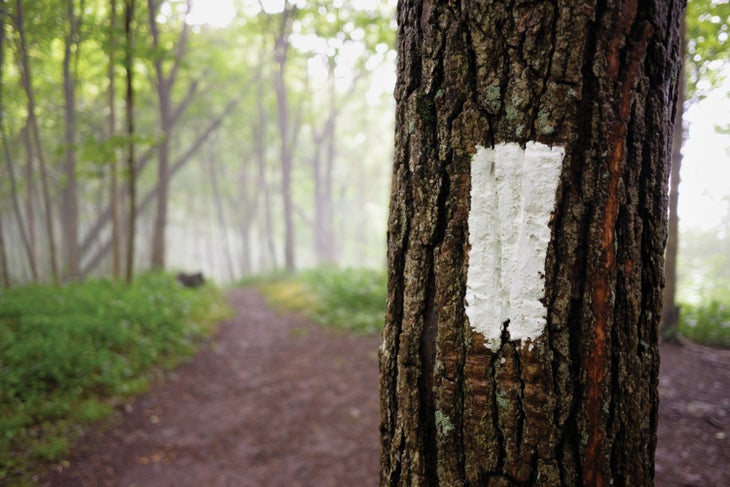 My kids like to pretend blazes are power-ups that give them magical powers when touched. Sometimes they get so into chasing blazes that I have to tell them to slow down. –John Kofron
We heart the junior rangers programs at the national parks. They keep kids engaged. –Aaron Ramsey
Top Parenting Fail
We took our 18-month-old son camping. He was playing with sticks while we were setting up our site. They were poison oak. As soon as we realized that, we packed up and drove straight to Children's Hospital where we stayed for two days. That didn't discourage us, though. On the next trip, we brought a second tent to serve as his playpen while we did things around camp. We filled it with toys for him. All sticks had to be pre-approved. –Craig Currier