4 Yogurt Recipes You Can Make on the Trail
Yes, yogurt. Laurie March, author of A Fork in the Trail: Mouthwatering Meals and Tempting Treats for the Backcountry, serves up her three favorite yogurt-based recipes.
Heading out the door? Read this article on the new Outside+ app available now on iOS devices for members! Download the app.
Trail Yogurt
With a recipe this simple, you'll make it all the time. Originally appeared in A Fork in the Trail (Wilderness Press). 2 servings
8 Tbsp. milk powder (use a high-fat powder like Nido for a richer result)
1 tsp. yogurt culture powder (purchase at your local health foods store)
1 3/4 cups water
1 Tbsp. honey or vanilla sugar, to taste
At Home: Measure milk powder into a small zip-top bag. Put culture in a separate bag.
At Camp: Boil 1/4 cup water and pour into an insulated container to warm the metal. In a pan, mix milk powder and 1 3/4 cups water. Scald milk until the edges just start to bubble, then remove from heat, cover, and cool until it's just warmer than body temperature (15-20 minutes). Too much heat will kill the culture. Too little will keep the yogurt from setting.
Empty the insulated bottle. Add yogurt culture and a few spoonfuls of warm milk. Stir until powder has dissolved, then add remaining milk. Mix well, secure the lid, and tuck the bottle upright in your food bag or bear canister. (Wrap the bottle in clothing to further insulate in chilly weather and be careful not to shake, which will prevent setting.) By morning, you'll have yogurt.
Backpacker's Manti
Pair your yogurt with spices and tortellini to make this Turkish-inspired dinner. 4 to 5 servings
4 cups shelf-stable tortellini
1 cup trail yogurt
1 clove garlic
2 Tbsp. + 1 tsp. extra virgin olive oil
1/4 tsp. smoked paprika
Pinch cayenne pepper
1 Tbsp. dried mint
Pinch red pepper flakes (optional)
Pinch salt
At Home: Place tortellini in a zip-top bag. Pour olive oil into a leakproof container. Combine spices in a small baggie. (Pack the red pepper flakes separately.) Right before your trip, add a garlic clove to the zip-top bag. Pack ingredients for trail yogurt.
At Camp: Boil tortellini according to package directions. Mince garlic and stir into yogurt with salt and 1 teaspoon olive oil. Mix the rest of the oil with spice packet and salt. Top pasta with yogurt sauce and drizzle with spiced oil. Garnish with red pepper flakes for added heat, if desired.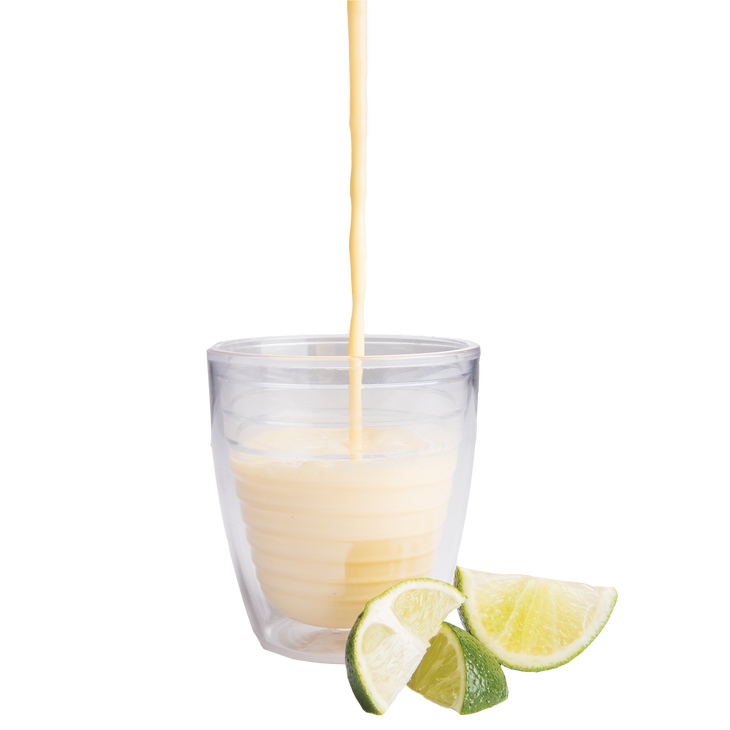 Mango Lassi
Kick off your day with this twist on a traditional Indian mango smoothie. Add protein powder for an extra boost. 3 servings
1 ½ cups mango, pureed
1 cup coconut milk from powder
Pinch cardamom
Pinch salt
½ cup trail yogurt
1 lime
At Home: Spread mango puree on a lined dehydrator tray and dry for 6 to 7 hours at 135°F. Place dried mango in a zip-top bag with coconut milk powder, cardamom, and salt. Just before leaving home, pack a fresh lime plus ingredients
for trail yogurt.
At Camp: Pour mango mixture into a one-liter water bottle. Add enough hot water to bring it to slightly less than 2 ½ cups. Let mixture rehydrate and cool, then add yogurt and juice from half the lime. Shake vigorously until well-combined and frothy.
Tip: Starting the rehydration process with cold water the night before will reduce wait time in the morning.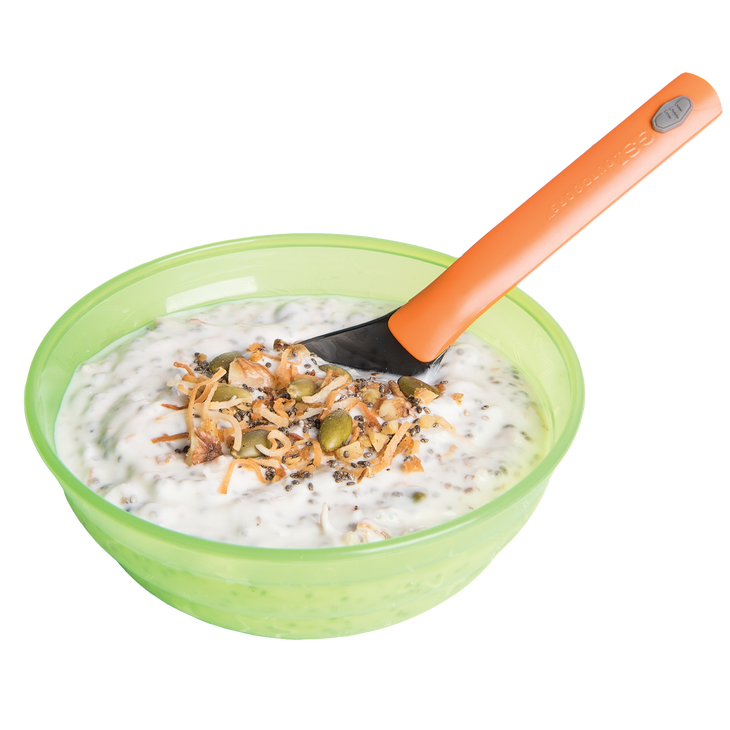 Yogurt & Chia Pudding
Use this spin on a breakfast bowl to replace your oatmeal—
or your dessert. 2 to 3 servings
2 Tbsp. walnuts, chopped
2 Tbsp. unsweetened coconut
1 Tbsp. pepitas
1 Tbsp. chia seeds
1 Tbsp. maple syrup
1 cup trail yogurt
At Home: Toast walnuts and coconut in a dry nonstick pan
on medium-high heat until fragrant. Remove from heat and let cool. Put nuts, coconut, pepitas, and chia seeds in a small zip-top bag. Pour maple syrup into a leakproof container.
Pack ingredients for trail yogurt.
At Camp: Mix yogurt with all ingredients. Let sit for 5 to 10 minutes, then serve.
Tip: Maple sugar can be used in place of maple syrup. Simply dissolve it in a little warm water before adding to yogurt.