These 11 Holiday S'mores Recipes Taste Like Winter Cheer
Get into the winter spirit with 11 custom recipes for the most classic backpacking dessert.
Heading out the door? Read this article on the new Outside+ app available now on iOS devices for members! Download the app.
With a fire always crackling in the hearth and an abundance of sugary treats on hand, there's no better time than the holidays to get creative with your s'mores. These winter-themed creations are sure to satisfy kids and adults alike, and are just as good around the campfire or inside the coziness of your home.
Santa's Helper
Sugar cookies + peppermint bark + toasted marshmallow
The Nutcracker
Peanut brittle + marshmallow fluff + Ferrero Rocher
No Ferrero Rocher on hand? Use whatever chocolates you have.
The Dark 'n Stormy 
Gingerbread cookies + rum-soaked marshmallow + chocolate-covered candied ginger
Note: Soak marshmallows for five to ten minutes; long enough that they take on some flavor, but not so long that the sugar dissolves in the alcohol.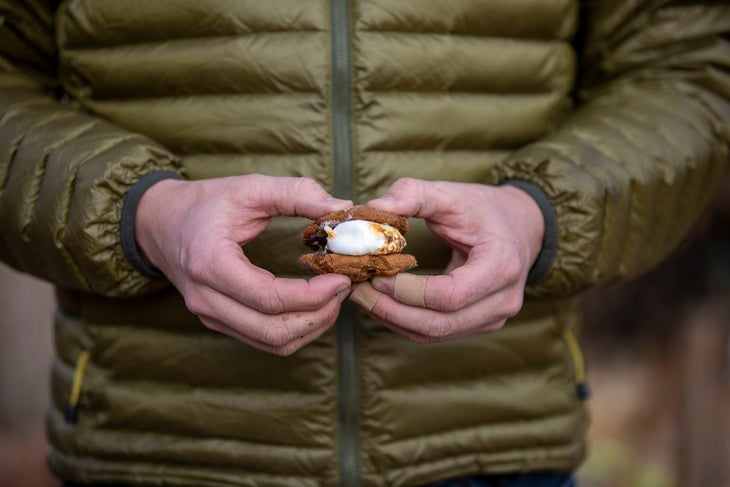 The Christmas Morning
Molasses cookies + roasted banana + whipped cream + drizzle of maple syrup
If you're feeling fancy, make maple whipped cream at home by whisking a cup of heavy cream with two tablespoons of maple syrup. Bake the bananas at 400°F for 15 minutes, or until soft (drizzle them with honey or brown sugar first if you like). Or, roast them over an open flame as you would a marshmallow.
The Stocking Stuffer 
Social Tea biscuits + triple sec-soaked marshmallow + dark chocolate + candied orange
For a variation, swap in a dark chocolate-covered graham cracker or biscuit instead of tea biscuits.
Mulled Wine S'more
Spice cookies + poached pear + honey + whipped cream
Use your favorite poached pear recipe, or use raw ripe pear for a fresh take.
An English Christmas 
McVities Christmas Pudding Digestives + toasted marshmallow + strawberry jam
The Flying Dutchman 
Caramel Stroopwafel + toasted marshmallow + toffee chocolate bar
Eggnog S'more
Cinnamon graham crackers + bourbon-soaked marshmallow + nutmeg
For a more decadent version, smother an open-faced s'more with eggnog custard.
The Vegetarian Cousin 
Peanut Butter Cookies + dark chocolate + roasted banana
The Rudolph 
Shortbread + cranberry Wensleydale + dark chocolate
Cheese on s'mores? Trust us, it's better than it sounds.