How to Make Delicious DIY Jerky
Go way beyond Slim Jims with these flavorful, make-ahead snacks.
Photo: Juanmonino/E+ via Getty
Heading out the door? Read this article on the new Outside+ app available now on iOS devices for members! Download the app.
"I didn't grow up with jerky," says Pamela Braun, author of Jerky Everything. "But my love for great cuts of meat combined with my near obsession with my dehydrator allowed me to discover that jerky could not only taste delicious, but is ridiculously easy and fairly inexpensive to make." Each pound of meat makes about four 1-ounce servings.
Prep
Mix all ingredients except the jerky base (meat, tofu, etc.) in a 1-gallon, resealable plastic freezer bag. Allow the mixture to rest for 10 minutes, then add the meat, veggie, or tofu strips and mix them around so they get completely coated with the marinade. Remove as much air as possible from the bag, seal, and place it in the refrigerator for 8 to 24 hours. Once or twice during the marinating time, remove the bag from the refrigerator and work the jerky around so the marinade is fully incorporated.
Dry
Remove the strips from the marinade (scrape off excess for faster drying) and arrange in a single layer. A dehydrator works best: Unless otherwise specified, set it to 165°F and begin checking results after four hours. Don't have a dehydrator? Most gas or electric ovens won't go below 200°F; to compensate, use a wooden spoon to keep the door ajar, lay strips on a cooling rack set on a baking sheet to improve airflow, and start checking after 2.5 hours. Jerky is ready when it looks dry, but you can bend it without it snapping.
Store
If you see any oil on the surface, carefully pat it dry with a paper towel. Pack jerky in a resealable plastic bag without excess air, where it will last up to a month at room temperature. For longer storage, vacuum seal or freeze it.
Tofu Cheddar Crazy Jerky
We've seen meat-eaters inhale this vegan jerky without even asking what it was.
2 Tbsp lemon juice
2 Tbsp nutritional yeast
1 tsp sea salt
Pinch cayenne pepper (optional)
12 oz. extra-firm tofu, drained and sliced into 24 strips
In a small bowl, thoroughly mix all the ingredients, except the tofu, and allow the mixture to rest for 10 minutes. Liberally brush the tofu strips, on all sides, with the lemon juice mixture. Dry at 115°F for 4 to 6 hours.
Portobello Bacon Jerky
This vegan option has the same chewy consistency as beef and the smoky flavor of bacon. Even carnivores will like it, we promise.
3 Tbsp Braggs liquid aminos or soy sauce
2 Tbsp pure maple syrup (grade B)
2 Tbsp cider vinegar
1 tsp paprika
½ tsp smoked paprika
¼ tsp smoked salt
A few grinds of black pepper
8 oz. portobello mushrooms, sliced ¼-inch-thick
Cheddar Jalapeño Turkey Jerky
The tangy cheese and zippy spice of the jalapeños perk up—but don't hide—the flavor of the turkey.
½ cup cider vinegar
1 jalapeño pepper, roughly chopped
3 Tbsp cheddar cheese powder
1 Tbsp powdered buttermilk
1 Tbsp lemon juice
1 tsp salt
½ tsp onion powder
1 lb. turkey breast, cut into 1/8- to ¼-inch-thick slabs
Sweet Heat Sriracha Jerky
Those with delicate taste buds, have no fear: The heat from the sriracha fades as this one dries, so you can actually taste the sauce's other flavors.
½ cup unseasoned rice vinegar
½ cup sriracha sauce
¼ cup brown sugar
2 tsp granulated ginger
1 tsp granulated garlic
1 tsp salt
1 pound London broil cut into 1/8- to ¼-inch-thick strips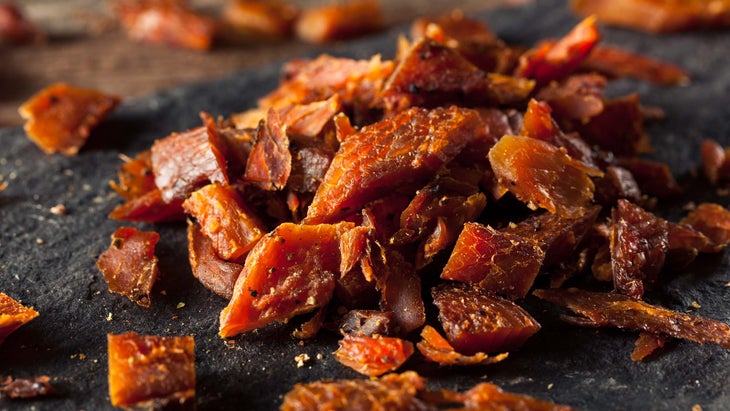 Ginger Chile Salmon Jerky
If you like smoked salmon, you'll love this citrusy, protein-rich treat.
2 Tbsp brown sugar
1 Tbsp peeled and grated fresh ginger
1 Tbsp chili oil (with seeds)
1 Tbsp unseasoned rice vinegar
2 tsp kosher salt
1 lb. wild salmon (skin removed), cut into ¼-inch-thick strips
Ginger Miso Eggplant Jerky
Yup, veggies can be jerky, too. This one comes out chewy with a slight crispness and a crowd-pleasing sweet-salty-savory flavor.
6 Tbsp white miso
3 Tbsp unseasoned rice vinegar
1 ½ Tbsp water
1 Tbsp grated fresh ginger
2 tsp sesame oil
1 tsp soy sauce
2 medium-size eggplants (roughly 2 pounds), cut into ¼-inch circles
Dry at 145°F for 4 to 6 hours.
Whiskey Pete Jerky
We took your steakhouse meal with cocktail and made it portable. You're welcome.
½ cup brown sugar
½ cup whiskey
½ cup soy sauce
¼ cup cider vinegar
1 Tbsp Worcestershire sauce
4 drops liquid hickory smoke
1 lb. London broil (trimmed of excess fat), cut into 1/8 – to ¼-inch-thick strips
Last updated April, 2022