5 Pasta Recipes to Turn Camp Into an Italian Bistro
Carboload for a full day of hiking with these delicious pasta recipes.
Heading out the door? Read this article on the new Outside+ app available now on iOS devices for members! Download the app.
Pasta is a backpacking favorite for many reasons: It's versatile, light, easy to prepare, and hits the spot after a long day of hiking. It's arguably good for you, too: Carbohydrates found in pasta provide slow-burning energy that's ideal for reducing fatigue during endurance-based activities like backpacking. And sure, boxed mac-and-cheese is fine, but we think you can do better; start with these five recipes. Make sure to add at least 15 to 20 grams of protein to your pasta (these recipes do so in the form of meat, nuts, and cheese) for a balanced meal that will aid in muscle recovery and give you energy.
Italian Country Pasta Al Fresco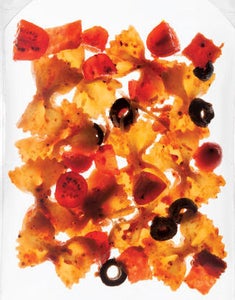 No matter where you make camp, you'll feel like you've stumbled into a full-service European mountain hut when you chow down on this classic dish. Makes 2 servings.
Ingredients
3 Tbsp olive oil
1 tsp Italian herbs
2 Tbsp tomato paste (the kind in a tube)
8 oz. pasta (like bowtie)
2 Tbsp grated Parmesan or Romano cheese
1 ½ cup grape tomatoes
½ cup black olives
1/3 cup diced shelf-stable sausage, like salami or chorizo
At home In a small bowl, combine olive oil, herbs, and tomato paste and transfer to a small zip-top bag. Put pasta (note cooking time on the box) in a quart-size freezer bag; add an extra bag. Pack cheese in a snack bag. Line a snack bag with a paper towel and add tomatoes (seal this bag only 2/3 to maintain air circulation and prevent spoiling), and pack somewhere crush-proof (like in a pot). Optional: Roast olives and sausage for 20 minutes in a 350°F oven, let cool, then pack.
In camp Bring a pot of water to boil. Add pasta (keep the bag) and cook according to instructions. With about a minute left, add tomatoes. Drain and divide between your two quart-size bags. Divvy up remaining ingredients between the two bags, stir well, and top with cheese.
—Jennifer Bowen
Mexican Chili Mac 'n Queso
Put a spicy spin on mac 'n cheese with this flavorful feast, best cooked on the first night of your trip. Makes 6 servings.
Ingredients
2-3 cloves garlic, finely chopped
1 package spicy (not sweet) chorizo, either ground or in the casings. If in casings, remove casings and finely dice.
1 small can chopped green chilies
4-5 green scallions, chopped
1 lb. penne or elbow macaroni
1 cup grated parmesan
1 cup grated cheddar
At home Sauté garlic, chorizo, chilies, and scallions in a little olive oil until softened. Put chorizo mixture in a zip-top bag, then freeze. It will stay cold in your pack for a day or two. Pack pasta and cheese separately.
In camp Cook pasta until al dente and drain well.  Combine chorizo mixture with pasta, top with both cheeses and mix well.
—Backpacker Editors
Gourmet Red Gnocchi with Bacon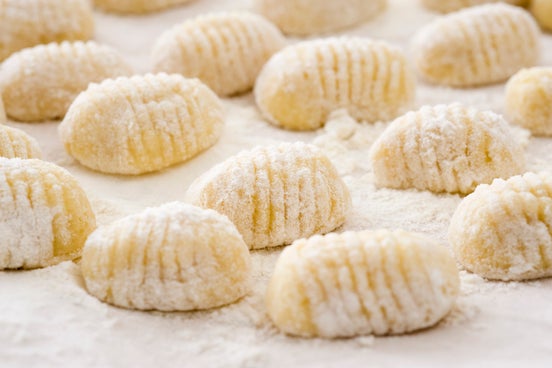 Gnocchi offers a gluten-free alternative to pasta that will satisfy any carb-lover. Shelf-stable gnocchi should be in any trail chef's gourmet food bag, and beets lend the dish a delicate red color that wouldn't be out of place in your favorite high-end eatery. Cook this and you'll never have an easier time convincing your campmates to do the dishes. Makes 2 servings.
Ingredients
2 Tbsp toasted walnuts
3 dried figs, quartered
¼ tsp dried basil
3 strips bacon
1 10-oz. package shelf-stable gnocchi
2 inch chunk of a red beet
3 Tbsp olive oil
1 Tbsp balsamic syrup (not vinegar)
2 Tbsp grated Pecorino Romano cheese
At home Toast walnuts at 350°F for 6 minutes. Put in a bowl with figs and basil. Cook bacon over low heat, drain, break into 1-inch chunks, and add to nut mixture. Pack in a zip-top bag. Package other ingredients separately.
In camp Grate beet into cook pot, fill with water, and boil. Cook gnocchi according to instructions and drain. Divide between bowls, drizzle with oil, and toss. Top with nut mix, balsamic, and cheese.
—Casey Lyons
Gado-gado Spaghetti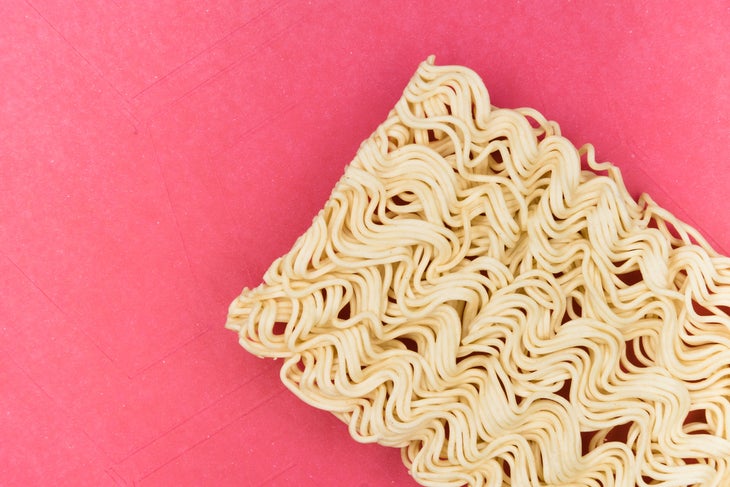 A spicy peanut butter sauce makes this light ramen dish excellent either hot or cold. Makes 2 servings.
Ingredients
1/2 lb. ramen noodles
4 cups water
3 Tbsp + 1 tsp oil
2 Tbsp sunflower seeds
1 Tbsp dried onion, rehydrated
3 Tbsp brown sugar
1 tsp garlic
3/4 cup water, or more as needed
3 Tbsp vinegar
3 Tbsp soy sauce
1/2 tsp black pepper
1/2 tsp hot sauce
3 Tbsp peanut butter
sliced green onions
At home Pack all ingredients in separate, leak-proof containers.
In camp Break pasta in half and put into boiling unsalted water with 1 tsp. of oil. Cook; drain immediately. In a fry pan, heat remaining oil and add the sunflower seeds and rehydrated onions. Cook over medium heat for 2 minutes. Add the brown sugar, garlic, other spices, and 3/4 cup water. Add the vinegar, soy sauce, and peanut butter and stir until smooth. Mix sauce and spaghetti, allow to cool, and serve chilled topped with green onion. This recipe is best served cold, and it loses some of its saltiness as it sits.
—Backpacker Editors 
American Chop Suey
Make a double batch of this at home. Have it for dinner with your family then dehydrate half for your next few backpacking trips. Makes 3 servings.
Ingredients
1 tbsp. olive oil
1 chopped onion
1 chopped bell pepper (any color)
1 lb. lean ground beef
2 tbsp. dried oregano
2 tbsp. dried basil
1 tsp. crushed red pepper
1 28-ounce can crushed tomatoes
1 6 ounce can tomato paste
¾ pound elbow noodles
Salt and pepper to taste
Optional: cubed cheese, any kind
At home Heat oil and gently sauté the onion and pepper until the onion is translucent. Add the meat and brown thoroughly, breaking it up as you go with a wooden spoon. Drain off any accumulated fat. Add the spices, then tomatoes, and simmer for about 15 minutes. Meanwhile, cook the pasta till al dente and drain. Let the sauce cool, then spread it on the dehydrator trays. (If you don't have tray liners, cut wax paper to fit the shape of your trays.) Spread the cooled macaroni on separate trays, making sure it doesn't stick together (rinsing with cool water first helps). Dehydrate both components until they're brittle (about 6 hours or overnight). When done, combine about 1 cup macaroni and 1 cup sauce in a 1-quart zip-top bag.
In camp Add about 2 cups boiling water to the bag, squish it around and let it rest in a cozy for about 10 minutes, or until everything is tender.
—Backpacker Editors