The Secret to These Backpacking Crepes? Pre-Make Them.
Whether for breakfast, lunch, or an after-dinner treat, these make-ahead crepes add a touch of class to any campsite.
Photo: loooby / iStock via Getty
Heading out the door? Read this article on the new Outside+ app available now on iOS devices for members! Download the app.
Pancakes are a classic, but camp crepes? That's truly next level. These French-inspired cakes are thin, chewy, and easy too. Pre-make these pancakes and pack in for a simple but impressive breakfast, dinner, or dessert.
No-Frills Crepes
3 large eggs
1 1/3 cups whole mil
¾ cup unbleached, all-purpose flour
¾ teaspoon salt
5 tablespoons unsalted butter, melted
At home: Mix all ingredients together and blend until smooth. Pour ¼ cup at a time into a buttered 8″ skillet over medium heat. When the edges are noticeably crispy, flip the crepe. Lift the edge with a spatula, then flip with your hands to avoid tearing. Cook until golden brown. Let the crepes cool, then stack them (separated with pieces of wax paper), and put into a large zipper-lock bag. Store flat like a stack of tortillas in the fridge. Makes 8 to 10 crepes. Crepes last up to 3 days on the trail.
Option: Use watered-down pancake batter to make crepes in camp. Pancake mix is sweeter than crepe mix, which makes it better for dessert crepes than meal crepes.
Bananutella Crepes
2 bananas
1 cup Nutella (a chocolate hazelnut spread available in most supermarkets)
4 crepes
½ cup walnuts, chopped
At home: Pack bananas in your cooking pot.
In camp: Spread approximately ¼ cup Nutella on each crepe. Peel and cut bananas lengthwise, using a half for each crepe. Sprinkle with walnuts. Roll up. Serves four for dessert, two as an entrée.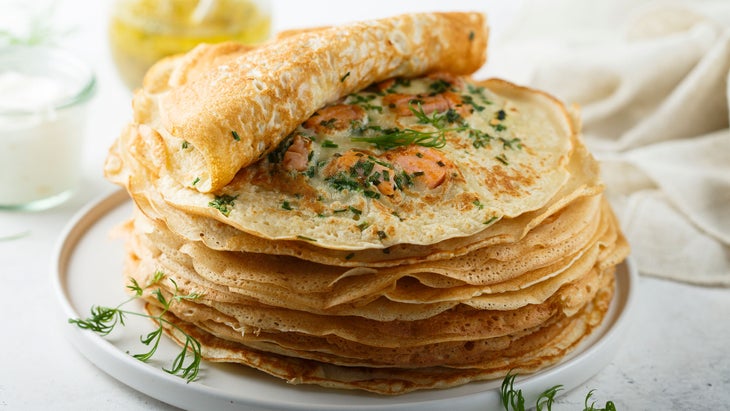 Salmon Crepes
2/3 cup water
1 small bouillon cube
1 tablespoon olive oil
½ cup mushrooms, sliced
½ cup celery, diced
¼ cup yellow onion, diced
1/3 cup all-purpose flour
½ teaspoon Worcestershire sauce
8-oz. pack salmon (foil pouch)
1 tablespoon sun-dried tomatoes, sliced
1 tablespoon parsley flakes (or fresh)
6 crepes
½ cup Swiss cheese, shredded (optional)
At camp: Boil water with bouillon cube and set aside. Put olive oil in skillet and add mushrooms; sauté for 2 minutes. Add onion and celery; continue to sauté for 3 to 4 minutes. Add flour, stirring constantly for 2 more minutes. Add bouillon and Worcestershire. Cook over low heat, stirring constantly, until mixture thickens to the consistency of alfredo sauce. Stir in salmon, tomatoes, and parsley. Heat 1 minute. Place ¼ cup salmon mix onto each crepe. Add cheese. Roll up. Serves three.
Southwest Scramble Crepes
1 12-ounce carton Easy Eggs or Egg Beaters (or powdered equivalent of 6 eggs)
1 small avocado, sliced
1 tablespoon cilantro
1 4-ounce can green chilies, diced
2 red chili peppers, diced
1 cup shredded jack cheese
4 crepes
At home: Drain green chilies and pack in small zipper-lock bag. For squish-free transport, carry avocado in cooking pot.
In camp: Dice chilies and peppers. Scramble eggs, cilantro, green chilies, and red peppers in frying pan. Scoop egg mix onto crepe; top with avocado and cheese. Roll up. Serves two.
Originally published in 2005; last updated in 2022