These 7 Unexpected Seasonings Are Your Ticket to Gourmet Backcountry Bliss
Backcountry meals can be boring. Spice them up—literally—with these handy add-ins.
Heading out the door? Read this article on the new Outside+ app available now on iOS devices for members! Download the app.
Add some zing to your backcountry meals: Members get access to all of our recipes, from the simple to the gourmet to the eye-popping (bacon and eggs in a bag, anyone?) Sign up today
As a mountain guide, I've eaten thousands of meals outdoors over the years. Some are wonderful, but others need some additions to keep them exciting, or even palatable. The key to turning the second into the first? A dialed-in spice collection. Here's what I bring.
Powdered Lemon Juice
I'm talking 100% pure, unsweetened lemon juice, dehydrated into single-serve packets. I love mixing it into my water or tea or using it in creative pasta sauces. It adds a refreshingly tart, bright pop, and it's hard to go wrong with it. 
Maple Sugar
Think of this as brown sugar with a secret. It's 100% dehydrated maple syrup, and it contains significantly more calcium, iron, magnesium, potassium, zinc, copper, and manganese than brown sugar. It's a regular in my morning oatmeal, but I also use it in hot drinks, on toast with butter, and in cold water mixed with lemon powder.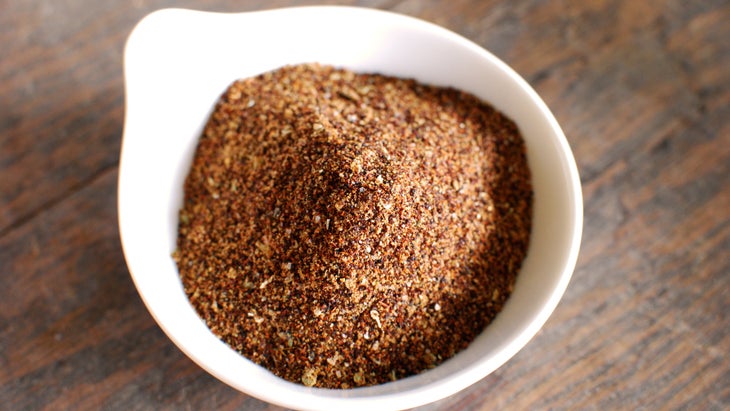 Taco Seasoning
This taco night shortcut gets poo-pooed by a lot of gourmets, but in the backcountry? Solid gold. There are hundreds of options, and most include cumin, onion, garlic, paprika, and various kinds of chilis and other peppers. The beautiful thing about this spice blend is that it's almost universally loved: It's a delicious way to spice up otherwise bland foods like rice, eggs, potatoes, and boring freeze-dried entrees, but my all-time favorite way to use this magical powder is on nuts. Halfway through a long expedition, when I'm feeling like I just can't handle another boring almond, I'll scoop a handful of nuts into a Ziplock bag or bowl and stir in some taco seasoning. It's a whole new world. I usually buy the packets sold at Trader Joe's, and I also love the options offered by Patagonia Provisions. 
Hot Sauce Packets
Yes, we all know that hot sauce can spice up a backcountry meal. But did you know that almost all of these magical elixirs can be bought in single-serving packets? When I went to Mount Everest, I took hundreds of single-serve packets of Yellowbird; when I'm guiding, I send this link to all new clients.
Dried Chili Peppers
As a diehard fan of all Mexican cuisine, I love cooking with all different kinds of fresh and canned peppers. In the backcountry, though, my beloved canned adobos are often bulkier or heavier than I feel like packing, so I've switched to dried. They're readily available at my local supermarket or online, and they're incredibly versatile. I'll soak them overnight in water or oil to add to powdered hummus, simmer into soups, and chop up to sprinkle into freeze-dried meals. When I'm feeling frisky, or need something extra-warming, I'll use the soaking water to make a spicy hot cocoa. 
Ranch Dressing Powder
Hidden Valley Ranch Dressing is as classic as you can get, and it's startlingly versatile in the backcountry. I'll dust it over chicken, mix it with a packet of mayonnaise to make a tuna salad, toss it into soups, or stir it into hummus. I've even been known to dip baby carrots straight into the powder. Weird? Yes. Delicious? You bet. 
Truffle Salt 
Truffle-infused salt isn't cheap, but you won't find a better lightweight luxury for when you feel like spoiling yourself or your partners. You don't need a lot: My kryptonite is a plastic jar of hand-harvested French grey sea salt infused with black summer truffles; I bought it for less than $15, and it's still going strong after over a year of careful use. When I'm feeling fancy, I sprinkle it on top of my morning scrambled eggs (instant or regular), stir it into rice, vegetables, or roasted potatoes, and mix it into popcorn or fries. The best way to use this magical seasoning in the backcountry, though, is really simple: boil up any kind of noodles, mix in a hearty dollop of butter or olive oil, and add truffle salt.