Ketchup Leather: The Backpacking Food No One Asked For
What happens when you introduce condiments to your dehydrator? We head to the kitchen to see if molecular gastronomy can work for hikers, too.
Heading out the door? Read this article on the new Outside+ app available now on iOS devices for members! Download the app.
Dehydrating food is a time-tested way to make it lighter and more portable for the trail. Water is both heavy and one of the few ingredients backpackers can easily find on the go, so sucking it out of your chow before you head out only makes sense. Reconstituted chili or hash browns are simple, low-effort meals, and if the results aren't quite as good as what you'd eat at home, hunger usually makes up the difference. Some foods even get better after they get dried out—hello, banana chips.
Condiments usually get spared the dehydrator treatment; some of the most dedicated ultralighters I know still carry mini bottles of Cholula with them. So when I first read the words "ketchup leather," I had my reservations.
Just say it with me: ketchup leather. The phrase is thoroughly unappetizing, like the ring of dried sauce around the rim of an old bottle of Heinz. Honestly, it sounds less like something you would bring on a hiking trip and more like something kids on TikTok would eat on a dare to get more followers. Surprisingly, however, ketchup leather's roots are in gourmet restaurants, like Los Angeles's Plan Check, where former chef Ernesto Uchimura began using squares of it to keep his burgers from getting soggy. Today, if you want to emulate that fine dining experience at home, you can buy it ready-made, packaged in plastic like sliced cheese.
But is ketchup leather actually any good? Only one way to find out. Part of my mandate here at Backpacker is to make and eat weird joke foods that no one else wants to. I got my supplies together.
I found numerous recipes for ketchup leather online, but all of them boiled down to the same thing: spread ketchup in a pan and bake at 200°F until it hits the desired consistency. Most suggested adding additional flavorings to the sauce. I spiced mine up with a dash of chili powder and a squeeze of lime, stuck it in the oven, and sat down to wait.
Three hours and change later, my ketchup leather was cooled, sliced, and ready to go. I was left holding something that looked like a cross between a Fruit Roll-Up and a stain you'd find on your T-shirt after a barbecue: a dark red, semi-translucent sheet that was tacky to the touch. I decided to tear up a piece and mix it with hash browns, one of my favorite hiking breakfasts.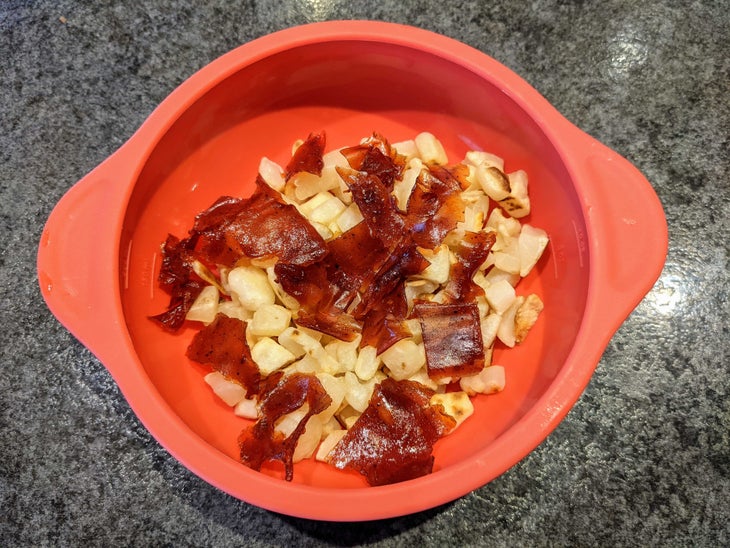 It was fine, I guess. The heat of the potatoes softened up the leather, and the ketchup flavor (with a little extra zing from the chile and lime) was immediately recognizable. It was the texture I couldn't get over: I associate that gelatinous chewiness with candy or fruit leather, so to bite into a piece of it and taste tomato and vinegar was very off-putting. With a splash of hot water and much stirring, I managed to make a piece of the leather into something that resembled a chunky ketchup, though it took me a while. I also tried eating a piece of the ketchup leather straight, like fruit leather; it was bad. (I don't think I need to tell you why, but if you're desperate for an explanation, go to your fridge, grab the ketchup, and squirt a generous dollop straight into your mouth.)
Maybe, like caviar or truffles, you just need a chef's skill to make ketchup leather work, but my taste test left something to be desired. If you're excited by the idea of dehydrated ketchup, I can report that it's not quite as bad as it sounds. For the rest of you? You'll be better off packing in the real stuff.
Recipe: Ketchup Leather
Yields: 4 slices
Prep time: 10 minutes
Total time: 3 hours 10 minutes
Ingredients:
½ cup plus one tbsp ketchup

Dash chili powder

Dash lime juice
Preheat the oven to 200°F. Line a 9-inch by 9-inch baking dish with parchment paper, leaving a little extra on the edges to help you lift it out.

Mix ketchup, chili powder, and lime juice (adjust seasonings to taste). Spread evenly along the bottom of the dish. Bake for 3 hours. 

Carefully lift the parchment paper out of the dish and cool. Once cool, carefully loosen the ketchup leather around the edges with a knife, peel off parchment paper, and cut into squares. Serve on wraps, burgers, hash browns, or anything else your flavor-craving heart desires.