How to Throw The Perfect Backcountry Barbecue
Warm summer nights were made for grilling. Ditch the backyard for the backcountry with this gear and advice.
Heading out the door? Read this article on the new Outside+ app available now on iOS devices for members! Download the app.
We're all ready for summer. A sizzling grill, an ice-cold margarita, and a cozy camp chair by the fire; nothing beats dinner outside in the warm glow of a late July sunset. Barbecue season is upon us, and we think it's the perfect opportunity to mix things up and take the party trailside. 
Grab a few friends, load up a cooler (or backpack), and head to your secret river spot or favorite scenic overlook for a backcountry barbecue. Whether you're grilling on a tailgate or hiking in with all your supplies, here are a few tips and tricks for taking your weekend grill sesh into the woods.
Recipes
Backcountry Beef Kebabs 
Makes 6-8 servings
Nothing says summer like colorful skewers of grilled meat and veggies. These simple kebab skewers are a great way to feed a group and easy to customize: Just sub in whatever vegetables you have on hand. The marinade, while not essential, is well worth a few extra minutes of prep at home. Since this recipe calls for fresh meat, it's best for car camping, but if you want to treat yourself to kebabs while backpacking, freeze your steak the night before so it can thaw while you hike and wait to slice your veggies until you get to camp. 
Ingredients:
1 3/4 lb. Sirloin steak, cut into 1-inch cubes or 4 vegetarian sausages, sliced into 1-inch pieces
1 large red onion, cut into 1-inch squares
2 bell peppers, cut into 1-inch squares
2 zucchinis, cut into 1-inch pieces
10 oz. cremini mushrooms, sliced into 1-inch pieces
2 Tbsp. olive oil
1/2 tsp. salt
Optional Steak Marinade:
1/4 cup olive oil
3 Tbsp. soy sauce
2 Tbsp. rice vinegar
2 Tbsp. Hoisin sauce
1 Tbsp. maple syrup
1 Tbsp. brown sugar
3 cloves garlic, minced
3 green onions, finely chopped
1/2 tsp. salt
1/2 tsp. black pepper
At Home:
Marinate the steak the night before your trip. Whisk all marinade ingredients in a small bowl. Add steak to a resealable plastic bag or container and pour marinade over it. Refrigerate for 2 to 24 hours (or freeze if backpacking). Add vegetables to a separate bag and toss with olive oil and salt. Pack everything in a cooler to haul to camp. If you're backpacking, wait to slice and season the veggies until you get to camp; pack them in an airtight bag with a few paper towels instead.  Pack everything in a cooler or your pack.
In Camp:
Fire up the grill or get a medium-hot campfire going, at least two feet in diameter. If you're cooking over an open flame with a portable grill grate, wait until the coals are red hot (this should take about 30 minutes) and the flames have died down but the fire is still going strong; this will help everything cook more evenly. 
Assemble your skewers according to preference, alternating meat (or veggie sausage) and vegetables. Cook your skewers on the grill grate, rotating them often, until meat is browned and vegetables are tender (about 10 minutes).  
Spiced Golden Rice 
Makes 6-8 servings. 
This bright and colorful dish is sure to spice up a night outside. It's the perfect, carb-filled accompaniment to the kebabs, and will help your body prepare for the next day's adventures.
Ingredients:
2 cups long-grain white rice (or 5 servings of instant rice)
1 vegetable bouillon cube
2 Tbsp. dried onion
1/4 cup dehydrated carrots
1 tsp. garlic salt, plus more to taste
3/4 tsp. turmeric powder
1/2 tsp. dried ginger 
1/4 cup fresh mint, chopped
1/4 cup fresh parsley, chopped
At Home:
Pack rice in a sealed container or bag. You can pack dehydrated vegetables and spices together and fresh herbs together in their own containers. 
In Camp:
Add rice, 4 cups of water, and bouillon cube to a saucepan and bring to a boil. Once the rice is boiling, turn it down to a simmer. Add vegetables and all spices. Cook with the lid on until the rice has absorbed liquid, about 10 to 15 minutes. Fluff the rice with a spork and stir in fresh herbs plus extra salt to taste. 
If using instant rice, add all ingredients to the rice along with water (cook according to directions on the package). 
Backcountry Barbecue Tips
Prep at home
Like any camping meal, a little prep in your kitchen at home will make a world of difference. Pre-chopping vegetables and storing them in sealed bags or containers not only gets dinner on the table quicker, but it also gives you a great place to put trash and scraps to pack it all out.  
Check for fire bans
If you're planning to use a campfire to grill dinner—which we highly recommend—be sure to check that there are no fire bans. Have a backup plan ready (a cast iron skillet and camp stove can save the day) in case open flames are a no-go. 
Lean on spices and fresh herbs
Spices and herbs are culinary superheroes for backcountry chefs. A handful of fresh herbs doesn't weigh a thing and can do wonders for a simple bowl of instant rice. 
Divide and conquer
If you're used to cooking for one or two on the trail, barbecuing with a crowd can feel overwhelming. Divvy up tasks and food prep ahead of time so you can focus on one thing, and make it potluck style so no one feels like they're hauling in more than their fair share. 
Backcountry barbecue gear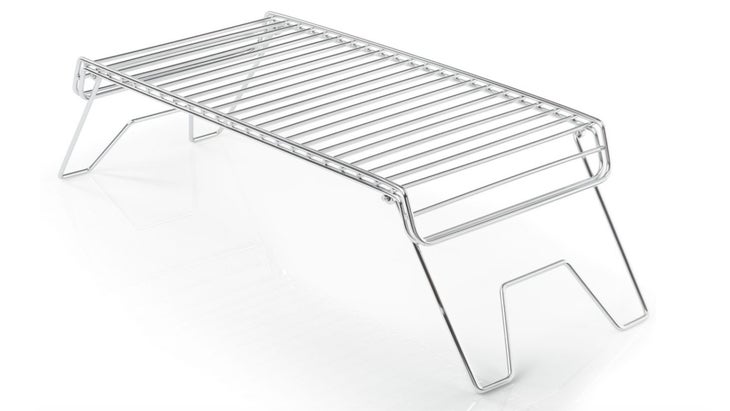 GSI Outdoors Folding Grill Grate 
Level up any ordinary campfire with this grill grate. Its foldable design flattens down to 1.8 inches thick, so it's slim and light enough (2 pounds) for you to strap it on your pack. In camp, the grate expands to a spacious, 17.5-inch by 8.3-inch grilling surface that has raised edges to catch any runaway dogs or pineapple rings. $27; Buy Now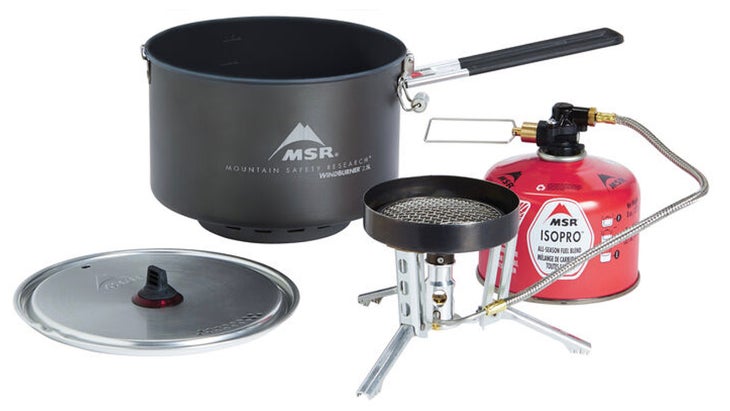 MSR WindBurner Group Stove System 
A large pot is essential when you're cooking for more than two people, and the WindBurner's 2.5-liter, ceramic-coated vessel is perfect for whipping up a big bowl of spiced golden rice. The windproof burner head keeps inclement weather from thwarting your dinner plans, and the stove's precise simmer control is essential for whipping up rice dishes or evenly sautéeing veggies. $200; Buy Now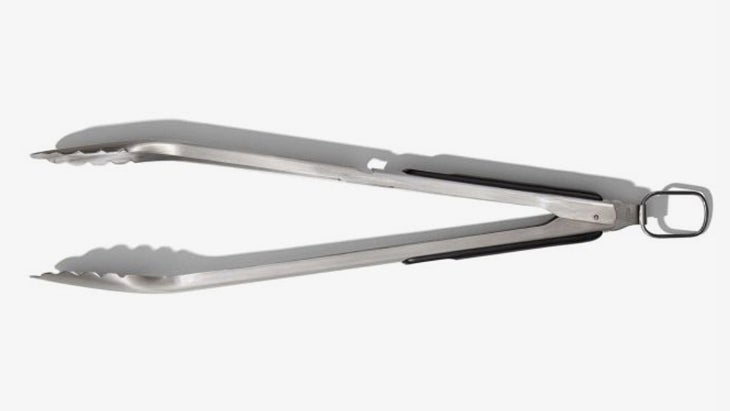 Oxo Good Grips Grilling Tongs
It's tempting to flip kebabs and nudge sausages with your hands, but how many times are you willing to scorch your poor fingertips? These grippy, stainless steel tongs are a handy companion for your backcountry grilling setup, ready to flip burgers or corn on the cob with the flick of a wrist. The extra-long design is ideal for campfire cooking, giving you a little extra buffer when the flames rise. $15; Buy Now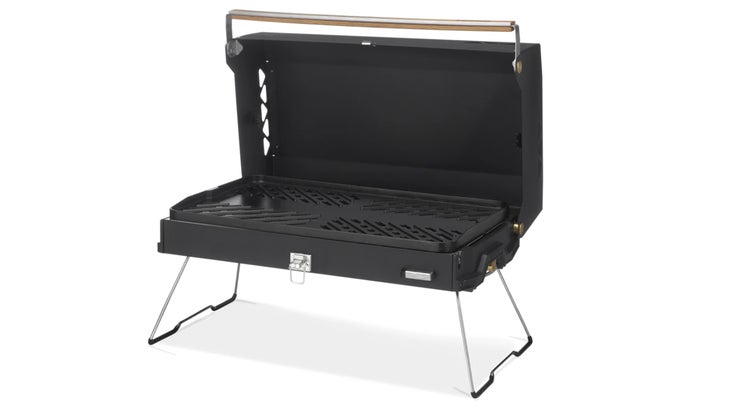 Primus Kuchoma Grill
If you're not hauling in camp on your back, the Kuchoma Grill is an invaluable addition to a frontcountry barbecue. The ceramic non-stick grill grate has enough surface area to sear six kebabs at a time, and it also has a spacious hood that lets you stack patties or grill larger steaks with plenty of space to seal in heat and flavor. The compact design folds in two with a lock-and-carry handle, making the grill easy to haul down to your favorite riverside spot. $190; Buy Now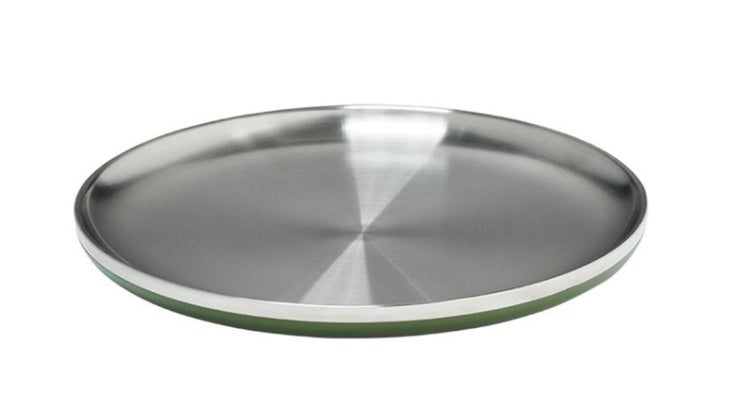 Hydro Flask 10-inch Plate
We're big proponents of eating off a real plate for a frontcountry feast. This one is built with stainless steel and double-walled insulation, which provides impressive durability for rolling around the back of your Subaru all summer, and a grainy coating on the bottom that stays in place on rocks and camp tables. $25; Buy Now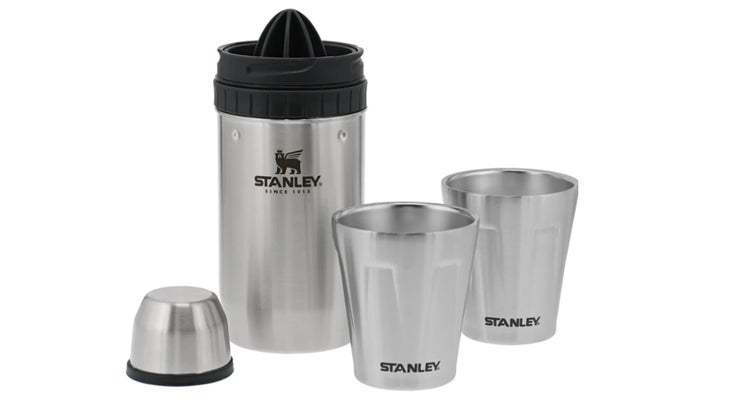 Stanley Adventure Happy Hour Cocktail Shaker Set
This compact shaker set makes a mean Manhattan for two, and comes with insulated cocktail glasses that let you slowly sip your bevvie while you fire up the grill. The removable reamer helps you juice and pour fresh citrus straight into the mix, and the whole 1.6-pound system nests neatly together for the hike in. $35; Buy Now