Backcountry Cooking Hacks Every Lazy Hiker Chef Needs To Know
Stop settling for the same blah menu. With these tips, all hikers can prepare trailside Michelin-star-worthy meals. Even the lazy ones.
Heading out the door? Read this article on the new Outside+ app available now on iOS devices for members! Download the app.
In the kitchen at home, I'm known for taking the path of least resistance. Measure my herbs and spices? No, I'll just go by feel, like an Italian grandmother. Eat my homemade soup with a normal metal spoon? I usually opt for the massive silicone spoon I stirred with. You get the point.
Maybe I'm lazy. Or, maybe I'm a decent cook who doesn't like all the unnecessary fuss that can bog down mealtime. I like to think I'm the latter, and in camp, that goes double. Aspire to be as efficient as me? Here are my favorite hacks for cooking in the backcountry, from one lazy cook to another.
Elevate The Basics
A few months ago, I found myself in an almond butter and tortilla phase. Although, like an angsty teen blasting My Chemical Romance and piling on the under-eye eyeliner, I would've argued that it wasn't a phase. I couldn't picture a day where I wouldn't salivate at the thought of it for a trailside breakfast or lunch. That day eventually came, sitting on a rock in the Laguna Mountains, where I decided I'd rather wait until the next meal than choke down that particular snack ever again. But, I didn't want to ditch the convenience of an almond butter packet and its compact, carb-rich vehicle. So, I elevated it. I added different combinations of flavored honey, cinnamon, and dehydrated blueberries, apples, and banana slices. I also experimented with other nut butters and more creative add-ins to make this played-out usual an enticing, new treat.
If you want to level up mealtime, don't settle for flavorless ramen, potatoes, or rice.
For richer flavors (and a couple hundred more calories): add a tablespoon or two of olive oil. You can buy single-serving packets of oil and other condiments here. For a more sustainable option, bring your oil in reusable mini silicone bottles or clean travel-size shampoo containers.
For variety: add a kick with some cayenne or sriracha, scare off vampires with unlimited garlic powder, and take your dinner around the world with soy sauce packets, Italian spices, and powdered coconut milk.
For more protein: sprinkle in nutritional yeast, dehydrated hummus, powdered eggs, peanut butter powder, or freeze-dried meat as you cook your meal.
Don't Cook
If you're heading to the trails for an overnighter or a weekender, you can prepare plenty of no-cook meals ahead of time. This isn't a free pass for PB&J sandwiches and Pop Tarts 24/7, though. It's possible to plan a nutritious shelf-stable menu that has enough vitamins and minerals to keep you healthy and powerful on the trail.
If you want to level up mealtime, try these no-cook hacks:
It doesn't take a lot of work to class up your charcuterie appetizer in the backcountry. Hard cheeses, salami, jerky, and bread or crackers will all stay fresh on a short trip. Be sure to keep the cheese bricks in their original packaging, and once you cut into them, keep them in a zip-top bag.
Cold soaking is so easy, it doesn't even really count as cooking. You can cold-soak dehydrated noodles for pasta salad, pudding and vanilla wafers for tiramisu, or let your breakfast prepare itself while you sleep with overnight oats. Add your favorite toppings, then just soak your oats in water or dehydrated milk overnight in a screw-top container.
Two words: dehydrated hummus. Sprinkle it in your packaged, dehydrated meal for more protein or have it plain with some olive oil and a pita. Look for it in your local bulk section.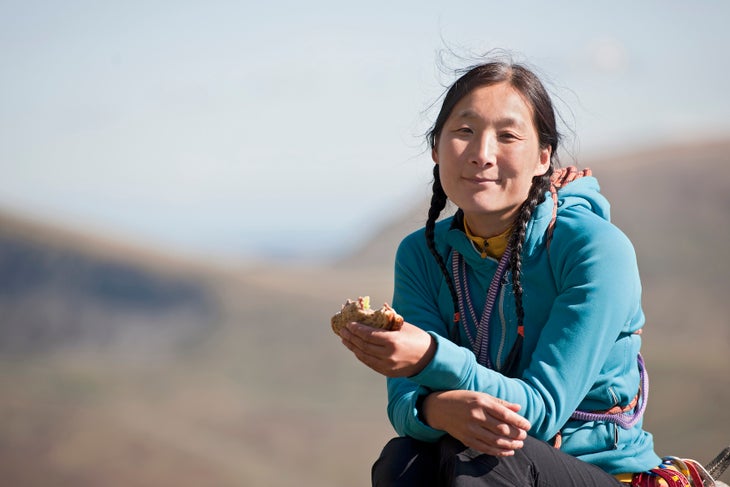 Explore The Homemade
When I'm backpacking a lot, I get caught in a routine meal plan pretty easily (hence the almond butter and tortilla phase). I know what my body does and doesn't agree with, where to get it, and how much it weighs. But, there's a difference between enjoying a consistent menu and being afraid to try something new.
Save yourself from the flavor rut by trying something new each time you take a trip to the backcountry. This could be a new trail mix combination, a new electrolyte supplement, or a new way of preparing dinner. If there's a way to cook it at home, there's likely a way to cook it in the backcountry; you don't have to rely on the dehydrated meal aisle at REI. An easy way to start cooking for yourself is with a dehydrator, which you can buy new for as little as $40.
If you want to level up mealtime, try to make your favorite dehydrated meals at home. If you have a dehydrator or an oven that goes down to 130°F, you can save the $10+ you'd spend on the packaged, dehydrated meal and make it yourself. It's easy; you can dehydrate whole, cooked meals as long as they are dairy-free and not too oily. Backpacker editor Zoe Gates recently broke out her dehydrator and discovered which leftovers worked best as impromptu trail meals.
If dehydrating seems a bit daunting, you can assemble meals from already-dried vegetables, fruits, meats, beans, grains, and pastas found in your grocer's dry goods section.
Don't Worry About Dehydrated Meals
Too lazy for any of that stuff? Good news: We're living in the era of the tasty packaged dehydrated meal. Just a few decades ago, your backpacking food options were pretty limited to freeze-dried, processed meat. They say that all food tastes better in the backcountry, but I don't think I could stomach freeze-dried diced ham or freeze-dried beef patties anywhere. Now, we have many, many more options, and some of them we'd even eat at home. (Check out which dehydrated meals reign supreme in our taste-test column Pouch Wars).
If you want to level up mealtime, use dehydrated meals as a starting point.
Add spices, oils, or sauces with your boiled water, and let the flavors infuse your meal as it rehydrates.
If you have a rice- or grain-based packaged meal, take it out of the bag, and put it on a tortilla. Boom, instant burrito.