51 Summer Camping Secrets Every Hiker Should Know
Maximize fun and minimize hassle with these essential tips on comfort, safety, cooking, and finding solitude during the high season.
Heading out the door? Read this article on the new Outside+ app available now on iOS devices for members! Download the app.
There's something magical about backpacking in the summer. Sure, spring and fall make bring milder temps, but hitting the trail during the longest days of the year is a quick way to feel like you've scored a summer break of your own. To help you make the most of it, we compiled these tips to avoiding the crowds, eating better, and having more fun on the trail during the sunniest days of the year.
How to Avoid Crowds and Hit the Trail Faster in Summer
Start at sunrise. You'll find empty trails—and also boost your chances of seeing animals, which are typically more active at dawn and dusk. Bonus: starting early means you can nap or lunch through the hottest hours of the day.
Venture farther. The majority of dayhikers stop within the first few miles of a trail, guaranteeing solitude for those willing to work for it.
Hike at night. Busy trails empty out after sunset, so avoid conga lines and see the park in a whole new way—by the glow of moon and stars. Four key tips for walking in the dark:
Choose trails that are wide and free of low-hanging branches or roots that could trip you up. Ask rangers for their recommendations.
Time your hike to coincide with a full moon. Some parks, such as Bryce Canyon, even offer free, guided full-moon hikes.
Instead of turning on your headlamp, wait about 30 minutes in the dark before setting out, to let your eyes fully adjust to low light.
If you need to read a trail sign or check your map, use the red light on your headlamp (many models now come with this) to preserve night vision. White light obliterates it.
Organize your gear into tubs. "I sort everything into clear plastic bins labeled according to use (summer, winter, tents, first aid, survival, etc.), so I can find it all quickly," says Tim Kish, backpacking-school director at the Colorado Mountain Club's Denver chapter.
Stock up on backpacking meals and fuel canisters. This way, you can grab and go on a Friday afternoon without a detour to the store.
Clean and prep gear as soon as you return from a trip. Wash clothes, air-dry tents, and make repairs so everything's ready for the next outing.
Summer Hiking Secrets to Take on the Trail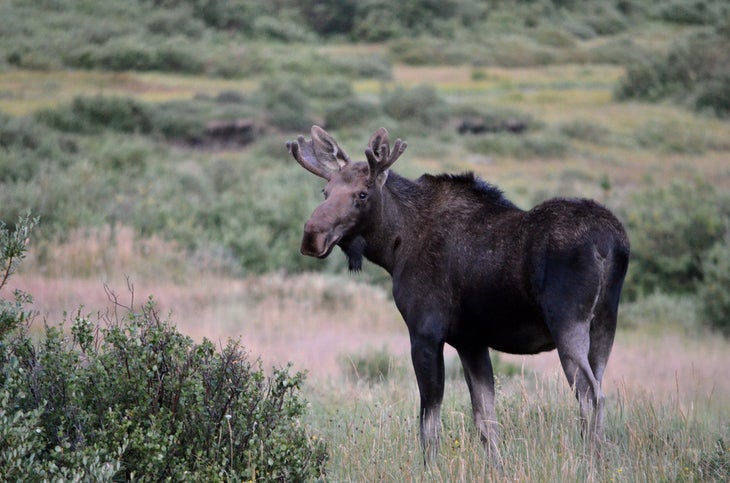 See More…
Moose: In summer, scope for these behemoths (they can tower six feet tall and weigh more than 1,200 pounds) at dawn and dusk in marshes, willow ponds, and rivers. Approach them from downwind, but stay at least 50 yards away—moose will charge humans who seem to pose a threat. Hot spot: Grand Teton National Park, on the String Lake Trail
Bald eagles: You can see them throughout North America in any season, but in May and June, parents hang out near the aerie, caring for eaglets. Spot the five-foot-wide stick nests atop trees and cliffs near rivers and lakes. Hot spot: Canoe or kayak any of the lakes in Voyageurs National Park.
Bighorn sheep: Find them on steep, rocky slopes in the mountains and high deserts of the Rockies and Southwest. Scan for white rumps standing out from the rocks. You'll find ewes with lambs April through June. In fall, listen for rams butting heads during the rut. Hot spot: Glacier National Park, on the Highline Trail
Lift a Heavy Pack
Grab a shoulder strap with one hand and the pack's grab loop (the webbing loop located just below the top lid) with the other, then heave the pack up onto one bent knee. Next, slide an arm through one shoulder strap. Swing the pack across your back as you straighten up—lifting with your legs—and thread your other arm through. Option #2 Prop up the pack on a log or boulder and slither in.
Bonus: Keep your pack manageable on the trail with these packing tips from Deputy Editor Casey Lyons.
Stay Dry
Reach for the raingear (duh), but wear it right: Open the pit zips and pockets to prevent overheating, which will make you sweat and feel clammy. Keep your jacket's hood out of your eyes by pulling it over a billed cap, and wear gaiters under your rain paints to prevent drips into your boot cuff.
Cure Achy Knees
First line of defense: Put your pack on a diet. "Every pound on your back puts seven pounds of pressure on your knee joints when ascending," says Ryan Hutchins, a Wyoming-based NOLS instructor. Also, use poles, which reduce impact on your knees (especially on the downhill). Too late? Pop an ibuprofen, take smaller steps, and when you hit camp, fill a bladder with cold water and "ice" them.
Safely Apply DEET
To cut exposure to your mouth and eyes, spritz a cotton bandanna (deet melts synthetics), and tie it around your neck.
Hike Further
Save energy on steep slopes by using the rest step: With each stride, lock your back knee and rest all of your weight on that leg for a moment. Step up, letting momentum swing the back leg forward. Also, use pressure breathing: Exhale forcefully through pursed lips, as if blowing out a candle; this allows more air to enter when you inhale.
Avoid Sunburn
Pick an SPF (30+) with avobenzone, zinc oxide, or titanium dioxide. These block both UV-A and UV-B rays. Reapply every two hours and after swimming or sweating madly. Sun-scorched? Wear a wide-brimmed hat and, throwing fashion to the wind, hang a shirt from your pack to shade your legs.
How to Camp Better in Summer
Pick the Right Campsite
Opt for established sites to concentrate impact. Otherwise, camp 200 feet (about 70 steps) from lakes or streams and on a durable surface, such as a gravel bar, slickrock, sandy beach, or forest duff, instead of delicate grassy meadows or alpine tundra,
Look for widowmakers. Pitching your tent beneath old, dead trees or large, suspended branches can lead to a nasty wake-up call in high winds. Also, avoid rockfall zones, such as beneath steep, loose cliffs.
Avoid depressions where rain might pool. Pitch on flat, well-draining surfaces.
Don't set up shop near a patch of poison ivy, oak, or sumac. If you do contact them, you have about 10 minutes to remove the urushiol (an oily resin on the leaves and stems) before it binds to your skin, triggering an itchy rash a few days to a week later. Wash the affected area with biodegradable soap and lukewarm water, then wipe with an alcohol pad to get every last bit. When you get home, thoroughly clean everything. Urushiol can linger on tents, boots, clothing, and even your dog for up to a year after initial exposure.
Sleep on the Beach
Choose a spot well above the high-tide line, advises Hutchins: It's usually marked by a line of washed-up debris. Then securely pitch your tent. "I tie the guylines around big rocks at every corner of my shelter," he says. You can also tie them to sand-filled stuffsacks or sturdy sticks. Bury them about two feet down at every corner. Secure guylines with a tautline hitch well above the sand.
Stargaze Like a Pro
Choose an area away from smog and lights and with low humidity (dry air is more stable and transmits starlight better), such as Big Bend National Park and Natural Bridges National Monument.
Fix a Sluggish Water Filter
If the filter isn't drawing water at all, turn the housing upside down and try pumping again, which often does the trick. If that doesn't work, it could be a dry or cracked O-ring. Remove the rubber O-ring from the piston, wipe it clean with a soft cloth, and lubricate it with saliva, lip balm, or silicone grease to restore the seal.
Fix a Snagged Tent Zipper
Work the fabric out by pulling it gently parallel to the slider. No luck? Try to move the slider up and down over the snagged area. If damaged zipper coils are the culprit, carefully bend the coils back into shape with the sharp end of a safety pin from your first-aid kit.
Prevent Tent Condensation
You can't stop breathing, so reduce moisture buildup by maximizing airflow: Crack open one door or window at the top and another at the bottom. Hot air will rise out of the upper vent, and cool air will be drawn into the lower one, explains Nick Cross, a NOLS guide out of Tucson, Arizona. You also can reduce drips by skipping the rainfly on clear-sky nights.
Have a Plan B
Freak weather can wreak havoc on your vacation. Research backup options—e.g. trails in a peak's rain shadow in case of a weeklong storm. Also, a few days before your trip, ask rangers about current conditions, such as snow levels or water availability.
3 Summer Hiking Mistakes to Avoid
1. Forgetting gear It's easy to do, even for veteran hikers, so print out a packing list from backpacker.com/checklists and tick items off as you load them.
2. Getting painful blisters Break in stiff boots with at least 40 miles of dayhikes before big trips. Keep feet dry with wicking wool or synthetic socks. Stop the second you feel a hot spot and cover it with moleskin, duct tape, petroleum jelly, or Bodyglide (lip balm works in a pinch).
3. Hiking with the wrong partner Hiking with someone who doesn't share your goals, skill level, and attitude can cause conflict. Talk honestly pre-trip to confirm compatibility.
Score a Permit
Asleep at the wheel when reservations for primo campsites were up for grabs? It doesn't mean you have to stay home:
Call the backcountry office. Many parks reserve a percentage of campsites and/or trailhead permits for walk-ins. Find out how they're handed out (usually the same day your trip starts), and show up early, with a preferred route and alternatives at the ready.
Start at a remote trailhead. At parks with quotas for popular trails—like Yosemite's Tuolumne Meadows routes to Half Dome—start from a more distant trailhead (like Saddlebag Lake, in Inyo National Forest, for Half Dome) and take an extra day to reach your location.
Rough it. Instead of camping in a designated spot, backpack into a dispersed camping zone (where you're free to choose your own site within the zone's boundaries), which casual campers tend to overlook.
Cooking Tips for Your Next Summer Camping Trip
Bake Without an Oven
Pizza in the backcountry? Yes, please. Lugging a dutch oven? No thanks. NOLS teaches the "around the clock" method: Stack a few rocks near your stove, at the level of the burner. Place the covered pot, filled with dough, on the burner, but position it so one quarter of it is over a low flame and three quarters rest on the rocks. Every two to three minutes, give the pot a quarter turn so a new section is above the flame. Keep rotating the pot until your baked goods are done. This ensures even baking and prevents burning.
How much food should I pack?
A good rule of thumb for summer is 3,500 calories per day. Choose calorie-dense items (cheese, bars, peanut butter) so your food weighs no more than 2 lbs./person/day. Store each day's meals in separate zip-top bags.
Make Fancy S'mores
Pretrip, soak marshmallows in cognac for five to 10 seconds, then double-bag them in zip-top bags (you can also soak them in camp). Roast the treats over a campfire, then combine them with dark chocolate and two shortbread cookies.
Enjoy a Hot Lunch
At breakfast, fill a thermos with boiling water. At lunch, pour it on your dried meal of choice (like a hearty soup or macaroni). We like the Primus Vacuum Bottle ($18-$32).
Pack the Right Cheese for Camping
Hard and semi-hard varieties—Parmesan, Swiss, Gouda, Jarlsberg—last about a week in moderate temps.
Softer, oilier cheeses, like cheddar and Brie, only last a few days.
Waxed bricks or wheels keep better than blocks or slices.
Direct sun and warm temperatures speed spoilage. Packing the cheese in two zip-top bags and stashing it near the center of your pack will insulate it on hot days.
Make Wild Berry Compote
Lucky enough to stumble upon a huckleberry, raspberry, or blueberry patch? If so, throw a few handfuls into an empty bottle, and generously sprinkle on sugar. Let sit overnight so a syrup forms, then heat on medium heat in a pot until berries begin breaking up (one to two minutes). Serve on flapjacks or oatmeal.
Build Your Own Spice Kit
A dash of spice can make bland glop divine. Pack them in tiny plastic bottles, like Nalgene's Multipurpose Vial Kit ($8). Avoid zip-top bags, as spices clog zippers. We like: onion powder, garlic, Parmesan, oregano, dried mushrooms, cinnamon, sun-dried tomato, cayenne, salt, and pepper.