Coffee-mate: Best Thermos Round-up
No one takes a to-go cup on the trail. Unless it's one of these hardy thermoses or hot/cold bottles.
Heading out the door? Read this article on the new Outside+ app available now on iOS devices for members! Download the app.
The Contenders (Julia Vandenoever)
Klean Kanteen Insulated (Mike J Donley)
Primus C&H Vacuum Bottle (Mike J Donley)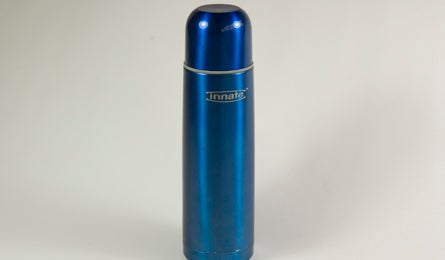 Bow Valley Stainless Steel Vacuum Bottle (Mike J Donley)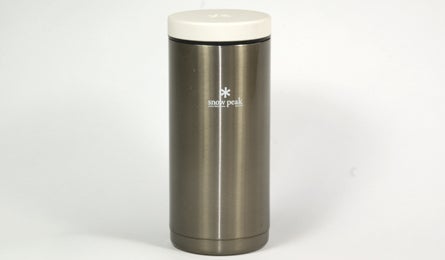 Snow Peak Kanpai Vacuum Stainless Bottle (Mike J Donley)
Reviewing thermoses should be easy. Does it keep your beverage hot or cold? One point. Does it spill? Zero points. Does it fit easily in your pack? Another point. But when you spend a few months with a variety of thermoses, as the BACKPACKER staff did from mid-February through mid-May, the X factors grow exponentially. One thermos has a bullet-proof exterior but the pouring lid is now two parts instead of one. One thermos won the seal test…until the seal ended up in a dog's mouth. And several of the testing models vanished into thin air. But there were still a few clear winners—and those winners managed trail, car, and desk with ease.
office park cool, backcountry approved
From the makers of copious water bottles, comes a wide-mouth (2.125" according to their website), vacuum insulated, and BPA-free hot/cold bottle. Made of 18/8 stainless steel (which means 18% chromium and 8% nickel—the higher the numbers the more corrosion resistant, and the presence of nickel means the bottle isn't magnetic according to the Stainless Steel Information Center), the bottle has a cup-holder friendly design and comes in three sizes, 12 oz., 16 oz., and 20 oz.
One tester filled her bottle (which she preheated with warm water — check out our instructions on preheating) at home with hot tea and found it too hot to drink after an hour's drive to the trailhead. After four hours of cross-country skiing she returned to warm, drinkable tea. The bottle comes with two lids, a café, or drinking lid, and a loop cap, which is the secure (very secure), insulating cap and a great way to attach the bottle to your pack with a carabiner or strap. Both testers remarked that the café lid is not super secure, "but, in the company's defense, there is a warning on the tag when you get it. When I used the regular lid I didn't find leaking a problem at all." It's a bit of a drag to have two lids: We propose making the drinking lid attachable to the bottle, or being able to screw the solid lid over the drinking lid. Bonus: The wide mouth and rounded corners make hand-washing (a must with most stainless steel thermoses) a breeze.
The Stats
12 fl. oz., 16 fl. oz., 20 fl. oz.
$22.95, $25.95, $27.95
16 fl. oz. bottle weighs 9.8 oz. Extra caps available, no sport cap
One color, stainless steel
www.kleankanteen.com
NEXT UP: A TOUGH THERMOS FOR A CREW
beefy cold-weather drink machine
If a rough-and-tumble exterior is what you need this Primus line fits the bill. The bottles look like bulky spray paint cans and have a black, sanded-down sandpaper exterior which is great for gripping in gloves said one tester. They (there are five size options from .25 liter to 1L) have a narrow mouth and two cap options—one for pouring and one for heat retention. The pouring cap does need diligent cleaning to stay stink-free and one tester was able to (unintentionally) unscrew the pouring lid into two separate parts. These caps fit securely under an included screw-on cup/top making these great bottles for sharing.
We conducted an impromptu heat retention test on one snowy hike in the Colorado Flatirons using an everyday candy thermometer as our measuring stick: two different sizes of the Primus bottles (.75L and .25L) each saw a 20 degree temperature drop after an hour and fifteen minutes on a 27 degree F day. The .25L dropped from a piping 182° to a still piping 159°. The .75L bottle dropped from 124° to 104°. Only one other bottle in our test had better heat retention, and that model was so lead heavy that it didn't make the final cut. Prices are also very reasonable at $18 – $32.
The Stats
0.25L, 0.35L, 0.50L, 0.75L, 1L
$18, $18, $20, $27, $32
.75L bottle weighs 1lb 0.4oz
One color option, black
www.primuscamping.com
NEXT UP: AN 11oz. BULLET OF A THERMOS
Bow Valley Stainless Steel Vacuum Bottle
skinny stasher
This bullet of a bottle is the skinniest of the bunch, great for sliding into an already stuffed messenger bag or a deep side pocket of a pack. BPA free, this bottle is also made of 18/8 stainless steel. The website claims it keeps beverages hot for up to 10 hours if you preheat the bottle. (While conducting this test we learned that preheating really is an important step to maximize a thermos's heat retention—check out our preheating instructions.) Without preheating, our bottle's liquid temp dropped 40 degrees in an hour and fifteen minutes on a 27°F day, from 80° to start to 40° to finish. It pays to start with a super hot beverage for this pack-and-go thermos.
The Bow Valley comes with a push-button pouring lid (tucked under a mini cup/cap) which is difficult to tell whether the lid is open or closed—we had a couple embarrassing spills until we paid closer attention. But when we got the hang of it pouring became a one-handed deal…whether filling our dog's water bowl on the trail or adding milk to our Cap'n Crunch, uh Raisin Bran, in an office cubicle.
The Stats
500 ml (17 fl oz)
$15.50
Weight: 11 oz.
www.innate-gear.com
NEXT UP: A BOTTLE THAT DOUBLES AS A SODA COOLER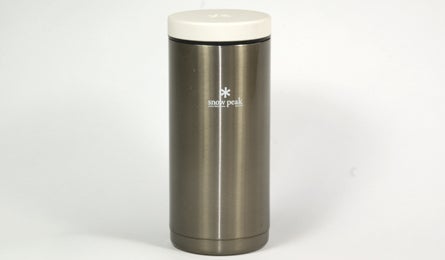 soda schlepper
In a looks contest the Snow Peak Kanpai and the Klean Kanteen bottle could be considered twins. The Snow Peak is also a double-walled, 18/8 stainless steel bottle with a wide, wide mouth. How wide? You can plunk a regular-sized soda or beer can inside. Screw on the "cold top", one of three included tops, and break out a cold one while your trail mates are enjoying more water.
There is also a drinking top ("Tumbler") and a secure hot top ("Thermal"). Again, the drinking lid is not leak proof, but it turns the thermos into an easy sipper. (Note: a regular sized soda can does not fit in the smaller Kanpai bottle (350ml) when using the drinking lid, only with the hot/cold lids.) The security of the cold & hot top is hinged on a sturdy rubber band that wraps around the screw portion of the lid. Should that rubber band come dislodged and somehow find its way into the mouth of a hungry bulldog, as it did for one tester, be sure to reattach it exactly as it is on the intact top—otherwise liquid leak is imminent. Luckily the bulldog's admittedly weak teeth were no match for the rubber and didn't damage the band.
The Snow Peak bottle comes in two sizes 350ml (12oz) and 500ml (16oz) and three colors, pearl white, dark silver, and wine red. At $69.75 and $79.95 it is pricier than other models and our tester bottle already has a few scratches and a dent. (Note: The Snow Peak and the Klean Kanteen were late adds to our test and didn't take part in our mountain-side heat retention test.)
The Stats
12 fl. oz., 16 fl. oz.
$69.75, $79.75
12 fl. oz. bottle weighs 13.3 oz. Three color options, white, stainless steel, hot pink
www.snowpeak.com