How to Pick the Perfect Hike for Kids of All Ages: Elementary School-Aged Kids
Choose the right challenge with expert advice from Family Channel editor, Lisa Jhung
Heading out the door? Read this article on the new Outside+ app available now on iOS devices for members! Download the app.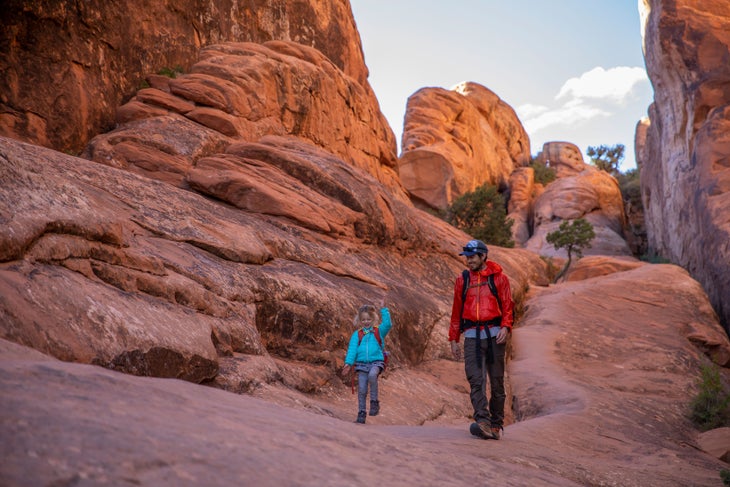 Our guide provides tips on how to pick age-appropriate challenges for your little hikers. Check out the full series here.
I have an 8-year-old who's going into third grade and an 11-year-old who's going into sixth grade, both boys. They are very active—and somehow more active when they're together—but that doesn't always mean they're always willing to hike five or six miles, which I'm sure they're capable of.
When choosing hikes to do with them, I look for natural elements that will keep them entertained, like rocks to climb on, creeks to play in, and features like downed logs so they can pretend to be Ninja Warriors while we hike. They love scrambling on rocks and trying to "send" boulder problems, so we've found hikes with large boulders to climb right along the trail or nearby.
We've had hikes that have been "successful"—meaning, minimal complaining—that are on the shorter side, like 1.5 miles, where the two of them balanced on the railroad ties that bordered the trail. On another 2.5-mile hike we've done a few times, the boys made up a game where they pretended to be playing a moving video game. The trail was steep up, steep down, but in the shade, and the terrain of climbing up boulders inspired their imaginations to run wild.
When my oldest was 10, he and I hiked a local route that climbs around 1,250 feet in 1.5 miles. He was motivated by the reward of feeling a sense of accomplishment, whereas my younger son wasn't that interested. Older kids in this range tend to be slightly more goal-oriented, and can handle more challenging objectives (especially if there's a reward such as a great view). 
My boys are also motivated to hike by bringing along our dog. They like to see her happy and outdoors, and so finding a dog-friendly trail—and one with small creeks to cross, or bodies of water she can swim in—has worked great for the kids and for the dog.
We've also had successful hikes in national parks, some on ranger-led programs, and others where they're doing scavenger hunts in their Junior Ranger booklets. Activity-based hikes keep elementary-aged kids entertained on the trail. 
Other things I take when planning a hike with my boys? A map and binoculars. My oldest likes following the map as we hike, and my youngest likes wearing lightweight binoculars around his neck to stop and look for wildlife, or to get a good look at a nearby peak. And of course, packing plenty of snacks never hurts. 
Elementary school-aged kid-friendly trail features:
Natural features to climb on and inspire imaginative play
Motivating factors like summits (for older kids, or kids driven by accomplishment)
Activities like ranger-led education or scavenger hunts
Dog-friendly
Wildlife or mountains to view through binoculars
Trails with good maps for kids to follow
Lisa Jhung is the editor of Backpacker's Family Channel, and a Boulder-based freelance writer (and mom).
For tips on finding trails ideal for babies and toddlers, click here. And for tips on finding trails for teens and tweens, click here.