Can I Poach a Reserved Campsite That No One Has Shown Up To?
Our ethics columnist addresses a common hiker dilemma.
Photo: bns124/E+ via Getty Images
Heading out the door? Read this article on the new Outside+ app available now on iOS devices for members! Download the app.
Treadiquette is a monthly column helping hikers calibrate their moral compasses. Have a burning question about ethics or etiquette on the trail? Send your predicaments to treadiquette@backpacker.com.
Dear Backpacker,
I recently hiked to an alpine hot spring surrounded by a handful of (paid) reserved campsites. My hiking partner and I didn't reserve a site—they were all booked up—so we planned to dispersed camp just outside of the permit zone, about a half-mile away (the national forest allows this). After enjoying a sunset soak, we noticed that one of the group sites was still abandoned, and it seemed unlikely that whoever reserved it would show up after dark. I wanted to claim the site, but my partner said it was wrong because we didn't pay for it. But why let a good site go to waste? Would it be OK to claim the empty campsite?
—Permitless Opportunist
Dear Permitless,
Your dilemma is a common one: Campsite shortages have plagued many a backpacker as hiking has exploded in recent years, the problem is only made worse by abundant no-shows who fail to cancel their reservations.
Backcountry campsite reservation systems exist for a number of reasons: to control visitation numbers, to preserve the wilderness experience for hikers, and to minimize impact by containing camping to designated areas. In an alpine zone like the one you visited, permits and camping reservations can help contain foot traffic to a small sector, which prevents widespread erosion and mitigates the impact to flora and fauna. Tents, boots, and hiker poop can destroy an alpine zone fast, so it makes sense that land managers would want to contain them to designated areas.
By poaching that empty site, you may have actually been doing the landscape a favor. According to Leave No Trace, camping on impacted sites (like that official tent spot) is preferable to creating your own site, where you could disrupt fragile vegetation and soil. While you may have been able to find an already-impacted dispersed site outside of the permit zone, camping in the official site ensured that you wouldn't have to wander off trail or throw down next to vulnerable plants and wildlife.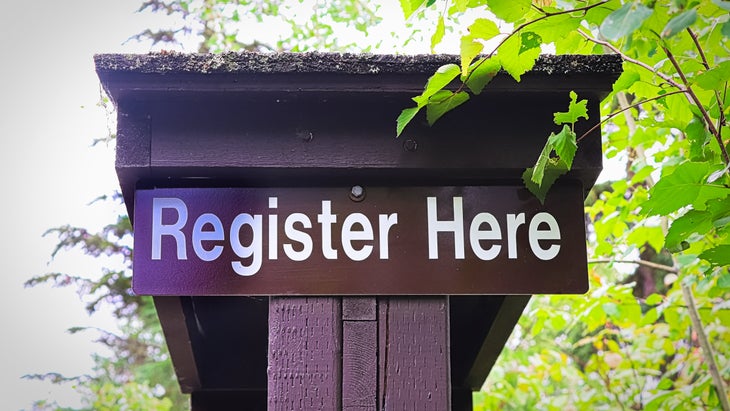 Reservation fees, on the other hand, may contribute to any number of funds, depending on the land manager. They may cover administrative costs of running a reservation system, contribute to maintenance and conservation efforts, or be invested into improving visitor experience. You may feel some guilt around withholding those $10 and inhabiting the campsite for free, but if someone paid for that site, you may as well make use of it. If you feel the need to absolve your conscience, make a small donation or volunteer with a local trail building or conservation effort.
Of course, by staying, you accept the possibility that the campsite's rightful reservers will show up late, and you'll have to move in the dark—no fun for anyone. But if you're reasonably sure that the site will sit empty, your crime is a victimless one. Just be ready to explain yourself should a ranger come by to check your permit, and know they can legally give you a ticket should they so choose. If you can live with those risks, go ahead and pitch your tent.
Knowingly neglecting to procure a permit and camping anyway is one (bad) thing. But you were in the right by having a plan to camp by the books. Stumbling upon an even better camping opportunity—both for you, and the environment—was a stroke of luck. Thank the permit gods and enjoy sunrise at the hot springs.