3 Life-Saving Ways to Build a Shelter from Snow
Make a home for the night wherever there's snow with these blueprints to snow caves, trench shelters, and quinzees.
Heading out the door? Read this article on the new Outside+ app available now on iOS devices for members! Download the app.
Whether you are planning to overnight or not, every winter adventurer should know how to create a snow shelter. When built correctly, it can offer protection when a storm rolls in, stand up to harsh weather better than a tent, and be truly cozy.
Always build your shelter away from potential avalanche paths. A snow shovel is essential for construction, and a snow saw can be a big help, too. Also, fill in pits and trenches when you leave camp for good.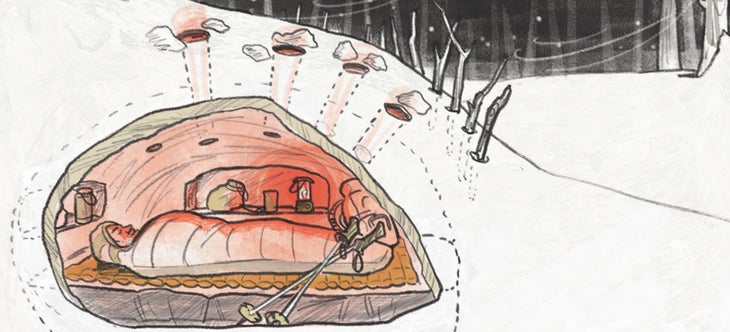 Snow Cave
This shelter is best for sloped ground, deep snow and hunkering down during a storm. Mark your shelter above the surface with branches or ski poles so passersby don't walk or ski on the roof. Always poke at least one ventilation hole in the ceiling. During a snowstorm, periodically clear vents to maintain airflow.
Look for snow that's at least 6 feet deep (measure with a probe if you're not sure). Snowbanks and wind-drifted snow work great.
Shape the ceiling into a dome for greater strength, and smooth it out to prevent dripping.
Dig the entrance of your shelter downhill of and below your sleeping shelf for maximum warmth (heat rises) and ease of snow removal.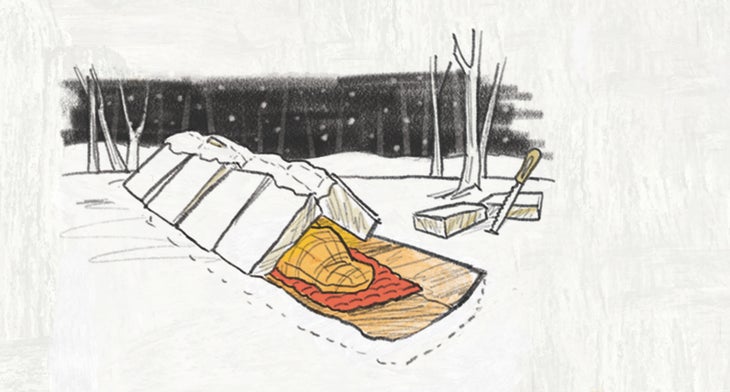 Trench Shelter
This hideout comes together fast, making it handy in emergency situations.
Stomp out an area that's at least 5 feet by 5 feet. This compacted snow will serve as a "quarry" from which to cut blocks.
Dig a 3-foot-deep trench that's just wider than your sleeping pad and longer than your body. For a two-person shelter, double the width.
From your quarry, cut 6- to 8-inch-thick blocks and lean them against each other to form an A-frame over your trench. Cap one end with another block and pack snow into any gaps. Leave one end open for ventilation.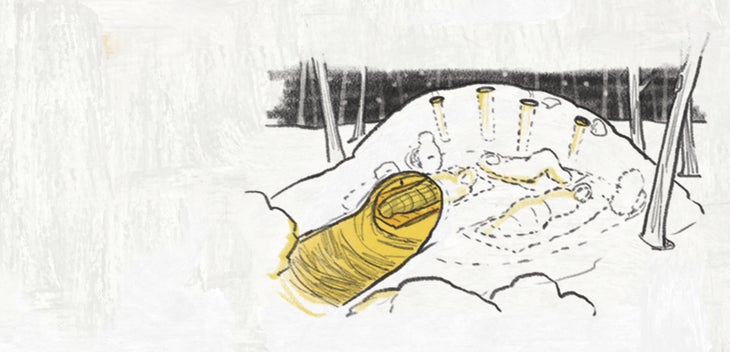 Quinzee
Great for housing a group, this shelter can also be constructed in fluffy snow or flat ground.
Start by building a large mound a few feet longer than your tallest sleeper and at least 5 feet tall.
Let the mound settle for at least an hour.
Tunnel directly into the mound, carving sloped walls and a smooth ceiling. Don't forget the ventilation holes.