Camp Chef Makeover: The Herbivore
Easy ways to take protein on the trail without involving meat or overly fortified energy bars.
Heading out the door? Read this article on the new Outside+ app available now on iOS devices for members! Download the app.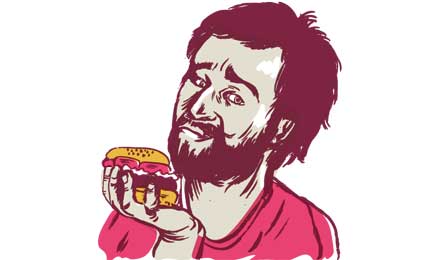 Nathan Perl-Rosenthal, 27, New York City
Diagnosis Protein deficiency leads to bonking "I don't like the taste of processed protein bars," says Nathan, a vegetarian. "And I'm not a fan of fake meat. One of the most revolting camp meals I've ever eaten was canned beans and textured soy protein chunks."
Makeover by Mary Howley Ryan, MS, RD, nutritionist and author of Backcountry Nutrition ($17; stackpolebooks.com). Philosophy: "Protein is crucial, but often what vegetarians actually need is more calories."
Meal Rx To avoid ersatz meat, we gave Nathan a delish protein- and calorie-rich falafel recipe that doesn't mask its chickpea roots, plus 10 other high-protein foods.
The Recipe: Falafel with Tahini Sauce
Ingredients
Serves 2 (21 grams of protein each)
1 cup falafel mix

Vegetable oil (enough for frying)

2 tablespoons tahini (sesame paste)

2 cloves garlic, minced

2 tablespoons lemon juice

Salt to taste

2 large pita pockets, halved
In camp
Add 3/4 cup water to falafel and mix thoroughly; let it sit for 10 minutes. Shape falafel into small patties and fry in oil, on both sides, to desired crispiness. To make the sauce, combine remaining ingredients (except pita), and thin it with warm water to the consistency you want. Put falafel balls into pita pockets, spoon on sauce, and dig in.
Protein Powerhouses
» Dry-roasted edamame beans (13g*)

» Soy nuts (11g*)

» Cheddar cheese (7g*)

» Peanut butter (7g*)

» Eggs (6g per large egg)

» Quinoa (4g*)

» Quick oats (4g*)

» Almond butter (4g*)

* Protein per 28-gram serving

Shoot for…

.5 to .75 grams of protein/pound of body weight/day for recreational athletes, or .6 to .9 grams for competitive athletes or those trying to build muscle.