Camp Chef Makeover: Scurvy Guy
If your backpacking menu excludes anything fresh, read on for a few helpful tips.
Heading out the door? Read this article on the new Outside+ app available now on iOS devices for members! Download the app.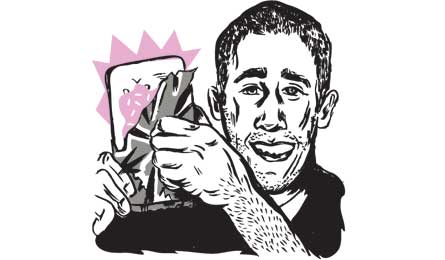 Joel Nyquist, 30, South Riding, VA
Diagnosis Fiberphobia "My idea of fresh food is that I bought the Pop-Tarts that morning,"

Joel says, "so the only roughage I get is the gravel mixed in with my dehydrated potatoes. Fruit and veggies seem like a waste of weight since they have so much water and aren't filling."
Makeover by Kahn and Greenspan. Philosophy: "A few fresh vegetables are essential."

Meal Rx Your body needs the nutrients in produce to recover and the fiber to run smoothly. For a lightweight solution, we taught Joel to grow sprouts on the trail. Other easy ideas: Pack a lemon and throw a slice in your water bottle daily; snack on freeze-dried fruits and veggies; and bring high-fiber Kashi TLC granola bars (we like Dark Chocolate Coconut).
The Recipe: Tuna Salad With Sprouts
Ingredients
1 4.5-ounce tuna packet

1/4 cup mung sprouts

2 tablespoons mayonnaise and/or mustard packets

Garlic powder to taste

2 corn tortillas
In camp
In a bowl, mix tuna with mung sprouts, mayonnaise and/or mustard, and garlic powder. Wrap into a warmed-up tortilla, roll up, and bite in.
Grow Your Own Mung Bean Sprouts
This technique also works with lentils and (albeit trickier) alfalfa seeds. Add the sprouts to sandwiches, soups, rice, and noodles.
1/2 cup dry mung beans

1 zip-top bag
Fill a zip-top bag with water and soak the beans overnight. In the morning, drain the water. Keep the sealed bag in a dark, cool place during the day (inside a small pot works well). Rinse the beans with fresh water once or twice a day to keep them moist, but not wet. They'll sprout in about three days. Once the beans sprout, use them within a day or two, or they may start to mold. Makes 3/4 to 1 cup sprouts. (Courtesy of The Leave-No-Crumbs Camping Cookbook)