Camp Chef Makeover: Mr. Heavyweight
Packing the kitchen for a weekend away? We'll help you pare down.
Heading out the door? Read this article on the new Outside+ app available now on iOS devices for members! Download the app.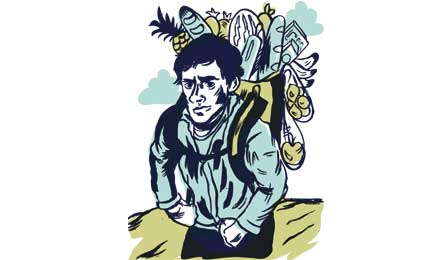 Matt Heselton, 23, Knoxville, TN
Diagnosis "Everything plus the kitchen sink" syndrome "For years, I've tried to make more and more complex dishes on the trail," says Matt. "Unfortunately, my pack has gotten heavier and heavier. It often weighs 45 pounds for a weekend trip, with 20 pounds of that being food. By the time I get to camp, my feet are so sore and I'm so tired, I don't even have enough energy to cook."
Makeover by Kate Reid, director of Call of the Wild, a woman's adventure travel company, who has prepared thousands of lightweight backcountry meals for clients around the globe. Philosophy: "Eating fresh, natural meals and camping in pristine, natural places go hand in hand. You just have to plan your menus strategically."
Meal Rx We gave Matt a crash-course in shaving pack pounds by dehydrating produce, tweaking his menu and gear, and by revamping his famous (but heavy) ahi tuna recipe.
The Recipe: Smoked Trout With White Wine Sauce
Ingredients
8 ounces vacuum-packed smoked trout
1/2 pound's worth of baby portabellas, dehydrated
1 red bell pepper, dehydrated
6 ounces rice noodles
4 tablespoons olive oil
2 cloves garlic, chopped
Black pepper and salt, to taste
1 bay leaf
1/2 cup white wine
Several sprigs of rosemary
Several leaves of sweet basil
1 teaspoon potato flour
In camp

Rehydrate mushrooms and bell pepper by soaking them with boiling water, covering, and letting sit for five to 10 minutes. Heat oil in a pot, and sauté mushrooms and garlic until tender. Then add bell pepper and also cook until tender. Mix in salt, pepper, and bay leaf; simmer. Add white wine, tear in rosemary and sweet basil, and simmer about six minutes. Mix in potato flour to thicken, then add trout; heat it for about two minutes. For a one-pot meal, put sauce in a covered dinner bowl (wrapped in a coat or hat for insulation), then wipe pot with a paper towel. Boil four cups water, remove from heat, and add noodles; let stand eight to 10 minutes, stirring occasionally. Drain noodles, stir in sauce, and serve. 
6 Tricks to Cut Food and Mess-Kit Weight
» Opt for fast-cook foods, like couscous or angel hair pasta, so you carry less fuel.

» Dehydrate foods at home, eliminating 90 percent of the water weight (or buy dried foods from packitgourmet.com).

» Plan to make one-pot meals.

» Measure out exact amounts of food; aim for no more than two pounds per person per day.

» Remove extra packaging. Or place food in zip-top bags when possible.

» Use a lightweight stove, cookware, and bowls.
Food Dehydration 101
1. Invest in a dehydrator. We like the Excalibur and American Harvest's Snackmaster.

2. Choose your edibles. Fruits, like apples, pears, bananas, and berries, are super easy. Next come veggies; most fresh ones just need to be washed, but some, like broccoli, need to be steamed before drying. With frozen vegetables, thaw first. For meats, the leaner, the better.

3. Wash and slice extra thin. Place evenly on the tray and load in.

4. Check the dehydrator's instructions for "cooking" times. You want the sweet spot between chewy and crispy.

5. Experiment. Brushing veggies with soy sauce—or bananas with vanilla or maple syrup—adds a wallop of flavor.