Camp Chef Makeover: Mess Sergeant
Cook for a group...with style.
Heading out the door? Read this article on the new Outside+ app available now on iOS devices for members! Download the app.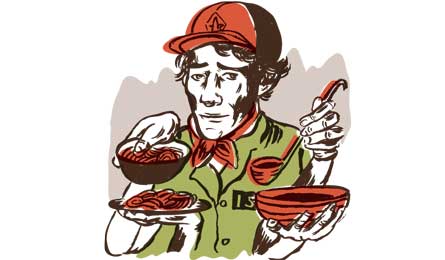 Will Old, 40, Denver, CO
Diagnosis Often cooks for a dozen friends, meaning heavy loads and bland meals "I simplify meals to save weight and time. They're high-calorie but lack spices and protein," Will says. "For portion sizes, I err on the side of too much and end up cursing my behemoth pack." His main meal: spaghetti with garlic, onion, and tomato paste, and bread (usually smooshed).

Makeover by Claudia Pearson, NOLS rations manager. Philosophy: "Though hunger makes the best sauce, meals should have a little charisma."
Meal Rx We enlivened Will's pasta dish with tasty accents; shaved weight by using dehydrated ingredients and fast-cooking angel hair; and swapped in crush-resistant tortillas. 
The Recipe: Smoked Salmon Pasta
Ingredients
8 ounces angel hair pasta
1 packet instant
chicken broth
8 ounces smoked salmon
4 garlic cloves, chopped
1 tablespoon onion powder
3 tablespoons butter
4 tablespoons dried
tomato flakes
1/4 cup capers
4 tablespoons Parmesan cheese
In camp Sauté garlic in butter. Add tomatos, onion, broth mix, and 1/2 cup water. Let sit off heat for 15 to 20 minutes while pasta cooks. Flake salmon into sauce, and add capers. Drain pasta. Toss pasta and sauce; serve with Parmesan sprinkled on top. Weight before: 28.1 oz.; Weight after: 21.1 oz.
Troop Tip Don't overpack as a hedge. Instead, plan realistic portion sizes, then bring calorie-dense desserts, like chocolate almonds, to fill up any still-hungry bellies.