Book Excerpt: The Perfect View
In an excerpt from the new book The Art of Adventure, BACKPACKER's photo editor reflects on the magic of outdoor images—and the best ones that can never be printed.
Heading out the door? Read this article on the new Outside+ app available now on iOS devices for members! Download the app.
Excerpted with permission from The Art of Adventure: Outdoor Sports from Sea to Summit (Insight Editions, 2014). Preorder a copy here.
As a photo editor at Backpacker magazine for the last decade, I've seen tens of thousands of amazing backcountry pictures. But there's one photo I keep looking for—a photo I've realized I won't find. It's of the best view I've ever seen. A view that changed my life. A view that, I've come to realize, may only exist in my memory.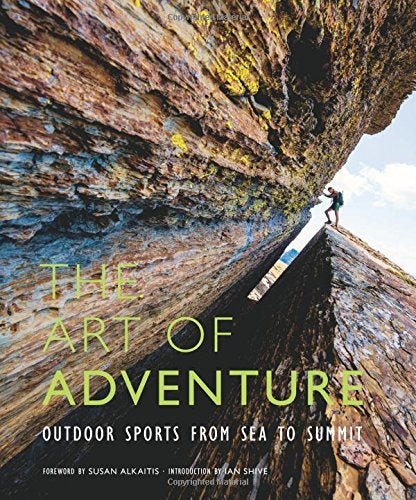 It was my first real hike. Sure I'd been running around the fields behind my parents' two-hundred-year-old farmhouse in Connecticut since I was tiny, playing in the woods and climbing trees and building forts with my cousin for as long as I could remember. I went to rock collecting camp the summer before 4th grade and we swam in brooks and under waterfalls each afternoon. But for the first time I was on a trip with a real plan—three days of hiking and camping in Hew Hampshire's White Mountains.
It was August and it had been raining for days, but we hoped the rain would stop and we would be able to climb Mt. Lafayette and Mt. Lincoln. Our church pastor and youth group leader had given us a packing list and training schedule. We all wondered if we had what it would take to do the big hike, and if the weather would let us. We had rain on our driving day and rain on the first day's short hike to Lonesome Lake. It rained through an afternoon of football and through dinner. But on the morning of the second day we woke to clear skies and the chaperones telling us to pack up. We were going to go for the summits.
A little ways in on the hike—I have no idea if it was a mile, or less, or more—we hit the sunlight and stopped suddenly, hearts pounding, out of breath. We'd been hiking single file through the narrow forest trail—heads down, concentrating on our steps. Suddenly my world opened up and I stepped out onto a rock to take in an amazing view, still one of the best I've ever experienced.
I was looking out and over this huge basin with the 5,249-foot peak of Mt. Lafayette towering across from me in the distance. I could see the AMC hut, surreally tiny on the way up to the summit. To the right of Lafayette, a dramatic ridge descends before leading up again to the slightly smaller Mt. Lincoln. It was like standing on the cusp of a huge bowl—verdant forests below, the enormous mountain peaks beyond, stony ridges connecting the whole vast skyline.
I looked out with the group in awe. The sun was so bright and beautiful, the mountain was so green, the Oreos we snacked on so delicious. We all stared out wondering what it would take—nine days, maybe—to hike around everything we could see from that viewpoint. We wanted to do that. But today, first, we just had to get up the mountain we were on, and that still seemed like a lot of work.
Backpacker has written about the hike I did that day—Franconia Ridge. It's a classic. Turns out the 8-mile loop we were on covered the whole skyline we could see from that first vantage point—the same skyline we imagined would take days to traverse. The route comes up in the magazine more than once a year: best loop hike in New Hampshire; a great fall foliage hike; the best ridge hike in the northeast. We call it a lot of things. My job is to find photos to go with the story each time. And each time, I wish I had a picture from that day. I've never found a photo of the Franconia Ridge hike that made me feel like I did early that Friday morning when I took in the view. Have no northeastern photographers been to that lookout on a bluebird day to capture a picture on par with my memory?
After years of looking for the perfect photo I've finally realized it's just not out there. In one photo, using only two dimension and the colors that we can reproduce on paper, how can a photographer capture what it was really like to be there, the world opening up to me? The warm sunlight, the sweat on my skin, the buzz of working hard to that point and knowing you still have so much so much more to go. . . .
That's the challenge photographers take on when they pick up a camera and decide to make it their work. What an amazing and never-ending task. I see thousands of professional photos every week and many show the terrain of a hike we're writing about. Some show it in nice light or with a hiker and a strong artistic composition. But every now and then there's some sort of magic that happens in the photographer's capture, and there's an image in front of me that makes me feel a place. While I'm still just using my eyes to see the photo on my screen, something in it is evocative enough that I can also feel sunlight on my face, the warmth on my skin. Or the photographer has caught the moisture of the air in a morning scene that is so perfectly lit and is concealing and revealing the view in just the right way that I feel like I'm there in the mist. As I breathe, I feel like I should be breathing in the fog.
Those are the photos I love to publish. Those photos are the ones that make people go out and actually do a hike. They remind people of the awesomeness of our world and ignite a stronger desire to go out and get somewhere, to hear the roar of a waterfall, or take in the silence of a deep forest, or see a sunrise from a high peak, or camp for three days at a lake and experience life without e-mail again.
Since the invention of cameras, photographers have been creating images in an attempt to share the deep emotional experiences they've had with the broader public. Outdoor adventure photographers invite their viewers to climb, paddle, swim, hike, and camp in the wild lands of the world. They invite viewers to come and enjoy the places the photographer cherishes, and to value and take care of them, and in turn to share them with others who will continue the cycle of love and stewardship.
The best photo I can find and print in Backpacker is the one that inspires a reader to go and experience the place we're talking about. My hope is that someone sees the illuminated tent under the stars and calls a friend to plan a trip. My hope is that a photo I publish has the magic to call a reader to train and head up a mountain higher than they thought they could climb, or take on a longer trail than they thought possible.
But despite all the power that lies within those magically transcendent photos, the very best images won't be the ones I can print in the magazine. Like that scene on my very first hike that I've never quite been able to recapture, the best images will be the ones kept in peoples' memories, alive with all five senses, and calling them to visit again.
Genny Fullerton is BACKPACKER's photo editor.