The 5 Best Whiskies for Hikers
Tennessee or not, here are our testers' picks for the best flask-fillers found in most liquor stores.
Heading out the door? Read this article on the new Outside+ app available now on iOS devices for members! Download the app.
Ah, whiskey: the quintessential backcountry libation. It packs enough punch ounce-for-ounce to meet most weight-savings criteria, while also satisfying the most sophisticated of palates. After a long, hard day on the trail a few sips of whiskey in camp can help with relaxation and sleep. If things get really rough, it can also act as a morale booster. When everything is soaked through and even your sleeping bag is uncomfortable, it's nice to have some whiskey on hand to lighten the mood.
These five whiskies are perfect for the trail—they're good quality, but not so expensive that they need to be coddled. And with three bourbons and two single-malt scotches, there's something for everyone. 
Knob Creek Kentucky Straight Bourbon Whiskey
Aged 9 years
Proof 100
Nose Maple sugar, toasted nuts, oak
Taste Oak, caramel, and fruit
Finish Long and smooth, but with more kick than most
Price $34
Our take Knob Creek meets the sweet-spot of price and quality. Consider putting a little water in this one to help open it up and mitigate the higher proof. 
Buffalo Trace Kentucky Straight Bourbon Whiskey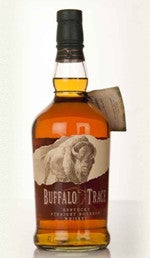 Aged 8 years
Proof 90
Nose Caramel, toasted nuts
Taste Vanilla, toffee, candied fruit
Finish Smooth and lingering
Price $25
Our take For the price, Buffalo Trace has a classic profile that is very drinkable and smooth.
Highland Park Single Malt Scotch Whiskey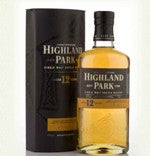 Aged 12 years
Proof 86
Nose Heather-honey, peaty, smoky
Taste Rounded smoky-sweetness, malty
Finish Sweet and lingering with heathery notes and subtle smoke
Price $45
Our take Highland Park is approachable for a smoky and peated scotch (read: not overbearing), and our scotch newbies didn't think it was all that offensive, win-win.
Laphroaig Islay Single Malt Scotch Whisky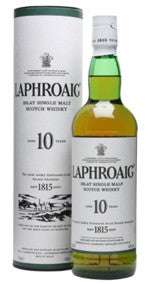 Aged 10 years
Proof 86
Nose Huge smoke, seaweedy, "medicinal"
Taste Surprising sweetness, hints of salt, layers of peatiness
Finish Lingering, smoky
Price $50
Our take Laphroaig is big, bold, smoky, and heavily peated. We think it pairs well with a campfire, just sayin'.
Four Roses Small Batch Bourbon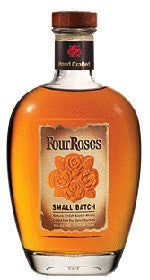 Aged N/A
Proof 90
Nose Spicy, fruity, sweet oak, caramel
Taste Creamy, mellow, ripened red berries, rich, spicy, well-balanced, moderately sweet
Finish Soft, smooth, pleasantly long
Price $37
Our take Four Roses does not publish an age for this bourbon because it's a "blend" of four, which themselves are "mingled." The flavor profile has a lot going on but has a delightful finish.