Why You Should Use Trekking Poles
Ending too many hikes with sore, wobbly legs? Trekking poles can help you make it that extra mile.
Heading out the door? Read this article on the new Outside+ app available now on iOS devices for members! Download the app.
Confession time: Until a couple months ago, I rarely used trekking poles. Even on trails where I probably would have benefitted from them. I always knew that poles could reduce strain on the knees and keep you balanced on steep sections, but being a marathon runner and lifelong hiker, I always figured I had the strength and endurance to power up and down any mountain. I'll admit that part of this was wanting to seem like a "tough" hiker, and another part was not really wanting to carry around extra equipment.
It wasn't until I hiked Southern California's Mount San Jacinto that I changed my mind about trekking poles. Our trek was about 18 miles with just under 6,000 feet of elevation gain, and I brought one pole as a compromise because my friend warned me that I needed both. I pulled it out for the descent and suddenly realized that everything people told me about using poles was true.
Poles can reduce your chances of getting injured and can be a safety tool when needed. Here is everything you need to know about one of the most helpful pieces of gear in your hiking arsenal.
Know When The Time Is Right
If you're feeling stable on flat ground, then you don't necessarily need the help of a pole. But a hiking pole can help you out anytime you're going uphill, downhill, or moving on uneven terrain. You might not notice the benefit immediately, but your joints will. When you use hiking poles, 20% of your weight gets distributed from your legs to your arms. This means that your legs take less impact with each step. Poles also offer stability during river crossings, and can double as a massage tool for your tight calves. But poles aren't always helpful. You should stow them in your pack when you need your hands to scramble up rocks.
Find Your Height
There are two types of trekking poles: fixed height and adjustable. Fixed hiking poles tend to be a bit lighter and more basic (and typically less expensive). Fixed-length poles are best if you're on a budget and don't plan to hike on long, steep uphill or downhill sections where adjustability comes in handy. While gripping the fixed trekking pole on flat ground, your elbow should create a 90-degree angle. With a fixed trekking pole, you need to pick one that is best for your height. Generally, the top of the pole should be 6 to 8 inches above your elbow when standing straight up.
If you have an adjustable pole, make it so when you hold the pole, your elbow also creates a 90-degree angle while hiking on flat sections. Going uphill for a long time? Shorten your pole about 5 to 10 centimeters. This length should provide more stability and support without straining your shoulders. Going downhill for a long time? Lengthen your pole about 5 to 10 centimeters to help you balance.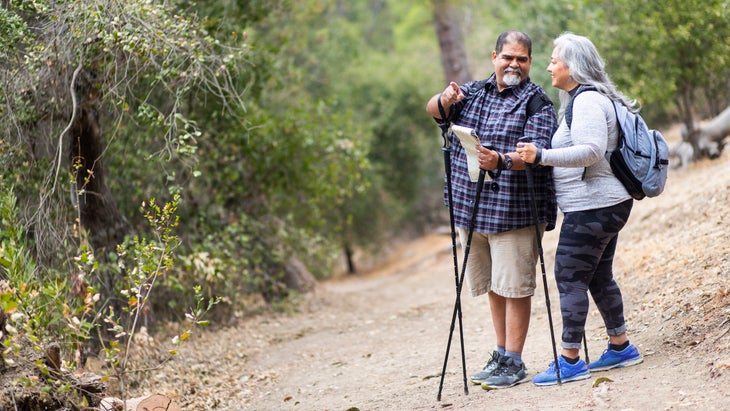 Strap In
Using the wrist strap on your poles incorrectly can make you work harder than you need to. First, if your poles specify left and right (check the straps for indicators) make sure you're using the correct pole for your hand. Slide your hand through the bottom of the wrist strap and grip the strap under the palm of your hand. This way, you can transfer your weight into the pole without overgripping.
Know Your Tips
Most trekking poles come with interchangeable tips or baskets to suit varying types of terrain. Here are just a few of them:
Rubber tip: Designed for hard surfaces such as asphalt or bare rock, these can be placed over spiky tips to reduce damage to both the pole and the ground.
Hard, pointy tip: These tips are made of metal or carbide. This provides traction on trails, snow, and ice. Sometimes this material is harder than rock, so be careful not to damage anything when you use these tips.
Pick Your Basket
Your trekking pole has removable plastic discs above the tips, called baskets, that can prevent the pole from sinking too deep into soft terrain. In general, bigger is better when it comes to pole baskets. Here are some of the different types of baskets you can attach to your trekking pole:
Mud baskets: Muddy hiking without the support of these baskets means that you are working harder because your trekking poles are sinking deeper into soft ground.
Snow baskets: Wider than mud baskets, snow baskets give your pole the same type of stability that snowshoes give you.
Powder baskets: Wider than snow baskets, powder baskets are for very fluffy snow. If you are using skis or snowshoes to navigate the terrain, you will probably need powder baskets.
Get Moving
When you hike with poles, walk naturally. You'll fall into a regular rhythm of planting the pole with each step. As your left leg takes a step, your right pole should hit the ground, and as your right leg takes a step, your left pole should hit the ground. If you fall out of this rhythm, just lift your poles for a few steps to get situated again. On steep terrain, it can be helpful to plant both poles at the same time for stability. Poles can also be used to clear a path while bushwacking or hiking in overgrown areas, or to test the depth of water or snow.