You're Doing it Wrong: Health and Hygiene
Battle blisters and learn to pack a sensible first aid kit.
Heading out the door? Read this article on the new Outside+ app available now on iOS devices for members! Download the app.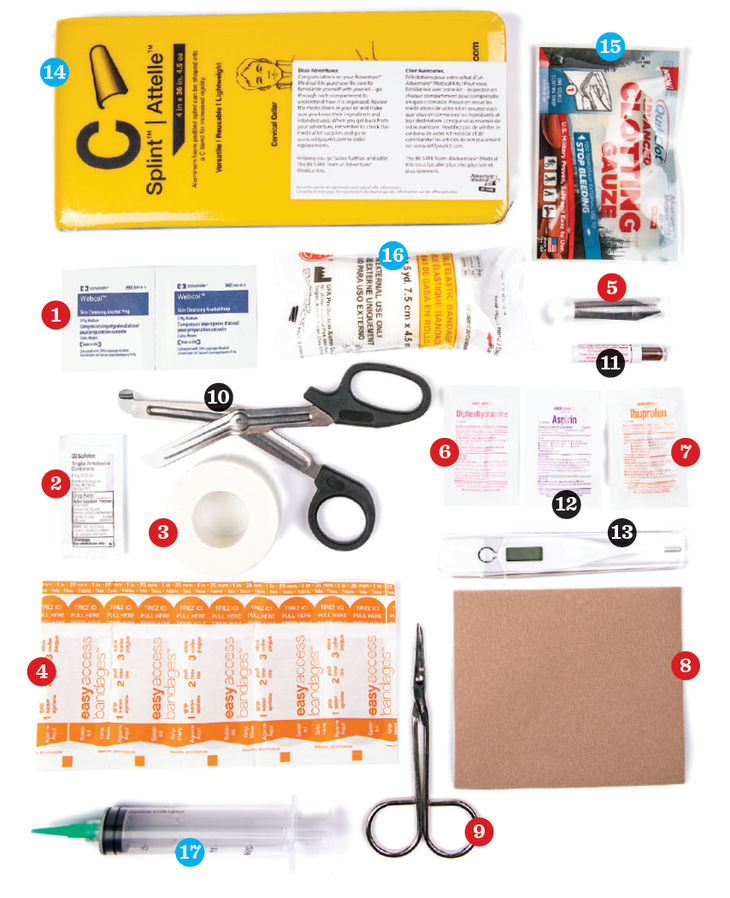 You packed the whole medicine cabinet.
Don't let a heavy med kit weigh you down—or lull you into a false sense of security. For low-risk weekend trips, slim one down to its essentials (plus prescriptions) and learn how to improvise the rest.
Pack
1. Alcohol prep pads
2. Antibiotic ointment
3. Medical tape
4. Bandages
5. Tweezers
6. Antihistamine
7. Ibuprofen
8. Moleskin
9. Nail scissors
Ditch
10. Medical shears: You only need the nail scissors.
11. Tincture of benzoin: Duct tape is a better adhesive.
12. Aspirin: Ibuprofen is easier on the stomach.
13. Thermometer: Use a hand on the forehead.
Improvise
14. Splint Grab something long and rigid (like a trekking or tent pole), arrange the injured limb in a comfortable position, and secure the pole to the limb using medical tape or cloth. Immobilize joints on both sides of the injury.
15. Hemostatic gauze
Fact: Pressure stops bleeding. Use anything absorbent and press firmly on a bleeding wound. If the material becomes saturated, add another on top (never remove layers).
16. Elastic bandage
Snugly wrap a (stretchy) T-shirt around the affected joint.
17. Water syringe
A fast-moving jet of water is useful for cleaning wounds. Fill a plastic bag with clean water and snip off a bottom corner. Squeeze the bag and direct the stream into the injury.
I didn't ask for help.
Nothing bad would happen on my first multi-week trip at age 15. I was full of teenage confidence, even though I'd never camped more than four nights in a row. Experience? That was a tiny detail when facing the prospect of true freedom in the Quebecois wilderness with a group from the camp I'd been attending for years. I'd finally made it to the big time.
So when I got a bug bite on my foot, I wasn't about to show any signs of weakness. I scratched it until it stung, stuck it back in my river-soaked KEENs, and moved along with my coming-of-age story. A few days went on, and so did the itch. By day, I pretended all was OK, gripping harder on my paddle to forget the fester, letting my mind engage the scenery. In the privacy of my sleeping bag at night, however, I attacked that itch like an eagle on a trout.
It wasn't long before an angry infection spread across the inside of my foot, reaching its little red tentacles over the arch. I was mortified. If there's one thing a wilderness-bound teenager doesn't want—even more than appearing weak—it's any kind of creeping, oozing skin thing. It was time to come clean.
That night, I was the star of evening med-kit rounds and recipient of a tut-tutting from our counselors. Yes, it was wrong to assume an injury would heal if it was wet all day; it was wrong to conceal my worsening situation; it was wrong to let optimism overtake realism. But at the core, if your body isn't healthy, neither is your trip. I was able to fix my foot with regular care and wore my bandages like badges of honor. Ultimately, I was lucky, and now I never wait for small injuries to become big ones. –Zoe Gates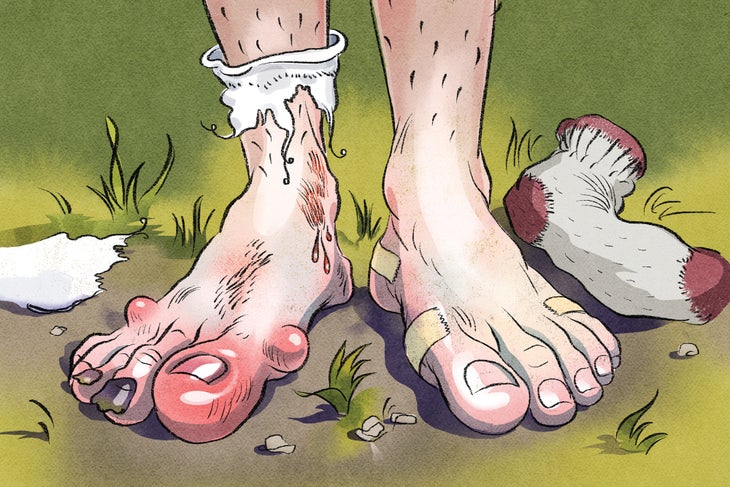 You're not taking care of your feet.
From buying boots to treating blisters, here's how it's done.  
You wear the wrong socks. They should fit like second skin. No bagging. No irritating seams. No cotton. No skin touching boot material.
You let your socks get nasty. In dry conditions, have one pair on your feet and a clean pair to sleep in. Wash your dirty socks in the evening and let them dry during the day. In wet weather, add a third pair to allow time for the wash/dry cycle.
Your toenails are turning black. If you're jamming your tootsies into the front of your boots, trim your toenails, snug up your laces, and try thinner socks.
You don't have camp shoes. Wet shoes can weaken foot skin and breed fungus like trench foot. Let your dogs breathe and let your shoes dry out. Swallow your pride and buy some Crocs.
You can't feel your toes. Loosen your laces and buy new shoes as soon as you can. Most numb toes come back online, eventually.
You don't tape trouble spots. If your feet are prone to blisters, invest a few cents in medical tape and preempt the problem. Sweaty feet? Use duct tape.
You got a blister anyway.
To drain one safely, sterilize the site and your lancing utensil (hand sanitizer for the former; flame for the latter), puncture a few spots near the blister's edge, apply antiseptic ointment, surround the sore spot with a moleskin doughnut, and cover the assembly with a nonstick bandage.
You neglect your sore feet. Everyone's dogs bark after a few long days. Take care of your most important gear: In camp, fight inflammation by elevating your feet and taking ibuprofen. And if there's an icy stream nearby, give them a good soak.
You shop wrong.
Shop for boots at the end of the day, when your feet are swollen,
and bring the socks you'll hike in.
Try on multiple brands to get the best fit. Your heels should be snug, your toes should not.
Match your boots to your pack weight and terrain. Lighter is
generally better, as long as you have appropriate support and protection.
Give them a vigorous test-scamper indoors to ensure they're the right boots for you. Use an incline board to check that there's no uphill or downhill sliding.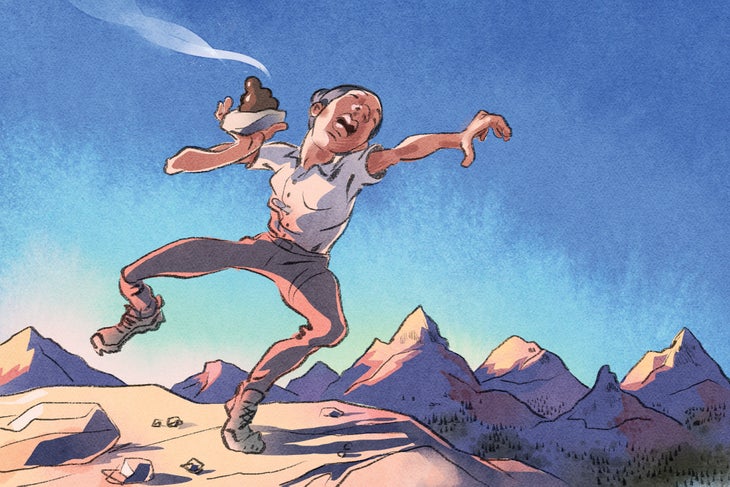 You're taking a dump wrong.
The Doo-Dos
Go at least 200 feet from water, trails, or campsites.
Dig a 6-inch-deep cathole or trench.
Squat over your hole (it's surprisingly easy to aim) with your weight on the balls of your feet. Rest your haunches on your heels if you're coordinated enough—the last thing you want is quivering quads when you're mid-biz. Grab a tree trunk or branch for balance.
Bury your TP (still LNT-approved!) and cover it with the dirt you excavated. Better: Use a "natural TP" like snow, a smooth rock, or a leaf (and bury that, too).
Wash your hands with soap. Every time.
The Doo-Don'ts
Burning your TP can spark a wildfire. Bury it instead or pack it out.
Rocks and sticks are no match for trowels when it comes to digging.
No soil, no free-range poo. (Dirt digests the droppings.) That goes for deserts, canyons, tundra, scree, talus (hard no to pooping on a rock and shot-putting it), snow, and water trips. Use a WAG bag instead.
Never crap in a slope's main drainage, no matter how far you are from the actual water. Can't hold it? WAG it.
Hand sanitizer is not enough. Alcohol-based, leave-on hand sanitizers can't clean up messes.
Your food tastes like nothing.
Spices are basically weightless. Start with one teaspoon of each spice or herb, and tweak according to taste.
Sweet Cinnamon + nutmeg + maple granules + ground cloves
Savory Onion/garlic powder + dried parsley + dry mustard + pepper
Hot Ground habañero chiles + chili powder + smoked salt + ground pepper
The spice is wrong? Buy prepackaged, like Mural of Flavor or Sunny Paris blends at penzeys.com.