Tested: The Best Shelters For Winter Camping
Tent, igloo, or quinzhee? Our testers head out into the cold to settle the debate.
Heading out the door? Read this article on the new Outside+ app available now on iOS devices for members! Download the app.
As Team Igloo and Team Quinzhee labor in the snow, Team Tent relaxes on the sidelines, passing a flask back and forth. "We'd help you if we could, but you know… science," says Matt, chuckling as I huff and puff. I pause and raise my hand: My fingers may be hidden inside a Gore-Tex mitten, but he can figure out what gesture I'm making at him. Behind him, the freshly-pitched, orange mountaineering tent already has a dusting of snow on top of it. Meanwhile, the two snow shelters are not even a quarter of the way complete.
The six of us have snowshoed into the McCormick wilderness area in Michigan's Upper Peninsula to finally settle a years-long debate: Which winter backpacking shelter is king? We decided to divide our group into three teams. One would pitch a tent, one would carve out a quinzhee, and one would build an igloo. Afterward, we would each spend one night in each shelter and compare notes.
The Conditions
It had been unseasonably warm the week before our arrival, and the snow was dense and packable. By the time we strapped on our snowshoes, however, the temperature had dropped nearly 20 degrees. We had consistent conditions all weekend, with highs between 17-21 F, and lows between 8-10 F.
The Tent
We picked the Nemo Alti Storm 3P. It was the most comparable to the other shelters in floor space, and gave us the extra room we needed to store our winter gear.
Gear: The Alti Storm costs $530, and weighs in at 11 lbs. 14 oz.
Setup: 15 minutes, mostly spent burying sticks as deadman anchors.
Warmth: The tent was surprisingly warm, but still chillier than the snow shelters. On our coldest night, when it was 9 F outside, the occupied tent was 28 F with two people inside.
The Takeaway: The tent set up fast, and was warmer than any of us expected. But winter tents are expensive and heavy, and have to be broken down and carried out.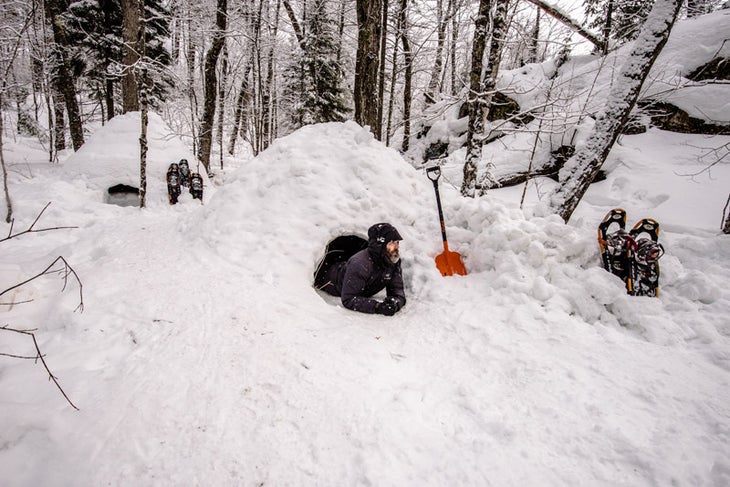 The Quinzhee
A quinzhee is a simple structure: You throw snow into a pile, leave it to solidify for 2-3 hours, then excavate a sleeping chamber and a ventilation hole into it. Basically, it's a slightly more grown-up version of the classic backyard snow fort.
Gear: We used two Voile Telepro T6 shovels ($48 each) and one Snow Claw Guide ($20) to dig our shelter. That worked out to a total cost of $116 and weight of 4 lb. 2 oz.

Setup: 2.5 hours to dig out the shelter, plus 2 hours for it to solidify.

Warmth: At 9 F outside, it was 32 F inside the occupied quinzhee.

The Takeaway: Overall, quinzhees are warm and customizable, and the cheapest option. However, they take a lot of time and effort. Building a quinzhee is an inexact process, and they are prone to user error. They often require maintenance and creative problem solving, and some of our group members questioned their sturdiness.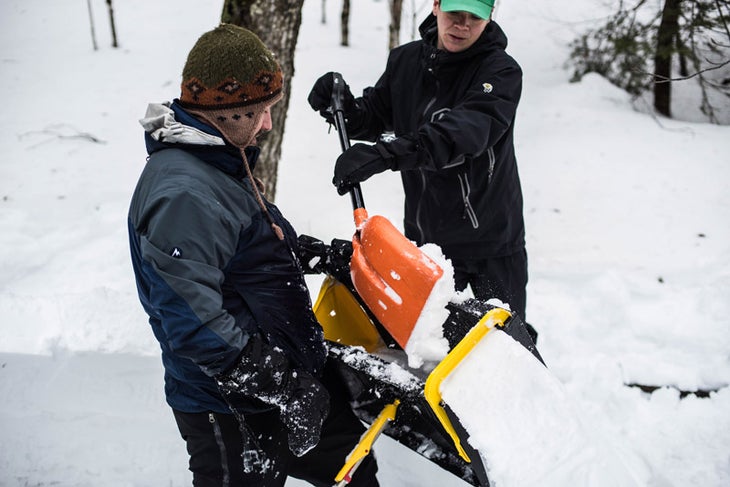 The Igloo
The time and effort required to build an igloo varies based on the snow conditions. Low-moisture "sugar snow" can make the process painfully long, but we had ideal conditions for our 8-footer, and our igloo went up quickly.
Gear: We used a Grand Shelters Icebox igloo maker ($180) and one Voile Telepro T6 shovel ($48) for a total cost of $228 and a weight of 6 lb. and 12 oz.

Setup: 2.5 active hours
Warmth: The igloo was the warmest shelter. Occupied, it was often close to 40 degrees. On our coldest night, at 9 F outside, it was 37 F inside the igloo.
The Takeaway: Overall, igloos are the warmest and sturdiest winter backpacking shelters we've tried. (Most of our igloo weekends end with a ceremonial "Fiddler On The Roof" photo-op, where we take turns summiting our shelter. No one has ever fallen through.) They're comfortable, with the most headroom by far. And, like the quinzhee, you can just leave them there to melt. The downside: They can take a long time to construct.
Conclusions
We were surprised by how well the tent held its own, temperature-wise, and it went up in a fraction of the time it took to make the other shelters. For backcountry trips where you're breaking camp every day, it's arguably the only option.
However, if you're setting up a basecamp and have time to kill, it's hard to pass up the warmth and headroom of an igloo. When the forecast calls for extremely cold temperatures, the igloo is our unanimous first choice, and worth the effort and weight.