10 Underhanded Ways to Convince Your Friends To Go Winter Camping
Winter camping is super rewarding, but convincing others to join you isn't always easy. It's best to have a few tricks.
Heading out the door? Read this article on the new Outside+ app available now on iOS devices for members! Download the app.
Winter camping solo is way less fun than it sounds (really). Long hours of darkness and tent time, and the additional risk of cold weather make it a fine time to go camping with someone you like. But, oh. So many people hang up their boots for the winter. That's why you must convince them. Start with these tips—then click through to our other winter camping articles above to learn how to get them to come back.
Ask Your Hardcore Friend.
This is the easiest way. Find someone who never stops talking about his/her three-season (possibly solo) exploits. Challenge this person by saying something like, "You haven't truly experienced [insert name of place], until you've seen it in the winter."
Ask Your Fitness Friend.
We all have one. Tell him/her there is no better all-body workout than postholing up to your hips in snowshoes. Allow him/her to break trail most of the way.
Ask Your Reserved Friend.
The weird guy that doesn't talk much? Guess what else he won't do much: complain. Boom.
Play Up the Novelty Factor.
Snow makes everything look better. The popular trails near you? Totally empty in winter. If you see a snow trench from snowshoes, you'll probably be glad to see it. The campsite that's stomped all to dirt and littered with bits of trash from lazy campers? Pristine in winter.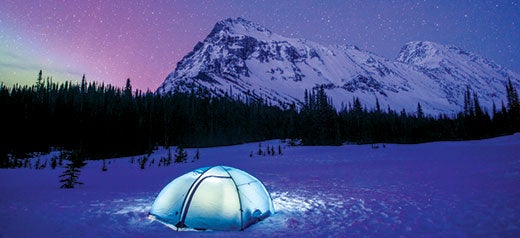 Appeal To The Inner Gearhead.
Down booties, puffy jackets, nylon-walled tents, snow pants with a drop seat? The winter kit is an opportunity to use (rent/borrow/buy) a completely different set of gear than in summer. All those wonderful toys!
Play Up Your Own Skills.
Of course you can keep them warm! You can boil water, dump it in your Nalgene, and use it as a hot water bottle, can't you?
Sleep In Better Campsites.
Places that prohibit camping in the summer due to high use will often drop those restrictions if you camp on 4+ feet of snow. You want to camp on New Hampshire's Presidentials? You're out of luck unless it's winter or you want to pay a boatload for a spot in an AMC hut.
When In Doubt, Whitewash.
Melting snow for drinking water? Super fun. Digging a wind barrier for your site? Call it campsite customization. And when else can you carve your own picnic table into the snow? LNT is easy in winter, because the next snow buries your trace (still, don't be a jerk).
Two things: Cold weather is a good refrigerator AND there's no guilt from overeating on winter trips. You'll burn every calorie you consume and then some, which reminds me: Winter camping is an excellent weight-loss strategy.
Make Empty Promises.
Practice saying this: "Just because it's cold out, doesn't mean you have to be." Say it like you mean it. By the time your companion realizes you're lying, it'll be too late to nighthike back to the trail head.
Originally published December 2015; updated October 2021