What Is Thru-Hiking?
We dive deep into this backpacking cultural phenomenon.
Heading out the door? Read this article on the new Outside+ app available now on iOS devices for members! Download the app.
At Backpacker, we throw the term "thru-hiking" around a lot. But if you're just dipping your toe into the world  and been afraid to ask, you've come to the right place. Here's a primer on this special corner of the hiking world, from the concept to the culture and how you can begin planning a thru-hike of your own. 
Thru-Hiking Explained
To thru-hike a trail, one must hike along its entire length from end to end in a single trip. Thru-hiking can take anywhere from days to weeks to months. On long trails, thru-hikers might occasionally leave the trail to rest in town, restock on food and supplies, or see the sights along their route. Hiking trail sections out of order—e.g., starting at the halfway point of the Appalachian Trail and hiking to the northern terminus, then flying back to the middle and hiking the southern half—still counts, as long as you finish it in one trip. While any trail can technically be thru-hiked, certain long trails in the United States are popular for trekkers. Vermont's Long Trail and the Pinhoti Trail in the southern Appalachians are common shorter thru-hikes, great for beginners or hikers who can't take months away from home and work. When most people think of and talk about thru-hikes, they're referring to a set of iconic long-distance trails known as the Triple Crown. 
Long Trails of the United States
Learn about some of the nation's best-loved long trails below.
Trail Name
Location
Mileage
Accessibility
High Point
Highlights
Appalachian Trail
Georgia to Maine, crossing through 14 states
2,194 miles
Updated in 2022 with reroutes and trail relocations; well-marked and maintained
Clingmans Dome, 6,643 feet
As the longest hiking-only footpath in the world, this trail takes you through diverse terrain that ranges from rocky, rugged peaks to farmland, and everything in between.
Arizona Trail
Arizona
800 miles
Well-marked but not well-traveled; bring a map
Kaibab Plateau, 9,148 feet
Hike between sky islands, traversing equally enchanting desert in between.
California Coastal Trail
California Coast from Mexico to Oregon
Will be 1,200 miles when finished
70 percent complete
Unknown
In its completion, the trail will span the entire California coast, featuring dramatic bluffs, ocean views, and towering redwoods.
Colorado Trail
Colorado
567 miles
Well-marked and maintained; navigation is rarely an issue.
Segment 22, near Coney Summit, 13,271 feet
Hike through eight mountain ranges, six national forests, and six wilderness areas. You can get a glimpse of Western history, too, as this trail takes you in and out of old mining towns.
Continental Divide Trail
Mexican border to Canadian border, crossing Montana, Idaho, Wyoming, Colorado, and New Mexico
3,110 miles
Unfinished, poorly marked in areas, maintained annually
Grays Peak,
14,278 feet
The highest and most remote of the National Scenic Trails takes hikers through 18 distinct ecosystems.
Florida Trail
Florida
1,300 miles
Complete, well-maintained and well-marked
Jr Walter Pond, 102 feet
This trail heads through all the best of Florida wilderness, from deep in the Everglades to sandy pine forests to the white sand beaches of Gulf Islands National Seashore.
Grand Enchantment Trail
Arizona, New Mexico
770 miles
Incomplete, and some complete sections are not well-marked
Mogollon Baldy, 10,700 feet
Wandering through the wilds between Phoenix and Albuquerque, this route links dirt roads, 4-wheeler paths, and trails through some of the most scenic desert in the southwest.
Ice Age Trail
Wisconsin
1,200 miles
Half-complete; road walks required. Blazed.
Timm's Hill, 1,952 feet
Glacial moraines and erratics—boulders that seem to have been dropped from the sky—can be found along the length of the trail.
John Muir Trail
California, Sierra Nevada mountain range
211 miles
Well-marked and maintained, heavily traveled in both directions
Mt. Whitney, 14,505 feet
It crosses through Yosemite National Park and takes hikers to the highest point in the lower 48.
Long Trail
Vermont
272 miles
Well-maintained and marked, navigation is hardly an issue. Less maintenance in northern 100 miles.
Mt. Mansfield, 4,395 feet
Hike through the entire state of Vermont along the Green Mountains. In rainy weather, the trail becomes a rushing river and exposes roots, rocks, and muddy holes.
Mountains-to-Sea Trail
North Carolina
1,200 miles
700 miles are complete, with the rest on roads and bike paths.
Mt. Mitchell, 6,684-feet
From the Smokies to the coast, this trail showcases the many different sides of the state.
North Country Trail
North Dakota, Minnesota, Wisconsin, Michigan, Ohio, Pennsylvania, New York, Vermont
4,800 miles
Well-marked in sections, incomplete in others; check current maps from the NCT Association for the latest info
Mt. Mansfield, 4,395 feet (on the completed sections)
From the iconic Adirondacks and Boundary Waters to little-known but equally stunning forests tucked in between the north country's cities, this trail has a lot to offer–and little to no crowds.
Oregon Coast Trail
Oregon
425 miles
Well-marked, but incomplete
NeahKahnie Mountain, 1,600 feet
The sound of ocean waves accompanies thru-hikers on this coastal trail, which traces the rocky bluffs and long beaches.
Ozark Highlands Trail
Arkansas and Missouri
270 miles
About 85 percent complete, it will eventually connect to the Ozark Trail. Blazed.
Hare Mountain, 2,375 feet
Rocky ridgelines and waterfall-laden canyons, and hardwood forests reward thru-hikers.
Ozark Trail
Missouri
230 miles
Well-marked and maintained
Taum Sauk Mountain, 1,772 feet
Rocky bluffs, streams, and solitude await amidst the rolling terrain of the Ozark Mountains.
Pacific Crest Trail
Mexican border to Canadian border, crossing California, Oregon, and Washington
2,650 miles
Well-marked; maintained annually
Forester Pass, 13,153 feet
This famous and popular trail winds through rainforest, tundra, grassland, desert, and more.
Pinhoti Trail
Alabama and Georgia
339 miles
Complete, maintained regularly
Buddy Cove Gap, 3,164 feet
This thru-hike takes you through deciduous forests with intermittent views of the southern Appalachians, lakes, and rivers.
Sierra High Route
California
195 miles
Mostly off-trail with no markers
Gabbot Pass, 12,258 feet
Follow the crest of the Sierras through high granite passes, lake-dotted valleys, and talus slopes.
Superior Hiking Trail
Minnesota
310 miles
Complete; well-marked and maintained.
1,829 feet
Hug the shore of Lake Superior on this trek over rock outcroppings, ridges, and cliffs.
Wonderland Trail
Washington
93 miles
Well-maintained and marked
Panhandle Gap, 6,750 feet
Circumnavigating Mt. Rainier, this loop takes hikers from flower-laden meadows to the high alpine with never-ending views.
The Triple Crown
The Appalachian Trail, Pacific Crest Trail, and Continental Divide Trail make up the "big three" of thru-hiking. Each of these trails stretch over 2,000 miles long and traverse multiple states through some of the most scenic terrain in the country. For most hikers, thru-hiking just one of the big three is a lifelong dream. Some die-hard thru-hikers might achieve them all in a lifetime—we call these superstar backpackers "triple crowners." A small handful of people have even managed to hike all three in a calendar year.
The Appalachian Trail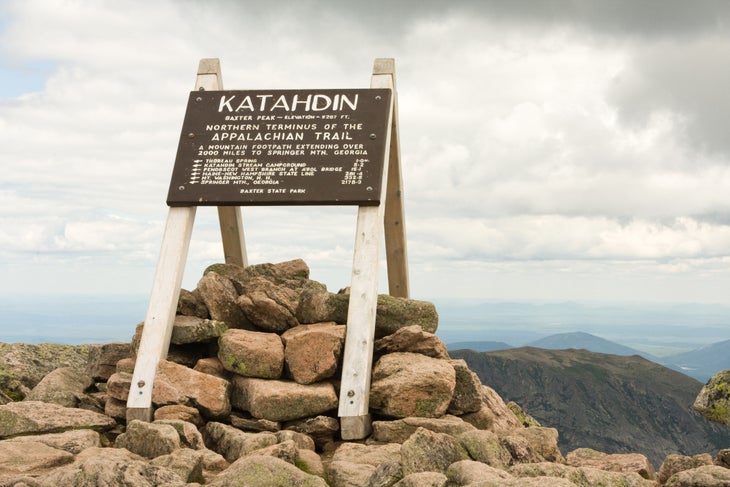 Perhaps the most iconic thru-hiking trail is the Appalachian Trail (AT); at over 2,000 miles long, it runs from Georgia to Maine, crossing through 14 states in the easternmost major mountain range in the country. The AT has a long history of thru-hiking, and is a common first thru-hike due to its popularity and abundant resources for hikers such as shuttles and trail towns offering lodging and food. It takes the average thru-hiker four to six months to complete the AT. Most hikers begin in spring and hike until fall. 
The Pacific Crest Trail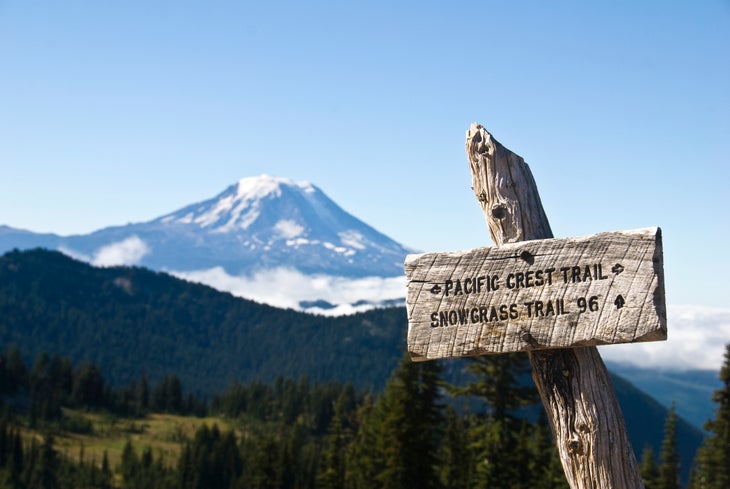 Often considered the AT's west coast equivalent, the Pacific Crest Trail (PCT) connects the Mexico and Canada borders through California, Oregon, and Washington. At 2,650 miles, the PCT is slightly longer than the AT, and crosses some of the west's most iconic mountain ranges. With desert and high alpine sections, the PCT can be considered more rugged than the AT, but it still offers ample resources for thru-hikers along the way; outside of those occasionally hazardous mountain sections, the path itself is often smoother. Most thru-hikers tackle the PCT northbound, heading from Mexico to Canada (the same is true on the AT). 
The Continental Divide Trail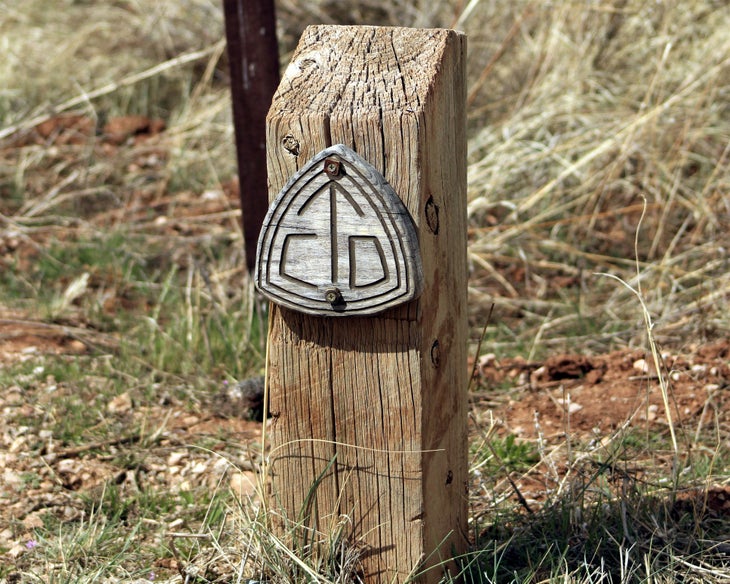 The Continental Divide Trail (CDT) stretches from Mexico to Canada through the Rocky Mountains in New Mexico, Colorado, Wyoming, Idaho, and Montana over 3,100 miles. The CDT is the least-commonly thru-hiked of the Triple Crown trails because it's newer, more rugged, and has fewer resources than its eastern and western counterparts. Sections of the CDT tend to be more remote than on the AT, and the route itself is more ambiguous due to a lack of marking (the AT, on the other hand, has obvious white blazes along its entire length). 
Other Common Thru-Hikes
Not everyone can take off work for six months to thru-hike the AT, CDT, or PCT. There are plenty of other shorter trails that are still big on adventure for backpackers looking to experience the thru-hiking lifestyle. Here are just a few. 
The Colorado Trail
At just under 500 miles, the CT (which overlaps with the Colorado section of the CDT) can be completed in a summer season, and offers all of the wild alpine challenge of a longer trail. It's a good taste for backpackers who might want to thru-hike the CDT or another long trail, but aren't sure yet about making a multi-month commitment. 
The Long Trail
Traversing the Green Mountains throughout Vermont, the 272-mile Long Trail is doable even for hikers with a busy work schedule. Hiking the length of an entire state on one continuous trail encapsulates the allure of thru-hiking in a manageable distance. 
The John Muir Trail
Just over 200 miles long, the John Muir Trail winds through the stunning Sierra Nevada, and takes average hikers only a couple of weeks. Just like the CT and CDT, the JMT overlaps with sections of the PCT, giving backpackers a sampling of the famous long trail. 
The Life of a Thru-Hiker
What's it like to actually spend months at a time on the trail? Thru-hikers face all sorts of challenges, from the physical toll of walking thousands of miles to the mental aspect of staying motivated. Thru-hikers tend to cover tens of miles in a day, week after week, all the while carrying everything they need on their backs.
Hiking with Others 
Some thru-hikers set out solo, while many hit the trail with hiking partners. Either way, thru-hikers can be sure they'll link up with other backpackers over the course of their journey. The thru-hiker community thrives on long trails like the big three. Many backpackers develop a trail family, or "tramily" with whom to hike, camp, and offer support.
A Day in the Life 
A thru-hiker has one main goal each day: to make miles. While weekend backpackers might linger in camp enjoying a hot breakfast in the morning, many thru-hikers rise with the sun and hit the trail early to make the most of daylight hours. On-the-go meals like energy bars and protein shakes are popular amongst thru-hikers.
Thru-hikers near the start of their trip or traveling at a casual pace my walk around ten miles in a day. But for those whose hiker legs have developed over week or months of thru-hiking, 20- to 25-mile days are the norm. What's the rush? Thru-hikers who begin their treks in spring are often racing to reach the end of the trail by the onset of winter. Covering such distances day after day requires mental and physical stamina, and it often takes a toll on the body. Every week or so, most thru-hikers will take a rest day—known as a "zero day," often in a town with access to groceries, restaurants, and a hotel or hostel for a hot shower and comfortable place to rest.
A thru-hiker's day ends in camp—often with their tramily or other hikers. After a nourishing meal, most thru-hikers will tuck in early, prepared to do it all again tomorrow.
Tips for Aspiring Thru-Hikers
Intrigued by the idea of thru-hiking? Do your research, plan accordingly, and accomplish the hike of your dreams with this advice. 
1) Plan your food strategy ahead of time. When it comes to staying fueled over many months, thru-hikers have a number of options. The first is to buy as you go, stopping to resupply in trail towns as needed. This works well on trails where towns are accessible and located at convenient spots along the trail, and it allows you to adapt your menu as your calorie needs and cravings change. This method can be more expensive; it can be difficult to curb your impulses in town, and your options for budget shopping might be limited in some areas.
The second option is to prepare all of your food before hitting the trail—either dehydrating your own meals, or packaging pre-portioned food—and mail it to yourself at stopping points along the trail. This option can be more affordable and eliminates the need to shop in town. However, it can be hard to predict what you'll want to eat a few weeks or months into a thru-hike.
The third option is a combination of these first two strategies, which allows you to reap the benefits of both. Remember that your caloric needs will increase the longer you stay on the trail, so be prepared to eat bigger meals later in your hike.
2) Be flexible. Yes, you should prepare for any scenario before hitting the trail. But can you predict every obstacle you'll face? Of course not. Be prepared for plans to change, things to go wrong, and surprises to occur. It's all part of the fun of thru-hiking, and learning to adapt and take one day at a time is a valuable tool. 
3) Use a "bounce box". Your gear needs will change as you move through geographic areas and different seasons. A "bounce box" serves as a moving cache that you can mail from town to town so you don't have to carry items you don't need all the time. Bounce boxes allow you to swap out layers, footwear, reading materials, or anything else in your kit that needs to be added or retired. Timing your shipments can be tricky, but most post offices will hold your boxes up to two weeks or forward them on request.
4) Be patient. Wildfires or other natural disasters might result in trail closures, reroutes, or schedule changes. Land managers will often set up official detours for thru-hikers when necessary, but it can take some time. If you're forced off trail, enjoy the rest time and wait for guidance on staying safe before continuing on your hike. 
5) Hike your own hike. This is a popular saying amongst thru-hikers, many of whom have their own philosophies and motivations behind completing a long trail. Trust your instincts, and make choices based on what's best for you. 
Thru-Hiking Resources
Now that you know what thru-hiking is, you might be inspired to plan one of your own. Check out our Ask a Thru-Hiker column or sign up for our Thru-Hiking 101 online course to learn more.