Hammock Camp Like a Pro
Trading in your tent for a hammock is perfect for warm summer nights and making camp on uneven ground. Here's how to enjoy the high life safely and comfortably.
Photo: Lionello DelPiccolo
Heading out the door? Read this article on the new Outside+ app available now on iOS devices for members! Download the app.
Save the Trees: Your straps should be at least 1.5 inches wide to keep from harming tree park. Choose trees with strong, healthy trunks that are at least 15 inches in diameter.
Measure Before You Hang: Select a pair of trees that are 10-to-12 feet apart and position the straps about 6 feet up the trunks. The bottom of the hammock should hang 15 to 18 inches above the ground for easy entry and exit.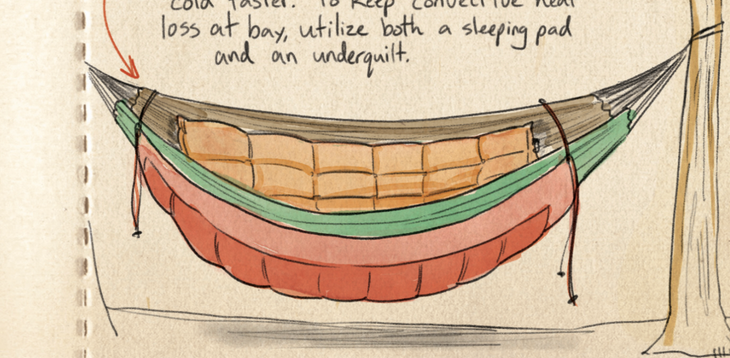 Stay Dry and Bug-Free: Use a bug net and a rain fly (or tarp). Many camping hammocks come with these, but if you purchase them separately, make sure the fly extends between 6 and 12 inches past the ends of your hammock when pitched. Drape it over a line of paracord tied a few inches above the ends of your hammock and stake out the corners.
Perfect the Curve: Don't try to create a flat sleeping surface by pulling your hammock taut; a bit of sag (when it's empty, it should look like a banana) is essential for comfort.
Stay Warm: Unlike in a tent, air circulates both above and beneath you in a hammock, so you'll get cold faster. To keep convective heat loss at bay, utilize both a sleeping pad and an underquilt.
Get Diagonal: Arrange yourself with your head and feet equidistant from each end of the hammock and lay at a slight diagonal to keep your spine neutral. Back and side-sleepers will find this most comfy; die-hard stomach sleepers may want to stick with the tent.
Learn how to find stellar car-camping sites to hang said hammock here.