How to Cross a River Without Drowning
Rushing rivers pose one of the backcountry's biggest threats. Do you know how to cross safely—or when it's best to not cross at all?
Heading out the door? Read this article on the new Outside+ app available now on iOS devices for members! Download the app.
Editor's Note: With this winter's historic snowpack feeding high river flows across the western U.S. experts predict that this summer will see an increase in drownings. More than most years, it's essential for hikers heading into the backcountry to know how to cross—and when not to cross—fast-moving water. With that in mind, we're resharing this post from former Backpacker Editor-in-Chief Dennis Lewon.
"OK, if you insist," the ranger at Sequoia and Kings Canyon National Parks' backcountry office said skeptically as he handed over our permit. "Just remember: The trail crosses several creeks, and they're going to be running higher than normal because of the rain."
He meant this as a warning, but when all that stands between you and backcountry paradise is a knee-deep river, it's hard not to take the bait. Besides, it was no surprise that water levels were high during a period of late-fall rains. I knew the rules of river crossing and packed a 50-foot rope, trekking poles, and sturdy sandals. So I thanked the ranger, took the permit, and drove to the trailhead. My hiking partner, Jen, and I planned to hike 15 miles up the Middle Fork of the Kaweah River on a trail that starts low—making it a popular shoulder-season route—and gradually climbs to Redwood Meadow, one of the most remote sequoia groves in the park.
We set off through the downpour and warmed up quickly, arriving at Panther Creek in less than two hours. The rain-fed current flowed fast but only calf-deep, and it was easy to rock-hop across.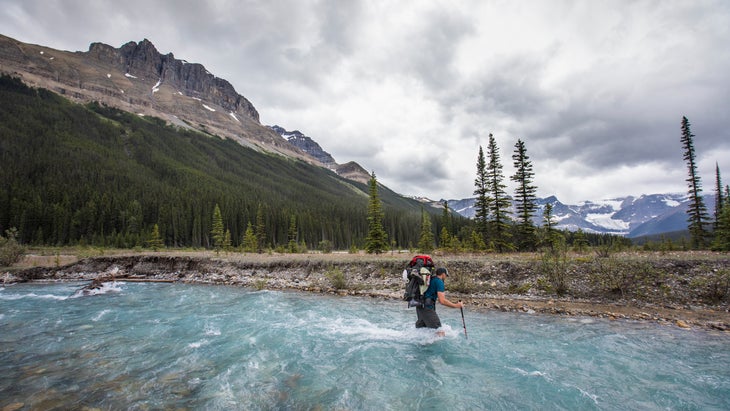 Two hours—and what seemed like 2 inches of rain—later, we arrived at a wider creek crossing. The increasing runoff made this one deeper than Panther. I unbuckled my hipbelt, changed into sandals, grabbed my poles for support, and tested the footing. The current ran thigh-deep and pushy, but the rocky bottom didn't feel too slippery. We discussed crossing together, for added stability, but I decided to first go halfway, to see if it got much deeper. It did–almost waist-deep at the midpoint. Could we cross it? Probably. Should we? Just downstream from the trail crossing, the water flowed precipitously over a jumble of rocks, making a slip-and-swim here highly possible. We made the obvious decision to turn around.
But that's when we made our big mistake. Instead of hiking back to the trailhead, we opted to camp for a night. Why not enjoy the storm instead of getting right back in the car? It seemed like a fine idea until we packed up the next morning and realized what had happened while we were sleeping. The nonstop rain had, of course, continued to raise water levels, and when we arrived back at Panther Creek, it was a raging river. What had been an easy crossing was now a whitewater torrent. Worse, Panther Creek Falls—and its 100-foot drop—waited just downstream.
Normally, you should try to get downstream of any hazard like a waterfall, but that wasn't possible, so we started bushwhacking upstream, looking for a place where the creek widened or braided, or where natural features might create a bridge. We scrambled over rain-slick rocks, pushed through dense underbrush, and found nothing. After an hour we were soaked, tired, and starting to inventory how much food we had left.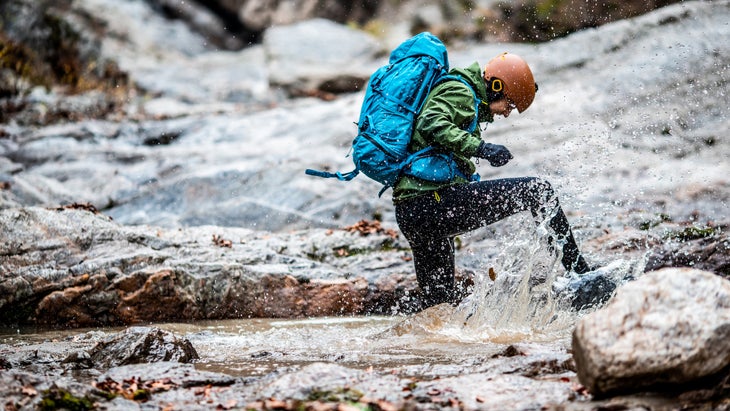 We pushed farther upstream, and finally found a spot where the creek's main channel narrowed to less than 20 feet. Two large boulders, on opposite banks, looked sturdy enough to brace a log, and it just so happened that a sufficiently long, fallen tree trunk was alongside the creek. If we could get the tree into the current and wedge it upstream of the boulders, we would be safe.
We got lucky with that log, to be sure, but it was the result of doing the right thing: rejecting an unsafe crossing and putting in the time and effort to find a safer spot. Hikers often get into trouble because they wrongly assume that the trail crosses a river at the best place, so they forge ahead without looking for an alternative.
How to Cross a River Safely
1. Look for a safer crossing if the water is fast and knee-deep or more; scout downstream of hazards such as rapids, waterfalls, or fallen trees.
2. Always ford a river at its widest point, where the water will be shallower and slower.
3. Check your map for forks or braids that split the river and reduce the volume of water.
4. Wear sandals or water shoes to improve footing. It's better to get your boots wet than take a risk going barefoot in tricky terrain.
5. Unbuckle your hipbelt and sternum strap before fording fast-moving rivers, so you can easily shed your pack if needed.
6. Use trekking poles or sticks to improve balance and probe ahead.
7. In strong current, cross at a slight angle, heading downstream but facing up. Lean a little into the current and step sideways.
8. For a difficult crossing, ford as a group with arms locked. For three people, form a tripod (everyone facing in). Alternatively, tie a rope to a tree and send a strong hiker across to tie off the other end. The last member brings the rope.
9. If you fall and the current takes you, flip onto your back with your feet facing downstream. Ditch your pack if necessary and swim to shore as quickly as possible. When you get out of the water, keep moving to stay warm.