Melt Away the Work-Week Stress With This In-Camp Relaxation Technique
Backpacking is some of the best medicine for stress. Learning self-massage will give you an extra tool to help you leave your worries behind.
Heading out the door? Read this article on the new Outside+ app available now on iOS devices for members! Download the app.
Modern life is a stress factory, and hitting the trail is one of the best cures. But sometimes you need a little extra push to let go of the week. That's why we put together a list of the 7 best ways to chill out in camp. Outside+ members can read the full article—plus everything else Backpacker writes about gear, thru-hiking, epic destinations, and more. Not a member yet? Get a taste with one of our favorite relaxation techniques below.
Self-Massage
On a group backpacking trip, nothing beats a massage circle to work out those knotty shoulders after a day under a heavy pack. But if you're solo—or your hiking partners aren't keen to play masseuse—you can work on your own fatigued muscles. Giving muscle aches attention will help you sleep better, and ensure you wake up fresh and ready for more miles.
Trekking Pole Lower-Leg Massage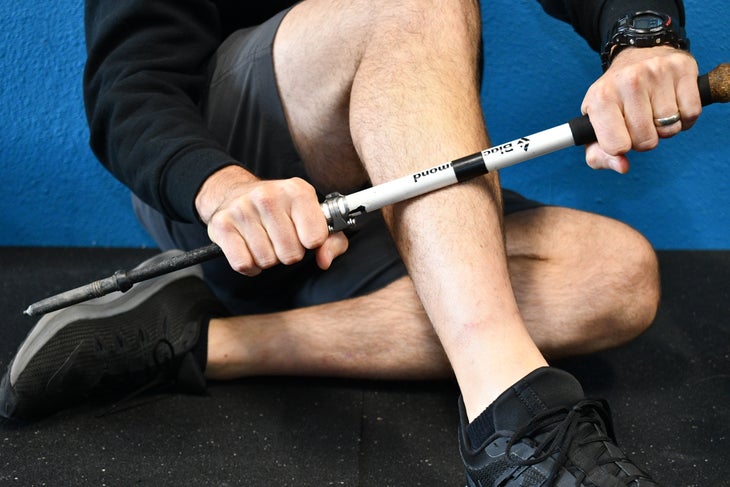 Tight calf muscles can lead to knee pain and heel and foot issues such as plantar fasciitis. An effective way to address tight calf muscles is to use a trekking pole as a massage tool.
Working from about 6 inches above the ankle up to the knee, glide the trekking pole horizontally along the calf. Target the inside and outside of your lower leg and the thicker upper portion of the calf near the knee. Massage your calf for 3 to 5 minutes per leg using a firm yet comfortable pressure.
Follow this massage with your favorite calf stretch for 20 seconds, repeating three times per side.
Next, move onto the shins. Use the same gliding technique you used on the calf, applying a firm but comfortable pressure. Move horizontally along the outside of the shin bone from below the knee to above the ankle. Apply consistent pressure as you move the trekking pole along the belly of the tibialis anterior muscle.
To stretch the shin muscle, kneel on the ground and sit on your heels with your feet pointed straight behind you. Consider using a bolster like a rolled-up jacket to sit on initially, which may help make this stretch easier. Spend 20 seconds in this stretch, then repeat for a total of 3 times.
—Lee Welton
Want to get the full story? Outside+ members get access to everything Backpacker writes and much more. Sign up for Outside+ today!